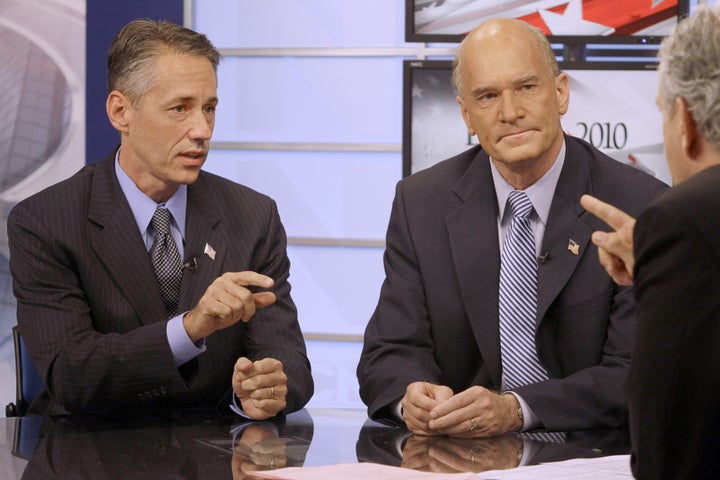 Jeff Perry, a Republican congressional candidate in Massachusetts, is facing a wave of criticism over allegations that he oversaw and ignored illegal strip-searches of teenage girls while serving as a police sergeant in Wareham, Massachusetts.
Scott Flanagan, the officer who conducted the strip search and a similar assault on a different girl in 1992, admitted to the crimes and was convicted in 1993 of civil rights violations and indecent assault of a child. But Perry initially said that he was in a position to see and hear everything that happened that night and that the assault never occurred.
The matter intensified this week when one of the victims released a public statement denouncing the U.S. House hopeful and his version of the story.
Lisa Allen, the woman who was 14 years old in 1991 when she was assaulted by Flanagan, had this to say about the incident:
"Perry knew what Flanagan did, he had to hear me screaming and crying," Allen wrote. "Instead of helping me, Jeff Perry denied anything happened."
Perry, now running as a GOP candidate in the 10th Congressional District of Massachusetts, recently claimed that had no knowledge of the searches when they took place.
"I didn't know they were happening. If I did I would have put handcuffs on him and locked him up myself," Perry said.
Perry is facing off against Democrat Bill Keating for the seat of retiring incumbent Rep. William Delahunt (D). The opening was thought by Republicans to be ripe for a pick up, but the latest flurry of details on the incident could put a damper on Perry's momentum.
Mr. Perry was approximately 15 feet away when Mr. Flanagan ordered Ms. Allen, then 14 years old, to lift her bra and unbutton her pants as he searched her for marijuana, according to a police investigation of the incident and a transcript of Mr. Flanagan's guilty plea.
A radio ad describing the matter was recently pulled from Massachusetts airwaves over concerns over its content, but the renewed focus on the matter could provide the DCCC with further incentive to run a devastating attack ad that it had aired against Perry earlier this month.
Despite the nature of the controversy, Massachusetts Republicans are standing by Perry. The campaign of Charlie Baker, the GOP candidate for governor, recently told reporters that Perry had effectively explained the 20-year old affair. Sen. Scott Brown (R) also has cut a radio ad defending the House candidate and condemning Keating for mounting a negative campaign against him.