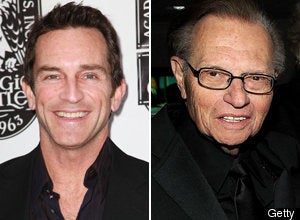 Jeff Probst has his eyes on Larry King's chair.
The "Survivor" host, who occasionally fills in for both King and Regis Philbin, said in an interview that it's the CNN job that excites him most.
"I'm happy filling in for Regis and Larry King," he told the New York Post. "Those are the things that are exciting. Larry King has been the thing that's been most exciting."
King's contract with CNN expires next year, and there is speculation over who might replace him if CNN does not renew it (Katie Couric is one popular name thrown about).
"It's almost disrespectful to imagine yourself in their jobs," he acknowledged. "They're their jobs until they decide they're done."
Probst said that "Live! with Regis and Kelly" and "Larry King Live" are "completely different" — "Regis is about telling stories, sharing your life on the air...Larry is about other people telling their stories and getting them to share their lives" — but said, "I'm an interviewer at heart. It's what I'm most interested in in life."
Popular in the Community