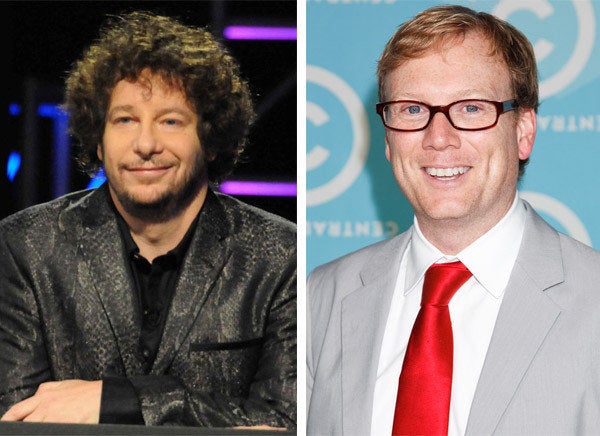 Comedy Central announced three new series starring Jeff Ross, Andy Daly and Nathan Fielder, the cable channel announced Thursday.
Ross, who is all but synonymous with the Comedy Central Roasts of such celebrities as Charlie Sheen and Donald Trump, will star in "The Burn," wherein Ross and fellow comics will riff on the week's subjects.
"My mission is clear," Ross said in an official statement. "To rip the world a new asshole one crack at a time. I can't wait to get started."
We hope that Ross continues to push the envelope on the show without network interference, as he typically does on his Roast appearances. To read more about his views on comedy's role in cultural discourse, read our interview with Ross in the inaugural post of our Crossing the Line series.
Andy (or Andrew) Daly will play the titular role in "Review with Forrest MacNeil," which, like many of the funniest and most inventive Comedy Central shows over the last few years, blends reality and scripted TV. The show is ostensibly a review show, but instead of reviewing the arts, food or other typical subjects, Daly's character MacNeil will review horrifying life experiences. Comedy Central revealed that those subjects will include "the adrenaline rush of stealing, the trauma of divorce, the harrowing effects of murder, the wonder and joy of anonymous sex."
Daly may not yet be a household name, but viewers of "Eastbound and Down" will recognize the actor as the button-down Principal Cutler. He has numerous other TV and film credits, but perhaps his most prominent roles lately have been on the podcast (and soon-to-be IFC show) "Comedy Bang! Bang!", where he plays a variety of memorably deranged characters.
Nathan Fielder will star in "Nathan For You" after previously writing and acting on "Jon Benjamin Has A Van" and "Important Things with Demetri Martin." Fielder's business background, before turning to comedy, will inform this advice show where the young comic gives advice to business owners and other professionals.
LISTEN: Andy Daly's stand-up comedy.
Related
Popular in the Community