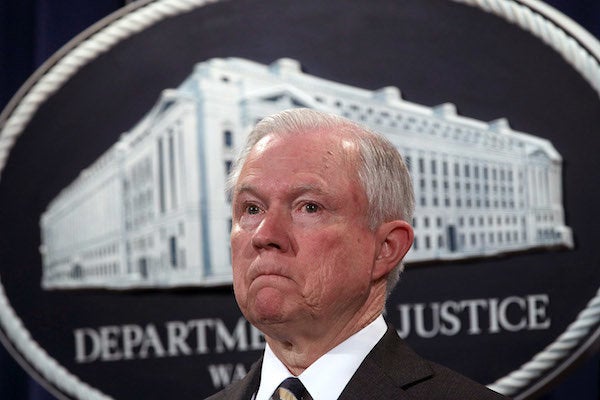 Attorney General /www.huffingtonpost.com/topic/jeff-sessions"}}" data-beacon-parsed="true">Jeff Sessions applauded a conservative Christian organization known for /www.huffingtonpost.com/entry/supreme-court-same-sex-wedding-cake_us_59510de8e4b05c37bb77c7ec"}}" data-beacon-parsed="true">its opposition to LGBTQ causes on Tuesday for defending religious freedom amid a "changing cultural climate."
Speaking at the /www.cvent.com/events/2017-summit-on-religious-liberty/event-summary-deb3b8d4efe14cbeb53add626f07ea97.aspx"}}" data-beacon-parsed="true">Summit on Religious Liberty in Dana Point, California, Sessions addressed members of the /www.adflegal.org/"}}" data-beacon-parsed="true">Alliance Defending Freedom, an organization the /www.splcenter.org/"}}" data-beacon-parsed="true">Southern Poverty Law Center has deemed /www.splcenter.org/fighting-hate/extremist-files/group/alliance-defending-freedom"}}" data-beacon-parsed="true">a hate group.
Despite multiple news outlets' requests, Sessions' remarks weren't released until conservative website The Federalist published them on Thursday. A Department of Justice spokesperson confirmed the validity of the transcript to HuffPost on Friday.
The attorney general opened his speech by thanking the Alliance Defending Freedom ― whose founders have said that "homosexual behavior" and pedophilia are "intrinsically linked" ― for the "important work" it does "to uphold and protect the right to religious liberty in this country." The alliance sponsors litigation related to the First Amendment to protect religious freedom for Christians.
To illustrate recent examples of religious intolerance, Sessions referenced Harvard University law professor Mark V. Tushnet's 2016 statement that conservative Christians had lost the "culture wars," which quickly earned Tushnet a spot on conservative nonprofit organization Turning Point USA's "watchlist" of liberal professors.
"Many Americans have felt that their freedom to practice their faith has been under attack. This feeling is understandable," Sessions said.
Religious intolerance in the United States does appear to be on the rise, from growing Islamophobia and the profiling of Sikh Americans who wear turbans to the desecration of Jewish cemeteries. However, Sessions' speech did not specifically address these acts of hate.
He did, however, appear to touch on the concerns of some Christian groups and business owners who say religious freedom should include the right to discriminate against LGBTQ people and women seeking access to reproductive rights.  
"In all of this litigation and debate, this Department of Justice will never allow this secular government of ours to demand that sincere religious beliefs be abandoned," Sessions said. "We will not require American citizens to give intellectual assent to doctrines that are contrary to their religious beliefs. And they must be allowed to exercise those beliefs as the First Amendment guarantees." 
The attorney general also said that President Donald Trump has directed him "to issue guidance on how to apply federal religious liberty protections," which Sessions said he would soon be issuing.
Calling all HuffPost superfans!
Sign up for membership to become a founding member and help shape HuffPost's next chapter
BEFORE YOU GO
PHOTO GALLERY
15 Moments In Queer Religious History That Give Us Hope