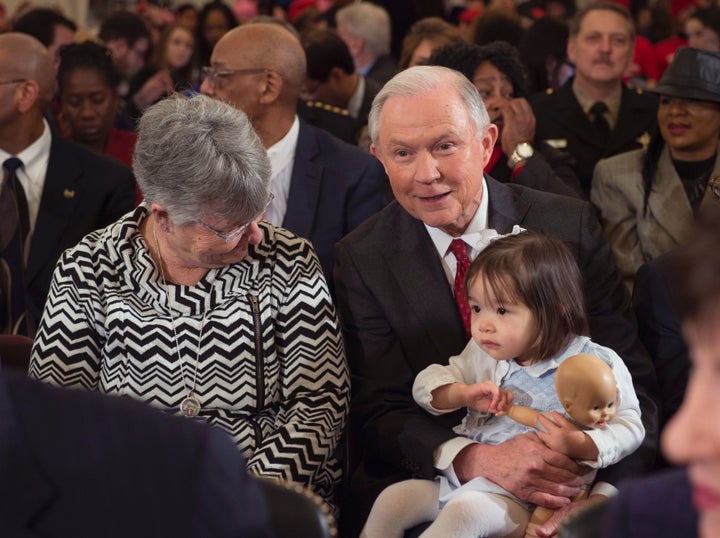 Sessions ― who has long been in favor of restricting immigration ― sat with the child, who is of Asian descent, prior to the hearing. Critics on social media suggested the senator had brought her along to counter accusations he is racist. The Senate had, in fact, blocked Sessions' nomination to a federal judgeship in 1986 over concerns that he had demonstrated racial bias.
During the hearing, Sessions tried to demonstrate that he would not discriminate against people of color if he is confirmed as the nation's top law enforcement officer. He said he does not support a ban on Muslims entering the United States. And he stated that he abhorred the "hateful ideology" of the Ku Klux Klan, despite a joke he'd once made about liking the hate group until he found out they smoked pot.
But one reason that Sessions' Asian granddaughter was in the spotlight was because her grandfather has expressed admiration for racist immigration policies ― specifically those that targeted Asians. The Atlantic noted on Tuesday that the senator had once favorably cited a 1924 law that barred Asian immigration entirely.
During an October 2015 radio interview with Breitbart News, Sessions said:
In seven years, we'll have the highest percentage of Americans, non-native born, since the founding of the Republic. Some people think we've always had these numbers, and it's not so. It's very unusual, it's a radical change. When the numbers reached about this high in 1924, the president and congress changed the policy, and it slowed down immigration significantly, we then assimilated through the 1965 and created really the solid middle class of America, with assimilated immigrants, and it was good for America.
Sessions was referencing the Immigration Act of 1924, also known as the Johnson-Reed Act, which doled out visas on a strict quota system. The act completely barred immigrants from Asia from entering the United States.
The act was a follow-up to a 1917 law that excluded immigrants from a geographically defined "Asiatic Barred Zone," which included all Asians except for Japanese and Filipinos. Japan had a voluntary pre-established limit on immigration, and the Philippines was a U.S. colony. Chinese people were already banned from the U.S. under the 1882 Chinese Exclusion Act.
Once the 1924 law was enacted, Japanese people were prevented from immigrating as well. White immigrants from Northern and Western Europe received preference, while Jews from Southern and Eastern Europe, along with immigrants of African descent, were restricted. Asians and Arabs were completely banned.
"I don't know any historian who would tell you the 1920s law wasn't a racist law," David Reimes, a professor of history at New York University, told The Atlantic. "That was what it was all about. They didn't try to hide that."
After Trump selected Sessions, Asian-American advocacy groups expressed alarm. Asian Americans Advancing Justice said in statement that Sessions has consistently expressed concern over U.S. immigration patterns after 1965, when non-Europeans were permitted to enter the U.S. in increasing numbers.
"Sessions has been the standard bearer for a nativist vision of America," the group said.
On Tuesday, the Asian American Legal Defense and Education Fund tweeted:
Popular in the Community