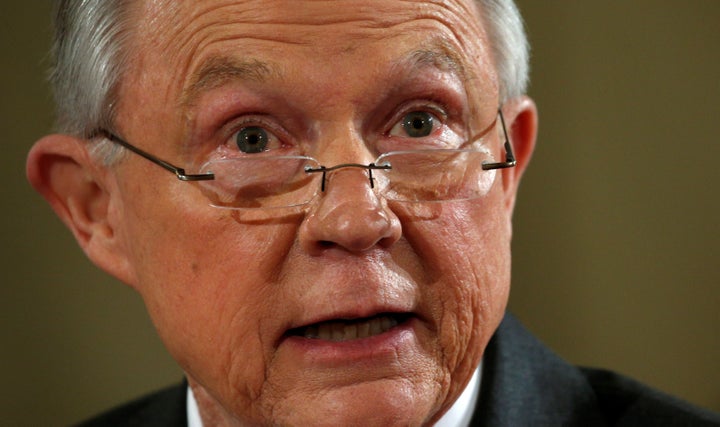 President-elect Donald Trump's attorney general pick opposed the Hate Crimes Prevention Act, has had to defend racist statements he's made throughout his career and believes that Roe v. Wade is one of the "worst" Supreme Court decisions "of all time."
Sen. Jeff Sessions (R-Ala.) was still defending himself on Tuesday as he awaited confirmation of his new position under Trump, telling a Senate Judiciary Committee floor full of protesters, "I abhor the [Ku Klux] Klan and all it represents." He also doubled down on his Roe v. Wade comments.
But it was one mother's comments prior to the speech Tuesday that rang through all the noise.
Judy Shepard ― mother of Matthew Shepard, who, in 1998, was tortured, beaten and left to die in a suspected homophobic attack ― wrote in an open letter that Sessions' nomination is antithetical to the bipartisan effort to stop hate with the Hate Crimes Prevention Act, signed into law by President Barack Obama in 2009 in honor of her son.
"Is Senator Sessions fit to serve as the nation's chief law enforcement officer? The answer is a very simple and very clear, 'No,'" Shepard wrote.
Unfortunately, Senator Sessions believes that hate crimes are, what he describes as, mere 'thought crimes.' My son was not killed by 'thoughts' or because his murderers said hateful things. My son was brutally beaten with the butt of a .357 magnum pistol, [the perpetrators] tied him to a fence, and left him to die in freezing temperatures because he was gay. Senator Sessions' repeated efforts to diminish the life-changing acts of violence covered by the Hate Crimes Prevention Act horrified me then, as a parent who knows the true cost of hate, and it terrifies me today to see that this same person is now being nominated as the country's highest authority to represent justice and equal protection under the law for all Americans.
Sessions cited constitutional concerns as he vehemently opposed the legislation, which extended federal hate crime protections to people victimized over sexual orientation, disability, gender or gender identity ― protections that were already in place for race, ethnicity and religion, according to Mother Jones. Members of the LGBTQ community are more likely to be targets of hate crimes than any other minority group.
He'll have a lot of smoothing over to do with minority groups. Here are some of Sessions' greatest hits over the years:
He doubled down Tuesday on a statement he previously made about Roe v. Wade: "I firmly believe that Roe v. Wade and its descendants represent one of the worst, colossally erroneous Supreme Court decisions of all time."
As a senator, he cast 86 of 87 votes against abortion and other women's health protections, and repeatedly voted to defund Planned Parenthood.
He called the NAACP, the ACLU, the Southern Christian Leadership Council, and the National Council of Churches "un-American." That was part of what cost him a seat on the Senate Judiciary Committee in 1986.
This:
Congress spent much of Tuesday's hearing questioning Sessions' past indiscretions. Sessions spokeswoman Sarah Isgur Flores, however, is adamant that Americans have nothing to worry about.
"Senator Sessions believes that all Americans, no matter their background, deserve effective protection from violence and that crimes committed on the basis of prejudice are unquestionably repugnant," she told CNN. "While he may have had disagreements about what was the most effective policy to combat such crimes, as attorney general, he will be fully committed to enforcing the laws ― even those for which he did not vote."
Popular in the Community