Attorney General Jeff Sessions was interrupted by Bible verses on Monday at a Federalist Society event in Boston when religious leaders stood up and called for Sessions to "repent."
The attorney general was giving a speech about religious liberty. A man who appeared to be a minister and who identified himself as a United Methodist ― the same faith as Sessions' ― recited a Bible verse about taking in strangers. Then he said: "Brother Jeff, as a fellow United Methodist I call upon you to repent, to care for those in need, to remember that when you do not care for others, you are wounding the body of Christ."
As the man was being escorted out by police, Sessions responded by saying, "Well, thank you for those remarks and attack, but I would just tell you we do our best every day to fulfill my responsibility to enforce the laws of the United States."
Seconds later, a second man, who said he was a pastor at a Baptist church, stood up to recite a Bible verse and declared that he was exercising his freedom of religion. 
During both men's remarks, voices in the crowd said, "Go home!" and asked, "What do you know?"
After the second man was also removed from the room by law enforcement, Sessions said, "Thank you all for your comments." Then he added, "I don't believe there's anything in my theology that says a secular nation-state cannot have lawful laws to control immigration in its country. That's what we're talking about. It's not immoral, not indecent and not unkind to state what your laws are and then set about to enforce them, in my view. I feel like that's my responsibility."
A third protester who was holding a transgender pride flag while yelling, "We will not be erased!" was also removed after Sessions' speech.
That individual was likely responding to the Trump administration's proposal, as reported by The New York Times, to define gender narrowly as either male or female. The proposed policy would state that gender is determined by genitalia at birth, which would have harsh implications for the transgender community.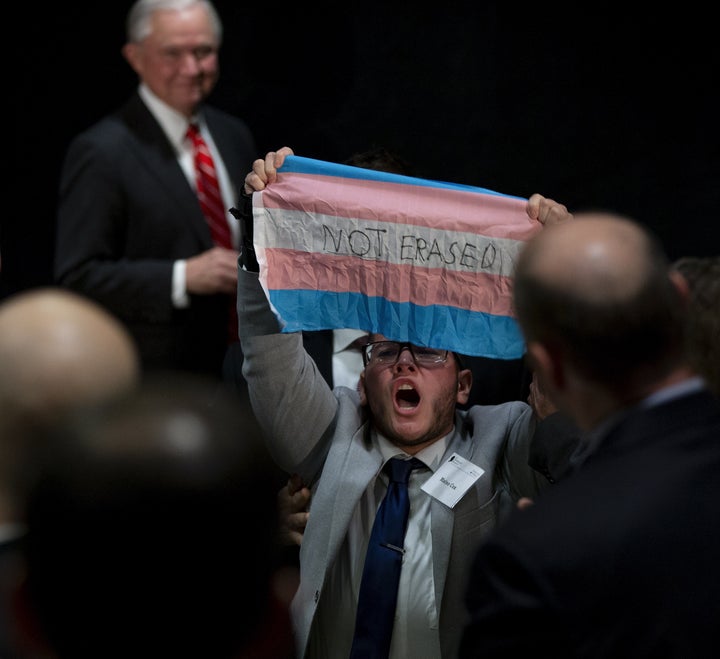 During his remarks, Sessions also condemned the shooting that killed at least 11 people at a synagogue in Pittsburgh, this weekend, calling it an "attack on all people of faith." He said that the targeting of people because of their faith will not be tolerated.
Calling all HuffPost superfans!
Sign up for membership to become a founding member and help shape HuffPost's next chapter