WASHINGTON ― Hours before he resigned as the nation's 84th attorney general, Jeff Sessions signed a memo that sharply curtailed the ability of the federal government's civil rights attorneys to rein in unconstitutional policing.
The Justice Department announced on Thursday evening that Sessions, prior to his departure on Wednesday, had signed a memo that effectively eliminates the use of so-called consent decrees, the court-enforceable agreements that the Obama administration had used to curtail patterns of police abuse in cities like Ferguson, Missouri, and Baltimore.
Sessions has long been a skeptic of the "pattern or practice" investigations of local police departments, which, he said during his confirmation hearing, "undermine respect for police officers" by creating the impression that an "entire department is not doing their work consistent with fidelity to law and fairness." After he became attorney general, Sessions conceded that he'd never read the high-profile investigations conducted by the Justice Department's Civil Rights Division, but nevertheless believed they were "pretty anecdotal, and not so scientifically based."
In his Nov. 7 memo, Sessions told DOJ litigators to use "special caution" before entering into consent decree agreements he called "extraordinary remedies" that should be used sparingly. The memo lays out the narrow circumstances under which DOJ can enter into a consent decree and requires the explicit approval of politically appointed officials to enter into such agreements.
"Just as it would be extraordinary for a federal agency to consent to the use of a monitor to oversee its operations or policies, in most cases there is little reason to expect or require a state or local government, equally a democratically accountable entity, to do so," Sessions wrote.
But many of the local governments that have entered into consent decrees with DOJ were headed by political leaders who wanted to reach a court-enforced agreement because they can help force change in police departments with deep-seated opposition to police reform.
Christy E. Lopez, a former Justice Department official who helped pioneer DOJ's approach to police misconduct and who oversaw the federal investigation into the Ferguson Police Department, said that Sessions' memo would make it more difficult for people who want change to get it.
"We have a long history in this country of recognizing that sometimes you need to circumvent democratic processes," Lopez told HuffPost. "Whether you go back to Federalist Paper No. 51, protecting people from the tyranny of the majority ― that's why we have courts ― or footnote four, that courts have a special obligation to protect discrete and insular minorities from intrusion on their rights."
Lopez said that the publicity about the memo will put employees within the special litigation section of the Civil Rights Division in a frail litigating position.
"The fact that they're putting it out there for all the public to see completely weakens the position of Special Litigation, not only in future cases but their current cases," Lopez said. "You can't even pretend like you have any authority anymore, you don't have any ability to do anything."
Vanita Gupta, who headed the Civil Rights Division in the Obama era, said that the memo was "another attack on the core mission" of the Department of Justice and amounted to "a slap in the face to the dedicated career staff" in DOJ's Civil Rights Division.
"The memo is designed to restrict consent decrees and creates a series of increasingly higher roadblocks to render them rare and ineffective," said Gupta, who now heads the Leadership Conference on Civil and Human Rights.
"Consent decrees are a necessary, careful tool to ensure entities such as schools, employers, and law enforcement remedy patterns and practices of unconstitutional conduct. These agreements have judicial oversight and are used only when there is clear, overwhelming, and well documented evidence. The rationale for such oversight has not disappeared," Gupta added.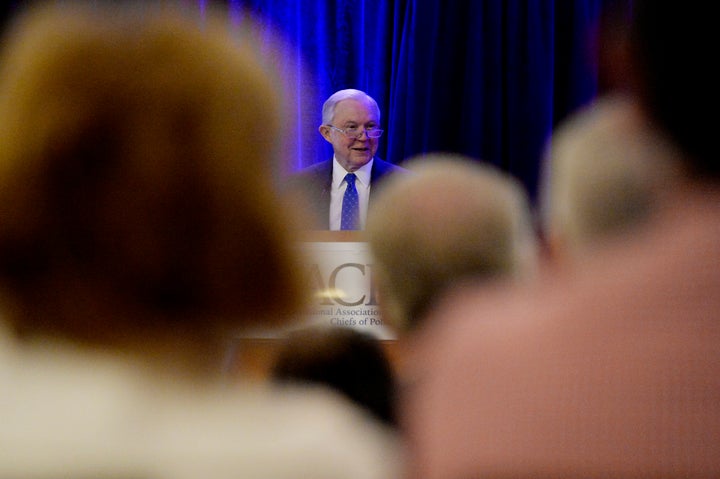 Early into his time as the nation's top law enforcement official, Sessions had ordered a wide-ranging review of the Justice Department's police reform efforts and said they must boost "officer safety, officer morale, and public respect for their work." In Baltimore, DOJ unsuccessfully tried to pull out of an agreement to reform the police department, citing Sessions' "grave concerns" about what a reform agreement might mean. Later, the Justice Department effectively killed a program that took a softer approach to police reform by seeking to work in concert with jurisdictions to implement changes to their policing practices.
Support HuffPost
The Stakes Have Never Been Higher
Popular in the Community