WASHINGTON ― Calling police officers the "frontline soldiers" in the fight against crime, Attorney General Jeff Sessions signaled Monday that the Trump administration's Justice Department would take a new position in the Civil Rights Division's approach to police abuse.
"We've got to go back and make sure that our police departments understand that they're being supported, both by the Department of Justice as an ally, and by the American people," Sessions told reporters at DOJ headquarters on Monday, in a preview of a speech he will give before a gathering of the nation's attorneys general on Tuesday.
"I do believe the Department of Justice is the leading advocate for law enforcement in America, and I hope to be able to fulfill my responsibility in that regard," Sessions said.
Asked by The Huffington Post whether he had read the Civil Rights Division's investigative reports on the police departments in Chicago and Ferguson, Missouri, Sessions conceded he had not. But, he said, he didn't think they were necessarily reliable.
"I have not read those reports, frankly. We've had summaries of them, and some of it was pretty anecdotal, and not so scientifically based," Sessions said.
Sessions said Monday he had "not made a decision" about how the DOJ would proceed in the Chicago case, but told reporters he was "really worried" about "the surge in murders" in the city. He was also troubled by the drop in the numbers of stop-and-frisk stops in Chicago, he said.
Sessions' position echoed the view he expressed throughout his nomination, when he indicated he subscribed to the "bad apples" view of policing, which holds that police abuse is not systemic in certain departments but the fault of individual rogue actors. Sessions said during his confirmation hearing that it was a "difficult thing" for a city to face allegations they had systemically violated the civil rights of citizens.
"We've got to understand that police are the frontline soldiers in the effort to keep the crime under control, along with sheriffs' deputies," Sessions said on Monday. "Many departments are not doing well in terms of morale, in terms of following good policies."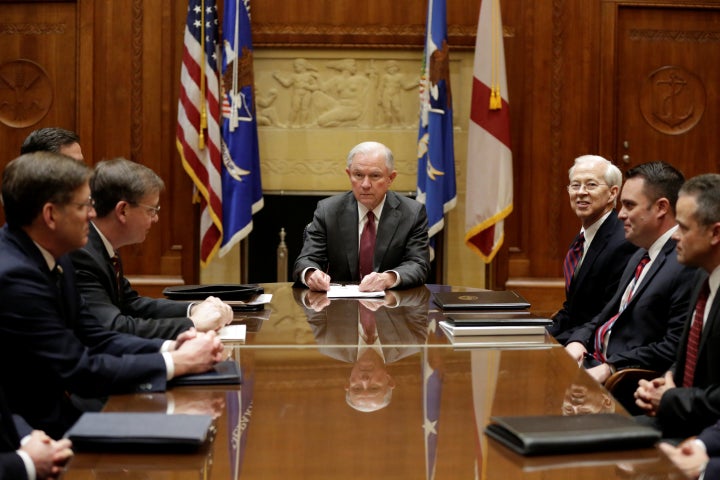 Sessions told reporters that any individual serious allegation of excessive force is subject to a federal investigation.
"Sometimes local police departments really step up and do a great job. It's almost disrespectful [to] them for the feds to go in and try to take it over," Sessions said in response to a question from The Huffington Post.
Sessions also said the nation had "gotten a little overconfident" about public safety and it affected how police responded to violence.
Sign up for the HuffPost Must Reads newsletter. Each Sunday, we will bring you the best original reporting, long form writing and breaking news from The Huffington Post and around the web, plus behind-the-scenes looks at how it's all made. Click here to sign up!
Popular in the Community