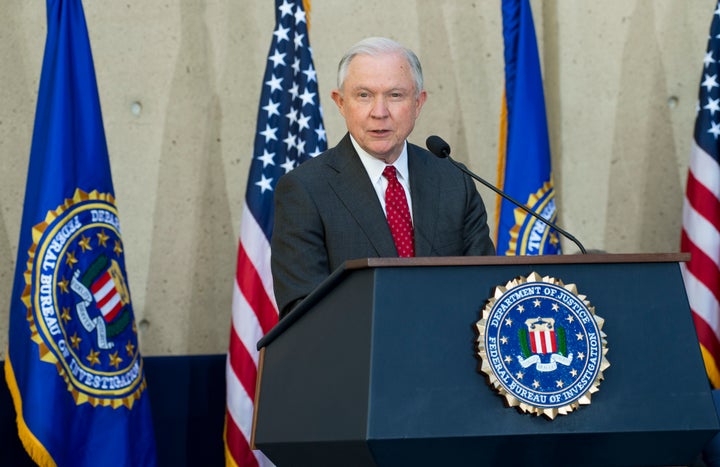 WASHINGTON ― The Justice Department announced on Thursday the "reinvigoration" of an anti-crime program that routed gun-related crimes typically prosecuted by local authorities to federal courts, often resulting in criminals being locked up in federal prisons located far away from their families and homes.
The DOJ said in a press release that Project Safe Neighborhoods ― started by former President George W. Bush's administration ― had "been historically successful in bringing together all levels of law enforcement to reduce violent crime and make our neighborhoods safer for everyone."
In a memo, Attorney General Jeff Sessions said the program had a "significant impact on violent crime," but that DOJ's "support of this successful initiative has waned in recent years."
Elements of rejuvenating the project include assigning about 40 federal prosecutors to roughly 20 U.S. attorney offices around the country to focus on violent crime and expanding a program operated by the federal Bureau of Alcohol, Tobacco, Firearms and Explosives that results in faster traces of guns used in shootings.
DOJ officials hope that the message that gun-related crimes could lead to lengthy prison stays in a faraway federal prison will serve as a deterrent. As a federal case, a gun-related crime such as felony possession of a weapon can result in a longer prison sentence than might result if charges are filed by local authorities.
Sessions' memo cited a 2009 study that showed a 4.1 percent drop in violent crime in cities targeted by Project Safe Neighborhoods. But as FiveThirtyEight reported, it's difficult to definitively tie the initiative to such a decrease:  
It might not be possible to know with the data we have. Also, some researchers think it's simply not possible to control for all the other factors, policing and otherwise, that can affect reported crime numbers. Weather, trauma medicine and economics can all affect gun death numbers.
For his part, Sessions thinks the program is a slam-dunk. His memo encouraged federal prosecutors to bring "the full extent of criminal sanctions to bear on violent offenders," and instructed U.S. attorneys to "implement a plan" to address the most significant violent crime in their districts. 
"By using the most effective law enforcement tools and techniques to identify and prosecute the most violent offenders, we will send the clear message that we will protect communities against those that choose to do them harm," Sessions wrote. "We can never cede a single neighborhood, block, or street corner to violent criminals."
In the DOJ press release, Sessions said Project Safe Neighborhoods was "the centerpiece of our crime reduction strategy."
Calling all HuffPost superfans!
Sign up for membership to become a founding member and help shape HuffPost's next chapter