Under Attorney General Jeff Sessions, immigration judges face growing pressure to complete cases faster, potentially at the expense of giving immigrants a fair day in court, the president of the union of immigration judges warned on Friday.
Judges are under undue pressure to work through cases — which would only worsen with a soon-to-be-implemented quota system, said the National Association of Immigration Judges' president, Ashley Tabaddor, at the National Press Club in Washington on Friday.
Some judges might also feel pressure to decide cases in a certain way too, because of the views and statements from their boss, she suggested. She separately said the attorney general is prone to "disparaging remarks about private attorneys and individuals appearing before the court."
"I would just say, listen to the attorney general's remarks and you can decide what message is being sent," Tabaddor said when asked if the pressure had to with both the speed of completing cases and their outcome. (She was speaking in her capacity as the union's president; immigration judges are not typically permitted to speak publicly about issues before their courts.) 
The problem, she said, boils down to a fundamental flaw in the immigration court system: that it's under the Department of Justice, rather than an independent agency.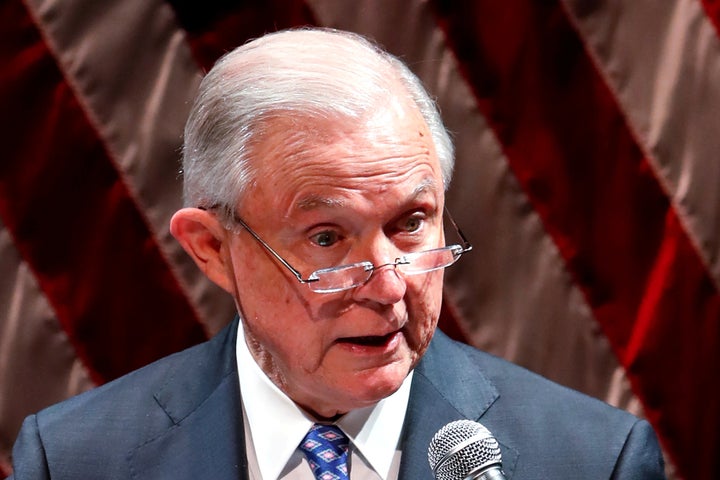 Sessions has made no secret of his views on unauthorized immigration, either as a senator who railed against amnesty for the undocumented U.S. residents or as the head of the Department of Justice, which administers the nation's immigration courts through the Executive Office for Immigration Review. That gives him extraordinary power over those courts not just in hiring judges but also in being able to unilaterally reverse decisions and setting precedents ― something he has done six times this year.  
Those decisions, coupled with a case quota system for judges set to go into effect in October, were aimed at shrinking a more than 700,000-case backlog in the courts and adhering to the law, according to Sessions. But critics argue their effect could be to pressure judges to make swift decisions on complex cases, potentially sending individuals back to harm without having their cases heard fairly.
"The overarching theme of any discussion from the department has been solely on efficiency rather than due process," Tabaddor said. 
This week Sessions limited the ability of judges to terminate or dismiss cases, writing that judges lack authority to do in many instances, "even though a particular case may pose sympathetic circumstances." That follows decisions that restricted judges' discretion to administratively close cases and a sweeping order that generally immigrants should not be granted asylum on the basis of being subject to gang or domestic violence.
There could be more changes to come. Sessions also announced this week that he is reviewing a case that could lead to individuals in asylum proceedings being denied the ability to be released on bond.
The administration "really weaponized the court system to increase deportations, as opposed to safeguarding due process," said Mary Meg McCarthy, the executive director of the advocacy group Heartland Alliance's National Immigrant Justice Center.
Sessions is not the first to refer cases to himself; it's a power held by all attorneys general, although he has done so unusually often this year. Calls to move immigration courts out of the Department of Justice's purview date to well before President Donald Trump; the American Bar Association, for example, called for independent immigration courts in 2010.
Sessions' actions have highlighted the need for independent courts, said Kate Voigt, an associate director of government relations at the American Immigration Lawyers Association.
"The changes we've seen under the current attorney general just show that the system as it is now is one that could too easily be manipulated," she said. "We really can't have a neutral arbiter until it is taken out of the Department of Justice."
Such a move would require action from Congress and a signature from the president, something that is unlikely for the foreseeable future. But Tabbador said it would be a "pretty easy" transition to separate immigration courts from the Department of Justice should it be approved, quipping that they would need to create new letterhead and put in new management.
The quotas in particular are causing extreme stress for judges, who handle a diverse array of dockets, some of which involve cases that can be concluded quickly and others that cannot, Tabbador said. She blamed poor management decisions and a lack of resources for the backlog and argued that the quota idea was based on an inaccurate assumption that judges are "twiddling our thumbs." 
The union is pressing managers to abandon the plan for quotas, including asking them to turn over information on how they were set. It also filed a grievance last month on behalf of a judge who contends that the Department of Justice transferred dozens of cases away from him because he did not order an individual deported at a hearing.
The Department of Justice issued a statement accusing the National Association of Immigration Judges of trying to interfere with the DOJ's efforts to improve the court system. The spokesperson, who declined to be named, accused the union of contributing to a "massive backlog" and said the "proper home" for the courts is within the Department of Justice, as set by Congress.
"Many Americans would be shocked to learn that a union — a public sector union that does not represent the views of all immigration judges — consistently attempts to block the Justice Department's common-sense reforms to fix decades of immigration court mismanagement," the spokesperson said in a statement. "It is possible to achieve the Department's goal of reducing the backlog by 50% in 2020 with collaboration — not obstruction and intentional undermining — from the immigration judge union."
Calling all HuffPost superfans!
Sign up for membership to become a founding member and help shape HuffPost's next chapter
BEFORE YOU GO
PHOTO GALLERY
How Donald Trump Talks About Undocumented Immigrants