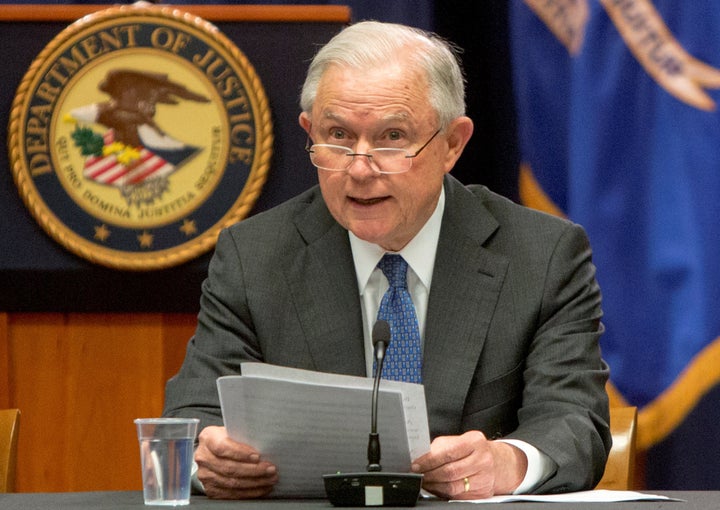 WASHINGTON ― Attorney General Jeff Sessions wants Justice Department attorneys to push back on federal judges who have imposed nationwide injunctions against some of the Trump administration's most controversial policies.
In a memo to the nation's 94 U.S. Attorneys' Offices on Thursday, Sessions said judges have been "acting outside the bounds of their authority and granting relief that reaches far beyond the confines of the particular case or controversy before them."
The Trump administration has faced 25 nationwide injunctions, Sessions said, including cases involving bans on travel, transgender members of the military, and federal funding for so-called sanctuary cities.
The memo instructs litigators to remind courts of constitutional limits on their authority; emphasize that the rise in nationwide injunctions is "an historical anomaly inconsistent with centuries of judicial practices"; and argue that nationwide injunctions could discourage other litigants from suing and may "further undermine the public's confidence in the judiciary because they may be perceived as a sign of disrespect from one court to another."
"Increasingly, we are seeing individual federal district judges go beyond the parties before the court to give injunctions or orders that block the entire federal government from enforcing a law or policy throughout the country," Sessions said in a statement.
"This kind of judicial activism did not happen a single time in our first 175 years as a nation, but it has become common in recent years," Sessions said. "This trend must stop. We have a government to run. The Constitution does not grant to a single district judge the power to veto executive branch actions with respect to parties not before the court. Nor does it provide the judiciary with authority to conduct oversight of or review policy of the executive branch. These abuses of judicial power are contrary to law, and with these new guidelines, this Department is going to continue to fight them."
Ryan Reilly is HuffPost's senior justice reporter covering the Justice Department, federal law enforcement, criminal justice and legal affairs. Have a tip? Reach him at ryan.reilly@huffpost.com or on Signal at 202-527-9261.
This is a developing story. Please check back for updates.
REAL LIFE. REAL NEWS. REAL VOICES.
Help us tell more of the stories that matter from voices that too often remain unheard.