WASHINGTON ― Laughing at the claim during a congressional hearing that Attorney General Jeff Sessions treats all Americans equally is ― in and of itself ― enough to merit a criminal charge, a Justice Department lawyer argued before a D.C. jury on Tuesday.
David Stier, a Justice Department lawyer, made the claim in closing arguments in a two-day trial of Desiree Fairooz, a 61-year-old activist associated with Code Pink. She was arrested in January when she laughed during Sessions' confirmation hearing after another senator claimed Sessions had a long record of "treating all Americans equally." Fairooz is on trial alongside Tighe Barry and Lenny Bianchi, who dressed as Ku Klux Klan members and pretended to support Sessions during the hearing.
Fairooz was taken into custody by a rookie Capitol Police officer who had never made an arrest before and was covering her first congressional hearing. Stier also told the men and women deciding the case in D.C. Superior Court this was his first jury trial. (The U.S. Attorney's Office for the District of Columbia prosecutes both local and federal cases, so Superior Court is a good place for DOJ attorneys from various divisions to get trial experience, as very few federal cases ultimately go to trial.)
Stier said the case against the defendants was about them "making a scene" and intentionally taking steps to bring attention to themselves. He labeled them "professional protesters" and said Fairooz's "loud bursts of laughter" disrupted Congress, even though the proceedings continued without interruption until Capitol Police forcibly removed her from the room.
"A number of heads turned around because it was loud," Stier argued. "I would submit that laughter is enough, standing alone," to merit a charge, he said. But he then went on to highlight other actions he believed put the case over the top, such as Fairooz's statement when she was being removed from the room that she was "going to be quiet" until she was removed, as well as holding up her sign as she was escorted out.
"Ms. Fairooz decided to not be quiet," Stier told the jury. It wasn't the Capitol Police, Stier told the jury, who moved her mouth or moved her lips or moved her diaphragm. Stier called the evidence against Fairooz and the other clients "absolutely overwhelming."
Later, in a rebuttal to the defense, DOJ lawyer Jason Covert claimed Fairooz was "given multiple warnings" before her "scoff" or "burst of laughter."
Covert claimed that other people around her were disrupted by Fairooz's laugh after Sen. Richard Shelby (R-Ala.) claimed that Sessions' "extensive record of treating all Americans equally under the law is clear, and well-documented." (Sessions was rejected by the Senate as a federal judge because of concerns about his views on race. While he denied many of the allegations against him, he admitted to suggesting, in the 1980s, that the "fundamental legal barriers to minorities had been knocked down" and expressing concern that civil rights organizations were asking for things "beyond" what was "justified.")
While Fairooz's lawyer may say the laughter was minor event, Covert claimed that for "the other people around her, it wasn't insignificant." (A couple of the defendants' supporters in the courtroom scoffed at that line.)
Fairooz's attorney Samuel Bogash said his client's laughter was "totally spontaneous" and "unintentional." He said you could "barely" hear the laugh on the C-SPAN tape (you can listen for her laugh in the video below).
Bogash said that Fairooz was "struck" by Shelby's claim. The U.S. Capitol Police, Bogash said, gave his client "the old United Airlines routine" and removed her from the room. Fairooz simply acted the way anyone would have if they were "yanked" out of their chair, he said.
"She's here because she laughed," Bogash said. "I can't say it enough. She's here because she laughed."
Lenny Bianchi, one of the individuals who dressed up like a KKK member and greeted Sessions when he entered the hearing, represented himself during the trial and said he purposefully took action before the hearing began because he did not wish to interrupt or be arrested.
"For there to be a disruption, there must first be order," Bianchi said. "Where there is no order, there can be no disruption."
"It was clearly not my intention to disrupt anything," Bianchi said. "I am not guilty of the charges that have been filed against me, and what I did was for the good of the country."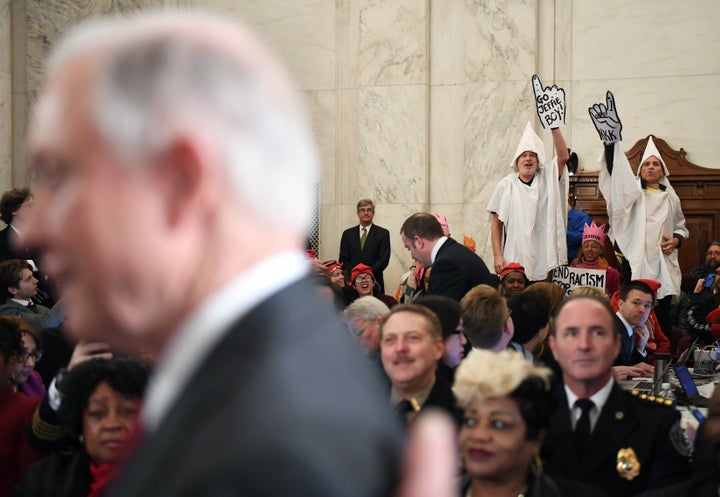 Frederick Iverson, an attorney representing Tighe Barry, argued that the government "didn't do their job" in proving their case, and that the defendants created a "spectacle" but not a disruption. The government couldn't prove that the defendants intended to disrupt the proceedings, he said, and their arguments were all about confusing the jury.
In his rebuttal, Covert also said that protesting is something the defendants "do all the time." He once again highlighted the KKK outfits to the majority-black jury, repeating lines Bianchi and Barry used and pointing out that their signs said "KKK #1" and "Go Jeffie Boy." Nevertheless, Covert said, he was "very sure" the defendants don't support the KKK.
Covert said all of the defendants disrupted orderly proceedings in Congress. "All three of these individuals were well beyond the line," he said.
The jury began deliberations late Tuesday afternoon and will continue deliberating on Wednesday morning. Of possible concern for DOJ lawyers prosecuting the case: President Donald Trump received just 4.1 percent of the vote in the District of Columbia.
Popular in the Community