Attorney General Jeff Sessions hates marijuana, but it appears unlikely that he'll send the federal government to war against states that have legalized it.
That's the takeaway from Sessions' appearance Wednesday before local, state and federal law enforcement officials in Richmond, Virginia.
After delivering prepared remarks comparing marijuana to heroin and insisting that "using drugs will destroy your life," Sessions told reporters that much of the Obama-era guidance that paved the way for states to legalize marijuana is "valid." It's the clearest indication yet that he may not be readying for a nationwide crackdown as some drug policy reformers have feared.
"The Cole Memorandum set up some policies under President Obama's Department of Justice about how cases should be selected in those states and what would be appropriate for federal prosecution, much of which I think is valid," Sessions told reporters.
Sessions said he "may have some different ideas myself in addition to that," but indicated that the Justice Department doesn't have the resources to enforce federal prohibition in states across the country.
The attorney general's comments were first reported by Tom Angell on the blog of MassRoots, a social media company.
Marijuana remains illegal under the federal Controlled Substances Act, despite many states' efforts to scale back on criminalizing the plant over the past few years. Legal recreational marijuana has been approved in eight states and Washington, D.C., which continues to ban sales, unlike the state programs. A total of 28 states have legalized marijuana for medical purposes.
John Hudak, a senior fellow at the Brookings Institution who writes extensively on marijuana policy, said that Sessions' remarks suggest he is "more serious about respect for the Cole memo" than previously believed.
"Sessions understands that while there is a lot to be done in the Department of Justice, there is relatively not a lot of funds to do it, so he has to have priorities," Hudak said. "And it sounds like he believes that the choices of his predecessors had merit."
Marijuana is the most commonly used illicit substance in the United States, and the trend of states bucking prohibition in favor of legal regulation of the plant reflects a broad cultural shift toward greater acceptance of marijuana. National support for legalization has risen dramatically in recent years, reaching historic highs in multiple polls. And states like Colorado, the first to establish a regulated adult-use marijuana marketplace, have seen successes that defied some lawmakers' and law enforcers' predictions that such policies would result in disaster.
But just because Sessions may be resigned to leaving marijuana policy alone doesn't mean he supports the drug.
Likening marijuana to heroin, Sessions said he'd prefer not to allow people to "trade one life-wrecking dependency for another that's only slightly less awful."
While no drug is harmless, marijuana and heroin could not be more different in their relative dangers. Research has shown that marijuana is substantially safer than other commonly used recreational drugs ― including alcohol, which can be deadlier than heroin. In the thousands of years people have been using marijuana, there has never been a recorded death from overdose. Meanwhile, opioid overdoses are responsible for the deaths of tens of thousands of Americans annually.
Sessions also expressed concern about the prospect of people selling marijuana "in every corner store," and claimed that some have suggested "we can solve our heroin crisis by legalizing marijuana." Though recent research has drawn a connection between access to medical marijuana and reductions in the overall use of opioids, neither of those arguments sound familiar to experts.
"Sessions has a total lack of understanding of what the marijuana industry is like, what marijuana reform in the states does and what the science is on this issue," Hudak said.
Sessions "very quickly loses credibility" when he uses this kind of rhetoric, Hudak noted.
"It's much easier to ignore the words of a man who's clearly not only ignorant but very comfortable in his own ignorance ― a serious challenge for an attorney general, who's the chief law enforcement officer in the United States," he said.
Support HuffPost
The Stakes Have Never Been Higher
Before You Go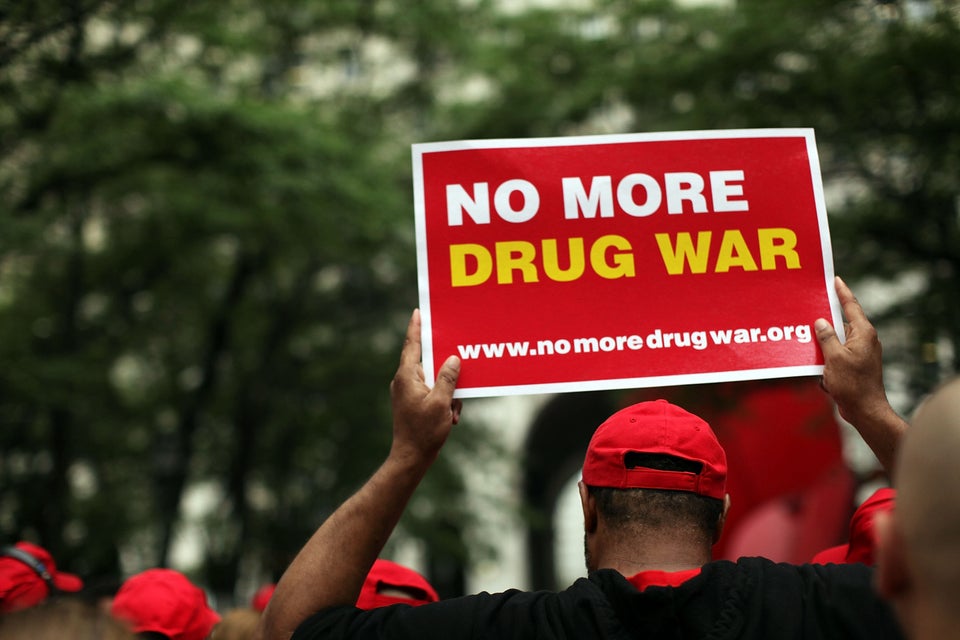 27 Reasons Why U.S. Shouldn't Lead War On Drugs
Popular in the Community