In November, then-Sen. Jeff Sessions (R-Ala.) called for Loretta Lynch to recuse herself from any investigation into Hillary Clinton's use of a private email server or improper conduct by the Clinton Foundation, saying the attorney general could not be impartial after her impromptu meeting with former President Bill Clinton on an airplane in Phoenix.
"When a high public official is accused of serious wrongdoing and there is a sufficient factual predicate to investigate, it is imperative the investigation be thorough, with dispatch and without partisanship," Sessions wrote in an op-ed, co-signed by other high-profile Donald Trump supporters.
Sessions is now the attorney general. And he is so far resisting calls to recuse himself from any investigation into Russia's interference in the 2016 elections ― even after The Washington Post reported that he met with Russia's ambassador to the U.S. twice during the campaign, and that he failed to disclose those encounters when asked about them under oath during his confirmation hearing.
"I'm not aware of any of those activities," Sessions said in January, when Sen. Al Franken (D-Minn.) asked him whether anyone affiliated with the Trump campaign had met with Russian officials.
"I have been called a surrogate at a time or two in that campaign and I did not have communications with the Russians," he added.
Sessions has maintained that his conversations with the ambassador were part of his duties as a member of the Senate Armed Services Committee, not as a Trump surrogate.
But even with that explanation, his position has become far more precarious following the Post's story. A growing number of Democrats and some Republicans have called on him to step aside from any investigation into Russia's role in the election and whether Trump associates or campaign aides had improper contact with Russian officials during that time.
Some of these Democrats, it's worth noting, are themselves singing a different tune on impartiality now than they used to. Senate Minority Leader Chuck Schumer (D-N.Y.), for example, has called for Sessions to recuse himself, but previously defended Lynch's ability to handle the Clinton investigation after the airplane meetup.
Still, Sessions' earlier call for Lynch to recuse herself makes it all the more difficult for him to argue now that he should remain in a managerial or oversight role in the investigations that the FBI, which reports up to the Justice Department, has launched into Russia's election interference.
Indeed, during his confirmation hearing for the attorney general post, Sessions said that had he been in Lynch's shoes at the time of the meeting with Bill Clinton, he would have stepped aside.
"She did not officially recuse. And there is a procedure for that, which I would follow," he said, as noted by the Democratic opposition research group American Bridge. "I believe that would be the best approach for the country because we can never have a political dispute turn into a criminal dispute. That's not in any way that would suggest anything other than absolute objectivity. This country does not punish its political enemies, but this country ensures that no one is above the law."
Want more updates from Amanda Terkel? Sign up for her newsletter, Piping Hot Truth, here.
Before You Go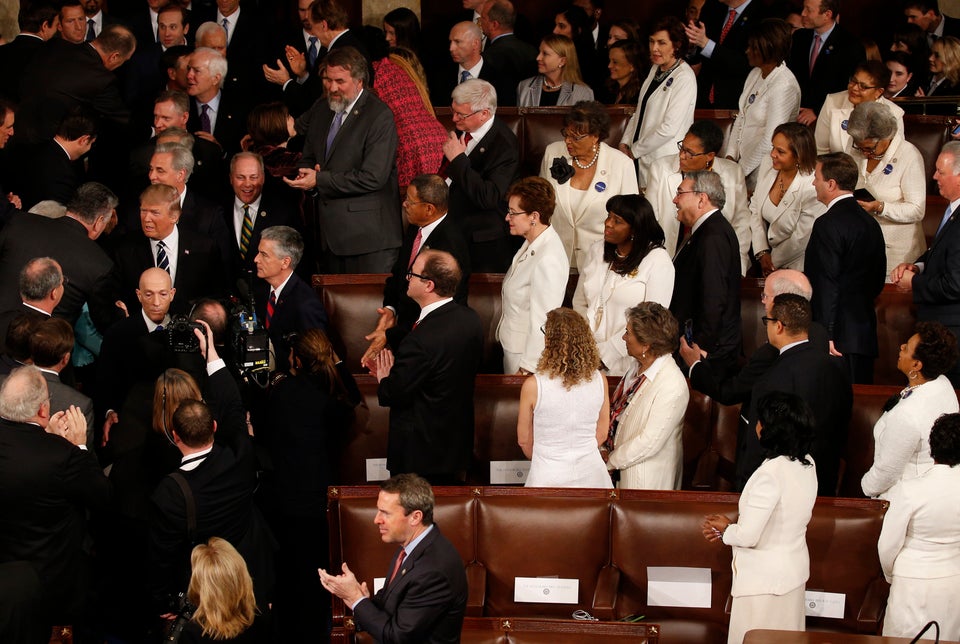 Trump's First Speech To Congress
Popular in the Community