WASHINGTON ― Attorney General Jeff Sessions, a vocal and longtime opponent of marijuana, will allow the nation's top federal prosecutors to decide how to handle marijuana cases in states where the drug has been legalized.
The Justice Department decision, announced on Thursday, immediately caused chaos in an industry that has been growing in recent years as some states have embraced marijuana legalization, and sent stock prices of large cannabis companies nosediving as much as 35 percent. It will likely leave those in legal marijuana businesses uncertain whether the U.S. attorney in their district will resume enforcing federal law, which still regards marijuana as illegal.
Sessions rescinded four memos issued during the Obama administration that outlined guidelines to help federal prosecutors decide whether to enforce laws against marijuana growers and sellers in states where the drug is legal. The guidance effectively discouraged federal prosecution of those who were following state laws.
"It is the mission of the Department of Justice to enforce the laws of the United States, and the previous issuance of guidance undermines the rule of law and the ability of our local, state, tribal, and federal law enforcement partners to carry out this mission," said Sessions. "Therefore, today's memo on federal marijuana enforcement simply directs all U.S. attorneys to use previously established prosecutorial principles that provide them all the necessary tools to disrupt criminal organizations, tackle the growing drug crisis, and thwart violent crime across our country."
One Justice Department official called Sessions's decision a "return to the rule of law." But DOJ officials struggled to explain the implications of the policy in a background briefing with reporters on Thursday, and offered little direction for the state-legal marijuana industry.
"Marijuana continues to be against federal law," one said.
A senior department official said Sessions' new memo removes the "de-facto safe harbor" that existed under Obama policy. "This is something that has been under consideration at the department for a long time, and I think finally a decision was made," the official said.
Sessions has been all over the place on issues of states' rights, but has consistently opposed marijuana legalization. He's also been reliable supporter of aggressive law enforcement action against drugs more broadly. During a hearing on Capitol Hill in 2016, Sessions, then a senator, spoke out against weed, and urged the federal government to send the message to the public that "good people don't smoke marijuana." He also has called states' legalization of marijuana "a mistake," claimed cannabis is only "slightly less awful than" heroin and criticized the Obama administration for not taking a more forceful stance against the drug.
Although marijuana remains illegal under federal law, eight states and Washington, D.C., have voted to legalize the substance for recreational use. A total of 28 states have legalized marijuana for medical purposes.
A Justice Department memo in 2013, shortly after the first successful statewide cannabis legalization initiatives in Colorado and Washington state, was among the Obama administration's guidance that permitted states to forge their own way on marijuana law. A series of memoranda included the Cole memo, named after then-Deputy Attorney General James Cole, which urged federal prosecutors to refrain from targeting state-legal marijuana operations.
But those memos were not officially law, and were subject to changes from future administrations.
Rep. Earl Blumenauer (D-Ore.), co-chair of the Congressional Cannabis Caucus and a representative of a legal marijuana state, called it "one of the stupidest decisions" Sessions has made.
"One wonders if Trump was consulted ― it is Jeff Sessions after all ― because this would violate his campaign promise not to interfere with state marijuana laws," Blumenauer said in a statement. "It's time for anyone who cares about this issue to mobilize and push back strongly against this decision."
Rep. Jared Polis (D-Colo.), who also co-chairs the cannabis caucus, called on the president to overrule Sessions.
"The Trump Administration needs to back off, and allow marijuana to be treated like alcohol under the law," Polis said in a statement. "At stake is a growing industry that has created 23,000 jobs and generated $200 million in tax revenue in Colorado. I'm calling on President Trump to overrule Attorney General Sessions and protect consumers, our economy, the will of the voters, and states' rights."
Sen. Cory Gardner (R-Colo.) suggested Sessions lied ahead of his confirmation as attorney general about his intent to target state-legal marijuana operations. Gardner, in a series of tweets, also threatened to retaliate.
"Sessions has shown a preference for allowing all commerce in marijuana to take place in the black market, which will inevitably bring the spike in violence he mistakenly attributes to marijuana itself," said Rohrabacher. "He is doing the bidding of an out-of-date law enforcement establishment that wants to wage a perpetual weed war and seize private citizens' property in order to finance its backward ambitions."
Rohrabacher added: "By taking this benighted minority position, he actually places Republicans' electoral fortunes in jeopardy."
The direct impact of the policy change is uncertain. It means that U.S. attorneys ― the chief federal law enforcer within their regional jurisdiction ― now have the attorney general's blessing to aggressively pursue marijuana prosecutions. The U.S. has 94 U.S. attorneys.
"We don't know a lot about the U.S. attorneys because the president fired all of them," said John Hudak, a senior fellow at the Brookings Institution and an expert on marijuana policy. "As the acting U.S. attorneys show what they're going to do and the newly confirmed U.S. attorneys begin to act, we'll get a better understanding, but until then it's just uncertainty layered on top of uncertainty."
A senior Justice Department official said the message for the nation's top federal prosecutors was that they should approach marijuana cases "like all other cases" and decide which prosecutions are priorities in their district.
"We think that U.S. attorneys need to determine what cases need to be brought in their districts," one senior Justice Department official said. "The attorney general believes marijuana is against federal law."
Later Thursday, Bob Troyer, the U.S. attorney for Colorado, said his office wouldn't change its priorities with the new guidance, and would continue to focus "in particular on identifying and prosecuting those who create the greatest safety threats to our communities around the state."
Marijuana-reform advocates blasted Sessions' decision as a sad step backward.
"Jeff Sessions' obsession with marijuana prohibition defies logic, threatens successful state-level reforms, and flies in the face of widespread public support for legalization," said Maria McFarland Sánchez-Moreno, executive director of the Drug Policy Alliance, a progressive nonprofit. "It's now time for Congress to put the brakes on Sessions' destructive agenda by limiting the Justice Department's ability to undermine states' decisionmaking."
Read Sessions' memo below.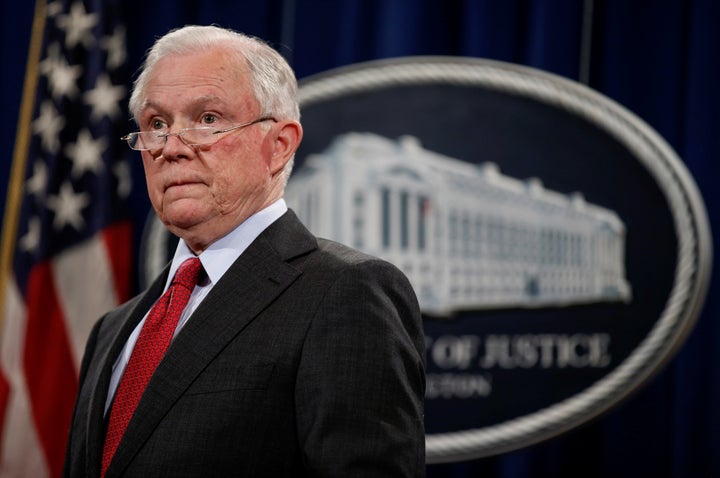 Popular in the Community