WASHINGTON ― At the end of one of the most consequential weeks in the history of the U.S. Department of Justice ― a week that featured dramatic testimony from a former acting U.S. attorney general previously dismissed by the president, a week dominated by the commander-in-chief's shock firing of the FBI director ― Attorney General Jeff Sessions walked into the room where the Justice Department makes news.
But it wasn't Sessions who spoke first in the conference room on the seventh floor of the Justice Department's hulking headquarters building along Pennsylvania Avenue. Nor was it someone in a leadership position at Justice. Nor was it a U.S. attorney, another federal prosecutor, an FBI official or any other federal law enforcement official authorized to speak on behalf of the DOJ.
The man standing behind the seal of the Justice Department had no affiliation with the nation's federal law enforcement organization. He's a controversial police union president, and he was there to give the 84th attorney general of the United States an award and declare Sessions an honorary member of his New York City police union.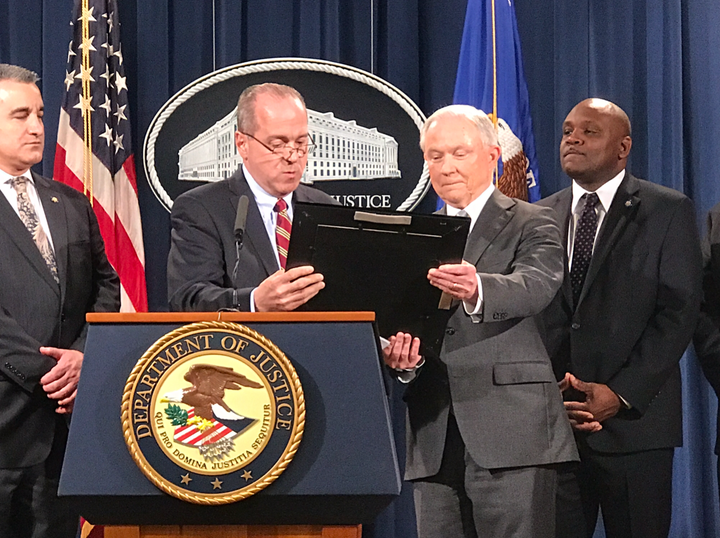 Police Sgt. Edward Mullins Jr. is the president of the Sergeants Benevolent Association of New York City. Standing before the cameras and reporters on Friday, Mullins said his police union was honoring Sessions because, "in a time when politicians and the top brass in police departments do not always have the courage to put the interests of non-citizens and officer safety ahead of political correctness and calculated re-election ploys," the attorney general was committed to "having the backs" of cops in New York and beyond.
Mullins, a member of the city's police force since 1982, is a polarizing figure in New York. The Village Voice calls him "a noisy troll" and "a shrill contrarian with little regard for the public's welfare." Former New York City police Commissioner Bill Bratton called him "Crazy Eddie." Another website once declared him "the worst person in New York." He often uses inflammatory language about police-citizen conflicts, once accusing then-President Barack Obama of being anti-cop and supporting the idea of a police boycott of a Beyonce tour following her 2016 Super Bowl performance.
After the murder of two New York City police officers in 2014, Mullins pinned their deaths on the mayor. "Mayor de Blasio, the blood of these two officers is clearly on your hands," he said.
In 2015, when the city of New York reached a settlement with the family of Eric Garner ― the Staten Island man who died after NYPD Officer Daniel Pantaleo put him in a prohibited chokehold during an arrest ― Mullins called the settlement "obscene."
In 2016, after current NYPD Commissioner James O'Neill said officers had made a mistake when they shot a 66-year-old mentally ill woman armed with a baseball bat, Mullins stormed out of the meeting.
Speaking at Justice Department headquarters on Friday, Sessions said he respected Mullins. "I have long expressed my admiration for the successes you have achieved, Ed, you and your members," the attorney general said.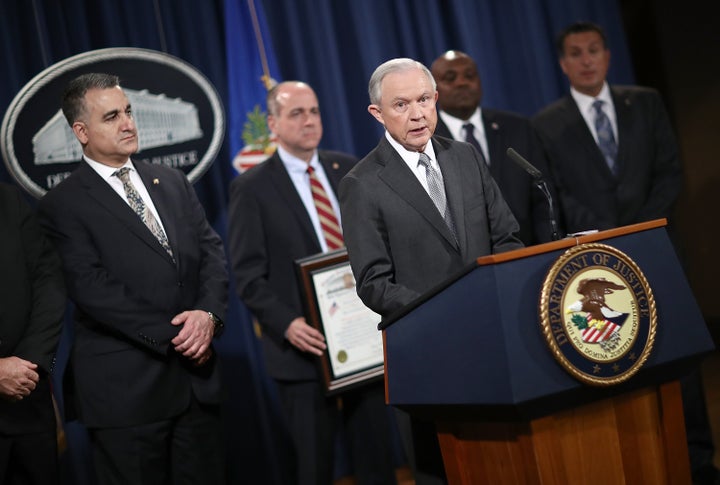 It was an unusual sight. Matthew Miller, who served as the Justice Department's top spokesman under then-Attorney General Eric Holder, called it "very strange" for the nation's top law enforcement official to receive an award from a police union at Justice Department headquarters.
"Attorneys general often get awards from law enforcement when they speak at dinners and other events, but holding an event at the Justice Department just so you can get an award is a Trumpian-level of self-regard and self-promotion," Miller told HuffPost.
He added that he could think of no other non-DOJ officials, other than some state attorneys general, who had appeared behind the lectern at a press event in that room during his time at the department.
Mullins said after the event that this was the first time his organization had honored a U.S. attorney general.
"It's Police Week and we're in Washington, so it's the perfect place to do it," Mullins said. "If he was in New York, I could've done it there, but Police Week wasn't being held in New York."
The mutual admiration between Sessions and the Sergeants Benevolent Association seems to have grown out of a recent dispute between the Justice Department and the NYPD. Last month, DOJ threatened to withhold federal law enforcement grants from so-called "sanctuary cities" it says are breaking the law by not proactively cooperating with federal law enforcement. In a press release, the Justice Department described New York City as "soft on crime," despite record low crime rates in the city.
Mayor Bill de Blasio called the claim an "outrageous" attack on rank-and-file police officers, while O'Neill said the "incredibly insulting" statement from DOJ made his "blood ... boil."
But Mullins, who wants the NYPD to more fully cooperate with federal immigration authorities, wasn't insulted. He said the Justice Department was right to call out the city's policies.
In an interview after the DOJ event, Mullins praised Sessions' decision this week to instruct federal prosecutors to always pursue the most serious charge available, including charges that trigger mandatory minimum sentences.
"Law enforcement has been working at a disadvantage for a pretty long time," Mullins said. "There's a tremendous feeling of support that we're experiencing right now from this office."
Sessions did not take any questions after the event, ignoring reporters' shouted inquiries about his role in the firing of former FBI Director James Comey.
Support HuffPost
The Stakes Have Never Been Higher
Popular in the Community