WASHINGTON ― Sen. Jeff Sessions (R-Ala.) and his supporters sought on Tuesday to convince the American public that he won't discriminate against people of color if he is confirmed as the attorney general, the nation's top law enforcement officer.
The last time Sessions went before the Senate for confirmation ― to a federal judgeship in 1986 ― senators blocked him over concerns of racial bias. As a U.S. attorney in 1985, he had prosecuted three African-American activists for alleged voter fraud over disputed absentee ballots. The activists were subsequently acquitted.
Sessions defended his record as a U.S. attorney during Tuesday's hearing before the Senate Judiciary Committee. "I did not harbor the kind of animosities and race-based discrimination ideas that were — that I was accused of. I did not," he said.
But Sen. Dianne Feinstein (D-Calif.), the top Democrat on the committee, said there is a "deep fear about what a Trump administration will bring in many places." She added, "This is the context in which we must consider Sen. Sessions' record."
One of Sessions' primary critics at his Senate hearing three decades ago was Thomas Figures, a black assistant U.S. attorney who had previously worked for him. Figures, who died in 2015, told the committee that Sessions had called him "boy" more than once ― a slur meant to demean and disrespect when used to address black men.
Sessions also joked about the Ku Klux Klan, according to Figures: He recalled Sessions describing the KKK as "OK until he learned that they smoked marijuana." And Figures said Sessions had called the NAACP, the storied African-American civil rights group, "anti-American."
Sessions said on Tuesday that this caricature of him is "not correct." He rebuked the KKK, saying he abhorred their "hateful ideology." He also said he "fully supported" the civil rights lawyers who brought "historic cases" during his tenure as a U.S. attorney in the 1980s and as the state attorney general of Alabama from 1995 to 1997.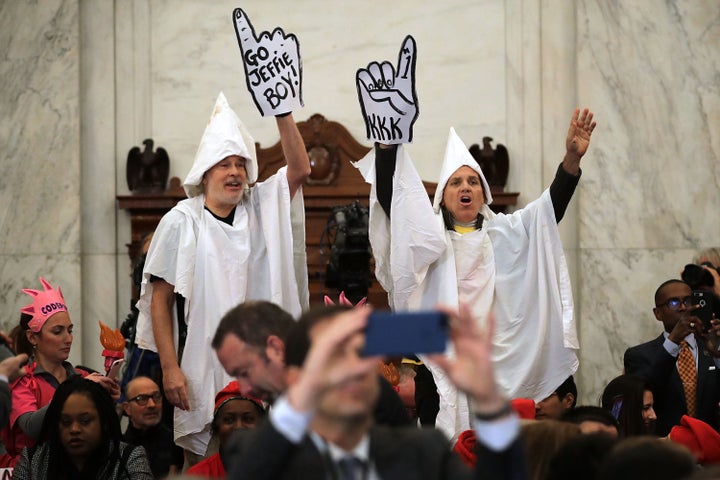 Republicans on the committee said that allegations of racism should not define the breadth of Sessions' public service.
"People are identifying specific issues where there are policy differences, but my point is that does not characterize your entire record of 20 years in the United States Senate or how you conducted yourself as a prosecutor," said Sen. John Cornyn (R-Texas).
At one point during Tuesday's hearing, Sessions complained that people may be more inclined to think he is racist because he has a "Southern name" — Jefferson Beauregard Sessions III — and is from "South Alabama." Sen. Lindsey Graham (R-S.C.) said that he empathized.
"I'm from South Carolina, so I know what it's like sometimes to be accused of being a conservative from the South," Graham said.
A Trump transition team official said the Lions Club member was David Thomas, who worked in the U.S. Department of Agriculture inspector general's office. Thomas passed away in 2015, but his son, David Thomas II, told The Huffington Post that Sessions and his father formed a "great friendship and working relationship." He also said he believed his father would have been very supportive of Sessions' nomination.
"I know that there's been a lot said in regards to Mr. Sessions' relationship with the African-American community," he said. "From what we have observed over the years, he's been very fair and has been very judicious in all of his efforts in race relations."
But civil rights activists remain skeptical. In planned testimony for a second day of hearings on Wednesday, the American Civil Liberties Union's national legal director, David Cole, will call for close scrutiny of Sessions' record: "If you learned that a candidate for an entry-level position on your staff had said some of the offensive things that Sen. Sessions has said and had misled you about his prior accomplishments, you would probably look elsewhere."