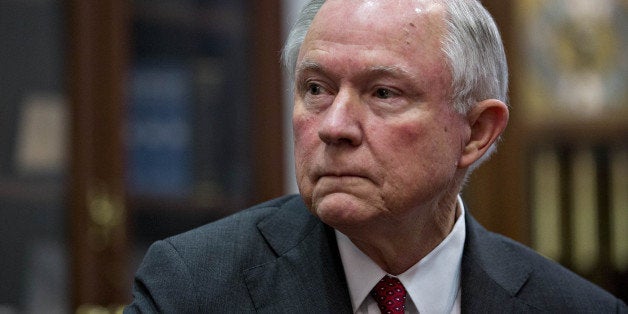 Thirty years ago, a bipartisan majority of the Senate Judiciary Committee rejected the nomination of Jeff Sessions to be a federal judge after hearing testimony from those who had worked with him, who reported a pattern of racist statements, hostility toward civil rights groups, and his targeting of voting rights activists as a federal prosecutor in his home state of Alabama.
Now, stunningly, Sessions -- who has since become a U.S. senator -- has been nominated by President-elect Donald Trump to be the U.S. attorney general, a position in which he would be responsible for enforcing civil rights laws throughout the country.
Unfortunately, Sessions' attitude toward civil rights seems not to have changed in the decades since he was accused of calling civil rights groups "communist-inspired" and "un-American." Nowhere is this clearer than in his relationship with Breitbart News, the far-right outlet that presents itself as a platform for the so-called Alt-Right, a white nationalist faction that has rebranded itself for the internet age.
A review by People For the American Way's Right Wing Watch found that since 2013 Sessions has given at least 18 interviews to Breitbart's radio programs and seven exclusive interviews to its print journalists and that his office provided Breitbart with exclusive first access to at least a dozen statements and documents.
These numbers bolster what journalist Julia Ioffe found in a June profile of Stephen Miller, who was Sessions' communications director before leaving to work for the Trump campaign and soon the Trump White House. Ioffe reported that when he was working for Sessions, Breitbart was Miller's "preferred media ally" and that he frequently fed leads to the site's reporters, and organized "a weekly Friday happy hour for Sessions and Breitbart staffers."
The mutual admiration between Sessions and Stephen Bannon, who was until recently the head of Breitbart and is now headed for a role in Trump's White House, is apparent in the more than a dozen radio interviews that Bannon conducted with Sessions. In one, Bannon called Sessions "one of the intellectual, moral leaders of this populist, nationalist movement in this country." In another, he called the Alabama senator "the leader of this populist revolt against the political elite and standing up for the American people." In one 2015 interview, Bannon called Sessions "one of the great leaders in this country and one of the great leaders of this movement" and asked him if he would run for president.
Sessions has returned the praise for Breitbart, telling Bannon in 2015 that Breitbart was "the absolute bright spot" in coverage of what he said was his fellow politicians' failure to come up with "clear policies that resonate" with the struggling middle class. "You get it," he said, "your writers get it, every day they find new information that I use repeatedly in debate on the floor of the Senate because it's highlighting the kind of problems that we have. And nobody else is doing it effectively, it's just not happening, so to me it's like a source. And we consistently find your data to be accurate and hold up under scrutiny."
While Sessions' expression of concern for the economic struggles of middle class Americans is hardly controversial, his praise for Breitbart's handling of the topic reveals that his concern may not apply equally to all Americans. Indeed, Breitbart has become infamous not for reporting on the economic plight of struggling Americans, but for holding up people of color and immigrants as scapegoats for all manner of troubles.
At the Republican National Convention in July, Bannon openly told Posner that Breitbart was "the platform for the Alt-Right," a white nationalist faction that was emboldened by Trump's presidential run. In August, one week before leaving Breitbart to lead Trump's campaign, Bannon praised the Alt-Right for being "a big part" of "this populist, nationalist" movement behind Trump. Former Breitbart writer Ben Shapiro said that Bannon "allowed the site to be taken over and used by a bunch of Alt-Right people who are not fond of Jews, are not fond of minorities."
The Southern Poverty Law Center defines the Alt-Right as "a set of far-right ideologies, groups and individuals whose core belief is that 'white identity' is under attack by multicultural forces using 'political correctness' and 'social justice' to undermine white people and 'their' civilization." Along with racism and white nationalism, the Alt-Right encompasses misogynist and anti-Semitic beliefs. Richard Spencer, who coined the term "Alt-Right" and who has emerged as a leader of the white nationalist faction, led an event celebrating Trump's victory that featured a crowd giving Nazi salutes.
It's clear how Breitbart has catered to this faction of racists and bigots. Under Bannon's leadership, Breitbart has:
Created a section called "Black Crime" devoted to pushing the idea that African Americans are prone to criminality.
Published a blog post by Bannon himself attacking the Black Lives Matter movement by asking, "What if the people getting shot by the cops did things to deserve it? There are, after all, in this world, some people who are naturally aggressive and violent."
In the same blog post, Bannon attacked Muslim immigration, writing, "There is something Luciferian about systematically ignoring dangers while bringing in more dangerous people."
Published a defense of the white nationalist Alt-Right that included admiring lines like this: "There are many things that separate the alternative right from old-school racist skinheads (to whom they are often idiotically compared), but one thing stands out above all else: intelligence. Skinheads, by and large, are low-information, low-IQ thugs driven by the thrill of violence and tribal hatred. The alternative right are a much smarter group of people -- which perhaps suggests why the Left hates them so much. They're dangerously bright."
Published an article titled "Birth Control Makes Women Unattractive And Crazy" that included lines like "birth control makes you a slut."
Published a headline calling conservative writer Bill Kristol a "renegade Jew."
Published a defense of the Confederate flag, claiming that efforts to take down the flag on public buildings in the wake of a white supremacist's murder of nine churchgoers in Charleston were "cultural genocide."
Published a story blaming feminism for mass shootings.
Of course, someone interviewed by a website should not be expected to take responsibility for everything that website has published. But Sessions' relationship with Breitbart has been deep, intentional, and mutually reinforcing. Sessions knew the audience he was reaching by working closely and repeatedly with "the platform for the Alt-Right." His admiration for and close working relationship with a website that has become infamous for promoting white nationalism and anti-Black, anti-woman and anti-immigrant hate should be disqualifying for someone who wants to represent all Americans as attorney general.
Marge Baker is the executive vice president of People For the American Way.
Support HuffPost
The Stakes Have Never Been Higher
Popular in the Community