Now that Attorney General Jeff Sessions has recused himself from any Justice Department investigations into Russian meddling in the presidential election, a timeline shows how his reported contacts with its ambassador last year came at key points in U.S.-Russia relations and in Donald Trump's campaign. 
At his Thursday news conference, Sessions maintained that he had spoken to the ambassador as a member of the Senate Armed Services Committee, not as a surrogate for the Trump campaign. When asked what they discussed, Sessions admitted terrorism and Ukraine came up but suggested the discussion wasn't political in nature. "I don't recall any specific political discussions," Sessions said, though he said envoys "are pretty gossipy."
A review of the timeline surrounding Sessions' meeting with Kislyak, however, reveals that it came during a significant moment for U.S.-Russia relations. Indeed, Trump and his surrogates were offering high praise of Russian President Vladimir Putin's regime while the Obama administration was airing its complaints with Russia over Syria, Putin's incursion into Crimea and cyber-hacking targeting campaign officials. If those topics did not come up during the Sessions-Kislyak meeting, it would be hard to fathom why not.
Here are the key dates surrounding the Sept. 8 meeting.  
Sept. 1 ― President Barack Obama's Treasury Department announces new sanctions against Russia. John Smith, the acting director of Treasury's Office of Foreign Assets Control, says the new penalties are related to Putin's meddling in Ukraine.
Sept. 5 ― Obama and Putin have a tense, lengthy discussion at the G-20 summit in China about a potential cease-fire in Syria. The huddle comes less than a week after the implementation of the new sanctions against Russia. Putin publicly calls on Obama to lift the penalties. Obama later says the two men directly discussed, seemingly for the first time, reports of Russian hacking targeting Democratic Party officials. Obama says that he told Putin to "cut it out."
This widely circulated photo of a so-called death stare between the presidents on the day of their meeting seems to illustrate the state of relations between the U.S. and Russia at the time.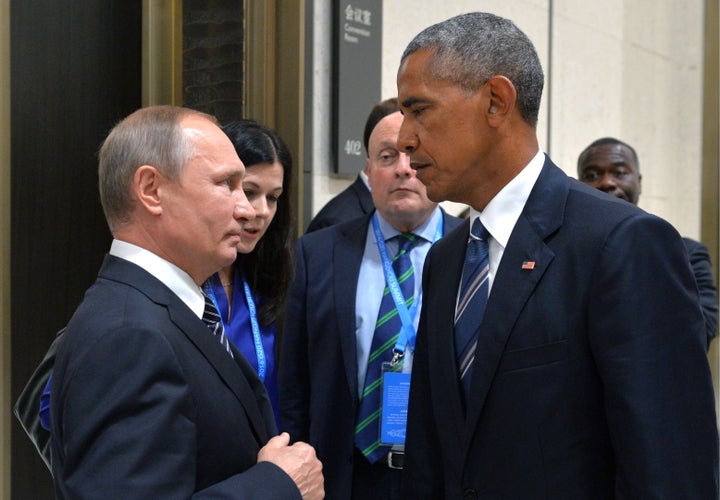 Sept. 7 ― Defense Secretary Ash Carter accuses Russia of sowing seeds of global instability and questions if Moscow is genuinely interested in finding an agreement on a cease-fire in Syria.
Sept. 7 ― Trump praises Putin on national TV. "[Putin] has very strong control over a country," he says during NBC's commander-in-chief forum with rival Hillary Clinton in New York. "Now, it's a very different system, and I don't happen to like that system. But certainly in that system he's been a leader far more than our president has been a leader."
Sept. 8. ― Sessions and Kislyak meet privately in his Senate office.
Sept. 8 ― Pence agrees with Trump's assessment of Putin's strength as a leader. "I think it's inarguable that Vladimir Putin has been a stronger leader in his country than Barack Obama has been in this country," he tells CNN. "And that's going to change the day that Donald Trump becomes president."
Sept. 9 ― Secretary of State John F. Kerry meets with Russian Foreign Minister Sergei Lavrov in Geneva. They reach an agreement on a renewal of a cease-fire in Syria.
Calling all HuffPost superfans!
Sign up for membership to become a founding member and help shape HuffPost's next chapter