WASHINGTON ― Attorney General Jeff Sessions will testify publicly before the Senate Intelligence Committee on Tuesday afternoon, the committee's chair, Sen. Richard Burr (R-N.C.), announced on Monday.
Sessions figured prominently in fired FBI Director James Comey's dramatic testimony last Thursday before the same committee. Comey suggested that there may be more compromising information involving the attorney general and the investigation into President Donald Trump's campaign's ties to Russia.
Comey said he opted not to tell Sessions about Trump's specific request, however, because he and the FBI already knew that Sessions would have to recuse himself from the Russia investigation.
"We also were aware of facts that I can't discuss in an open setting that would make his continued engagement in a Russia-related investigation problematic," Comey said of Sessions on Thursday. "And so we were convinced, and in fact, I think that we already heard that the career people were recommending that he recuse himself."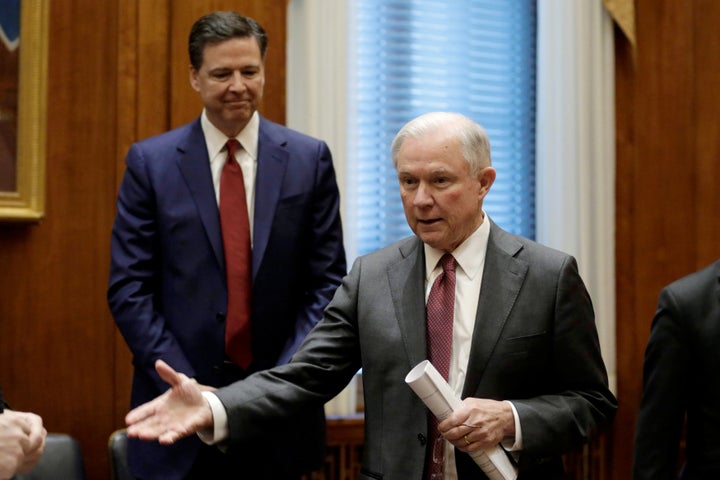 Sessions' March recusal reportedly angered Trump, and Sessions even offered to resign. But White House officials encouraged Trump to keep Sessions on to prevent further disorder within the administration.
When Trump fired Comey in May, Sessions' recommendation that Comey be fired was made public. Comey said on Thursday that it was "reasonable" to wonder why Sessions would have played a role in his dismissal, given his recusal.
"I think it's a reasonable question," Comey said in response to a question from Sen. Ron Wyden (D-Ore.). "If, as the president said, I was fired because of the Russia investigation, why was the attorney general involved in that chain? I don't know."
Sessions himself wanted the hearing to be public, according to Department of Justice spokeswoman Sarah Isgur Flores.
"The Attorney General has requested that this hearing be public," Flores said in a statement Monday. "He believes it is important for the American people to hear the truth directly from him and looks forward to answering the committee's questions tomorrow."
At Monday's press briefing, White House press secretary Sean Spicer would not say whether Sessions would invoke executive privilege to avoid answering questions, but he implied that he might.
"I think it depends on the scope of the questions," Spicer told reporters. "To get into a hypothetical, at this point, would be premature."
Spicer also would not comment on the role Sessions played in Comey's firing, saying that he could not "discuss private conversations between the president and the attorney general." 
He also said he did not know whether Trump or White House officials signed off on Sessions' testimony, but said that Trump hoped that it would resolve matters regarding the Russia investigation.
"He believes the sooner we can get this addressed and dealt with, that there's been no collusion, that he wants this to get investigated as soon as possible and be done with, so he can continue with the business of the American people," Spicer said of Trump.
This story has been updated with comment from Sean Spicer.
Ryan Reilly contributed reporting.
REAL LIFE. REAL NEWS. REAL VOICES.
Help us tell more of the stories that matter from voices that too often remain unheard.
BEFORE YOU GO
PHOTO GALLERY
Photos From James Comey's Testimony