WASHINGTON ― Attorney General Jeff Sessions, facing a dissatisfied boss and increased scrutiny over his knowledge of the Trump campaign's dealings with Russia, is weighing whether to appoint a separate special counsel to zero in on allegations against presidential rival Hillary Clinton and other Democrats, a Justice Department official disclosed in a letter to Republican members of Congress on Monday.
Appointing a second special counsel would be seen as a move to appease President Donald Trump, who has long been critical of Sessions and recently publicly aired his frustrations with the traditional divide between the White House and the Justice Department and his inability to aim the nation's premier law enforcement agency at his political adversaries. 
The disclosure came in a letter from a top Justice Department official to Rep. Bob Goodlatte (R-Va.), who chairs the House Judiciary Committee. Goodlatte and other House Republicans had sent letters to the Justice Department in July and September featuring a wide-ranging list of 14 allegations against Democrats that Republicans wanted investigated. In addition to raising concerns about the handling of the Clinton investigation, which is already being examined by the Justice Department's inspector general, the letter raised questions about the Clinton Foundation, mining company Uranium One and other topics.
In a response sent to Goodlatte on the eve of Sessions' appearance before the House Judiciary Committee, Justice official Stephen Boyd wrote that Sessions had "directed senior federal prosecutors to evaluate certain issues raised" in Goodlatte's letter. While not confirming the existence of any investigation, the letter made it clear that the allegations against Democrats have Sessions' attention.
"These senior prosecutors will report directly to the Attorney General and Deputy Attorney General, as appropriate, and will make recommendations as to whether any matters not currently under investigation should be opened, whether any matters currently under investigation require further resources, or whether any matters merit the appointment of a Special Counsel," he wrote.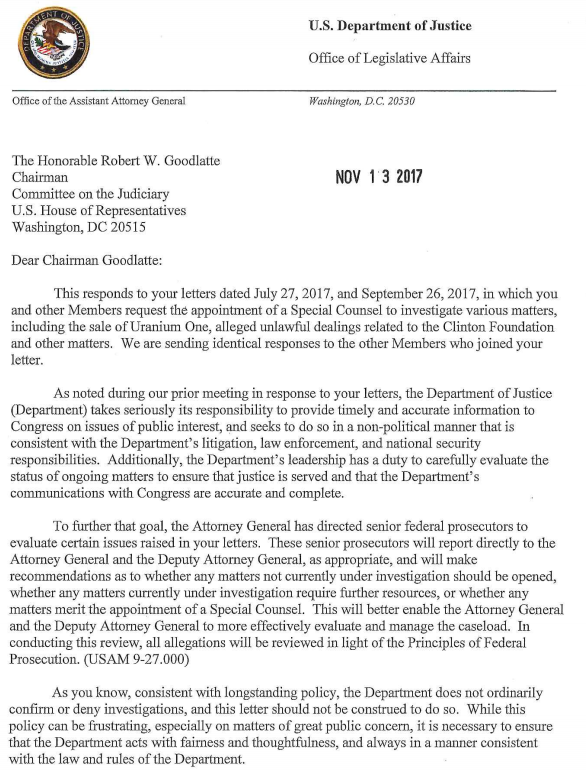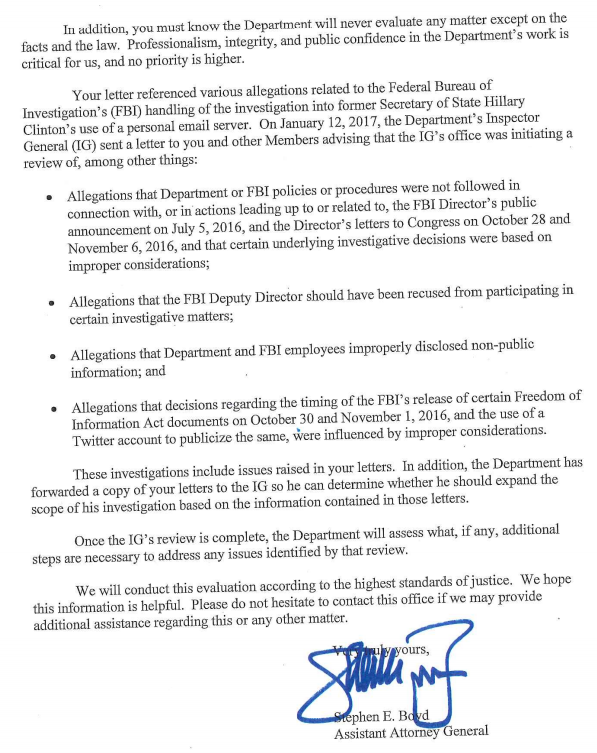 Allegations against Clinton have received renewed attention from Republicans and the conservative media in recent weeks as Robert Mueller's special counsel investigation into Russian interference in the 2016 presidential election has heated up, with charges filed against three former Trump campaign staffers.
Trump, in particular, has highlighted allegations of Democratic wrongdoing to distract from Mueller's probe. 
"Everybody is asking why the Justice Department (and FBI) isn't looking into all of the dishonesty going on with Crooked Hillary & the Dems," Trump tweeted in early November, subsequently referring to "deleted E-mails, Uranium, Podesta, the Server, plus, plus.." in a subsequent tweet. "People are angry. At some point the Justice Department, and the FBI, must do what is right and proper. The American public deserves it!" Trump wrote.
Politically, a second special counsel would be a major boost for the Trump administration, potentially serving up fresh headlines on a scandal involving Democrats that would compete for space with news of the Russia probe. 
Sessions himself is likely to face tough questions from House Democrats on Tuesday over what he knew when about Trump campaign surrogates' dealings with the Russians. Sessions had denied being aware of any Trump surrogates having conversations with the Russians. But Sessions was photographed at a national security meeting with the Trump campaign sitting near George Papadopoulos, a former Trump campaign adviser who apparently has been flipped by Mueller and has admitted lying to FBI agents about being offered "dirt" on Clinton by a professor with ties to the Russians.
Sessions' advocates have stated that he shot down Papadopoulos' suggestion that Trump meet with Russian President Vladimir Putin.
UPDATE: At the House Judiciary Committee hearing on Tuesday morning, Sessions said it would be wrong to use the Justice Department to retaliate against political opponents, and said he was not "improperly influenced" by any Trump tweets.
"I have not been improperly influenced, and would not be improperly influenced. The president speaks his mind. He's bold and direct about what he says," Sessions said. "But we do our duty every day based on law and facts."
But Sessions' testimony on Tuesday made clear that the appointment of a special counsel was far from a sure thing. "'Looks like' is not enough basis to appoint a special counsel," Sessions said under questioning from Rep. Jim Jordan (R-Ohio).
He later said during his testimony that he was "not going to use the Department to unlawfully advance a political agenda." Years down the road, he said, he'd like people to "say this Department of Justice did not crumble, it stayed firm and true" to its principles. 
Ryan Reilly is HuffPost's senior justice reporter, covering criminal justice, federal law enforcement and legal affairs. Have a tip? Reach him at ryan.reilly@huffpost.com or on Signal at 202-527-9261.
Calling all HuffPost superfans!
Sign up for membership to become a founding member and help shape HuffPost's next chapter