WASHINGTON ― White House chief strategist Steve Bannon came into President Donald Trump's administration with what he called an "economic nationalist" agenda. But now, Bannon is reportedly on the outs, and Trump has flip-flopped on NATO, Chinese currency manipulation and the Federal Reserve.
No matter what Bannon's fate, however, his strand of ethno-nationalism will live on in the Trump Justice Department under Attorney General Jeff Sessions. The 70-year-old former Alabama senator has already set the Justice Department on a new path by targeting immigrants, reining in police department reform efforts and curtailing efforts to protect voting rights.
"While many are focused on how Bannon is losing influence in the White House, those concerned with immigrant justice ― and I suspect those concerned with racial justice, police reform and voting rights, too ― are focused on the rise of a turbocharged Sessions," Frank Sharry, executive director of the pro-immigration reform group America's Voice, said in an email to HuffPost.
Bannon and Sessions share a long history of mutual support and policy agreement. They spent months together with Stephen Miller, a former Sessions aide who now works in the White House, plotting strategy on how to enact their shared agenda of limiting immigration to the U.S. in order to maintain a European and Christian identity. In 2016, Bannon declared Sessions "one of the intellectual, moral leaders of this populist, nationalist movement in this country." After both moved to Trump's administration, Bannon called Sessions the White House "clearinghouse for policy and philosophy." Like Bannon, Sessions declares his policy objective as defeating "soulless globalism."
Sessions was a frequent guest on Bannon's Breitbart radio show, and praised Trump's proposed Muslim ban during the presidential campaign.
"It's appropriate to begin to discuss this, and he has forced that discussion," Sessions said. He later said he opposed a total ban, but endorsed freezing immigration and refugee resettlement from Muslim countries.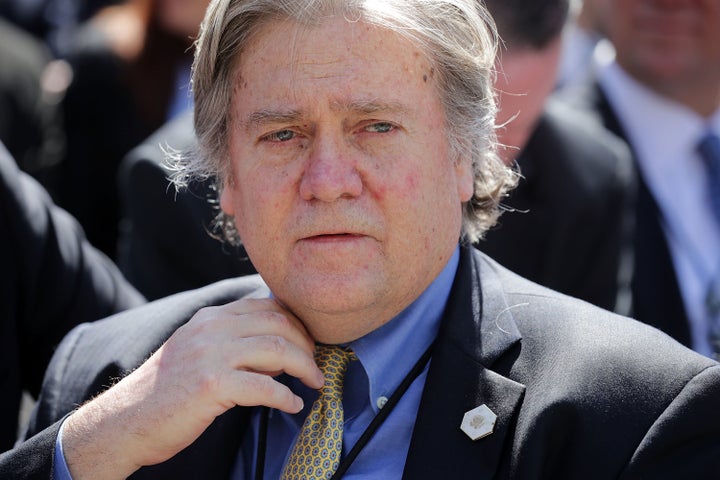 In another appearance on Bannon's radio show, Sessions endorsed the Immigration Act of 1924, which specifically limited immigration based on race and religion, in the context of current immigration trends. "In seven years, we'll have the highest percentage of Americans, non-native born, since the founding of the Republic," Sessions said, while praising the 1924 law that was used to prevent Jewish immigration before and during the Holocaust.
Like Bannon, Sessions believes immigration from Middle Eastern countries poses a national security risk. He agrees that Western leaders have failed to protect their Judeo-Christian heritage by opening the door to refugees.
In one radio interview, after Bannon compared the migration of Syrian refugees to an infamous racist French book, he asked Sessions.: "Do you believe the elites in this country have the backbone, have the belief in the underlying principles of the Judeo-Christian West to actually win this war?"
"I'm worried about that," Sessions replied.
The two nationalist Trump supporters share more than immigration policy preferences. The reversal of police reform efforts and reinvigoration of the War on Drugs pushed by Sessions as attorney general fits with Bannon's efforts at Breitbart to label Black Lives Matter protesters as racists, while perpetuating racist stereotypes of African Americans through the site's Black Crime section.
Sign up for the HuffPost Must Reads newsletter. Each Sunday, we will bring you the best original reporting, long form writing and breaking news from The Huffington Post and around the web, plus behind-the-scenes looks at how it's all made. Click here to sign up!
Popular in the Community