WASHINGTON ― Attorney General Jeff Sessions on Tuesday disputed the sworn testimony of former FBI Director James Comey, who said last week that Sessions "did not reply" when Comey raised concerns that President Donald Trump was violating rules limiting contacts between the Justice Department and the White House.
Sessions, testifying before the Senate Select Committee on Intelligence, also said that direct discussions between Comey and Trump would only be problematic if they had talked about ongoing investigations.
"There's nothing wrong with the president having a communication with the FBI director," Sessions said.
Comey, in his testimony before the same panel last week, said he spoke with Sessions about Trump's conduct when the president spoke with him alone in the Oval Office after asking Sessions to leave.
"I told the AG that what had just happened ― him being asked to leave while the FBI director, who reports to the AG, remained behind ― was inappropriate and should never happen," Comey said.
Sessions, Comey claimed, "did not reply."
But Sessions said Tuesday that he agreed that "the FBI and Department of Justice needed to be careful to follow department policies regarding appropriate contacts with the White House."
Sessions recalled leaving Comey and Trump alone in the Oval Office. But he said the fact that Comey and Trump were alone was "not problematic," by itself, Sessions said.
Sessions' testimony suggested that it would be on Comey to shut down inappropriate discussions with Trump. Sessions did not say he committed to raising the issue with Trump or making sure the president was aware of the rules around communications between Trump and DOJ.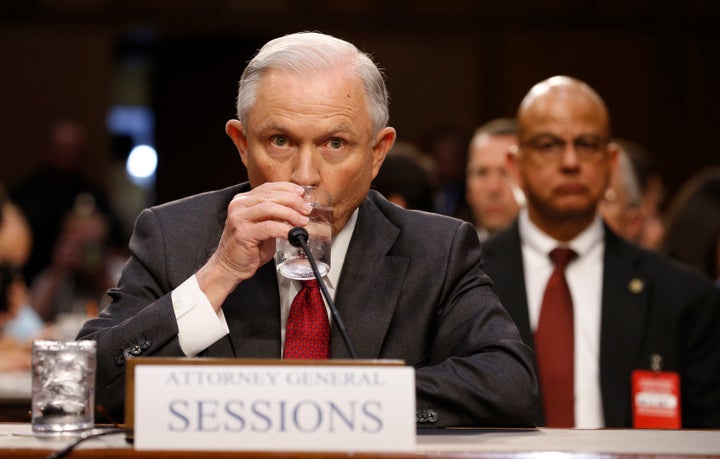 Sessions said he "encouraged" Comey to follow the "well-established rules governing any communications with the White House about ongoing investigations."
"The rules apply to the Department of Justice, so it's the duty of the FBI agent to say, 'Mr. President, I can't talk about that.' That's the way that should work," Sessions said.
A Justice Department spokesman confirmed to HuffPost this week that former Attorney General Eric Holder's 2009 memo on contacts between the White House and the Justice Department is still in effect. The memo says such conversations about pending criminal investigations should involve only the attorney general or deputy attorney general or their designated subordinates.
Sessions went on the offensive in his testimony, saying he would not be intimidated by the "false attacks," innuendo and leaks about the Russia investigation that he implied were part of an effort to derail the Trump administration agenda.
Sessions recused himself from the probe into Russian interference in the 2016 election and questions of collusion between Russian officials and the Trump campaign.
Deputy Attorney General Rod Rosenstein appointed former FBI Director Robert Mueller as special counsel on Russia issues last month. Amid reports that Trump had considered getting rid Mueller, Rosenstein testified earlier on Tuesday that he would not obey an order unless he determined it was lawful and appropriate.
Sessions, a longtime senator from Alabama before becoming part of Trump's cabinet this year, was clearly irritated by suggestions that he was in any way involved in a Russian effort to interfere with the 2016 election.
"I was your colleague in this body for 20 years, and the suggestion that I participated in any collusion or that I was aware of any collusion with the Russian government to hurt this country, which I have served with honor for over 35 years, or to undermine the integrity of our democratic process, is an appalling and detestable lie," he said.
Sessions defended his role in Trump's decision to fire Comey firing in early May. He said it was "absurd" to suggest that his recusal from the Russia probe would render him "unable to manage the leadership of the various Department of Justice law enforcement components that conduct thousands of investigations."
This article has been updated with additional testimony from Sessions. 
Calling all HuffPost superfans!
Sign up for membership to become a founding member and help shape HuffPost's next chapter