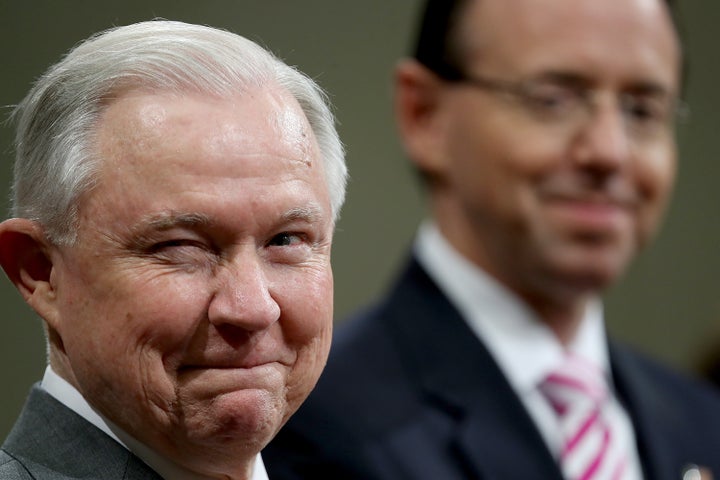 President Donald Trump has scrambled many of Washington's standard operating assumptions. Among his most head-scratching accomplishments, however, may be making Democratic voters oppose the idea of an unemployed Attorney General Jeff Sessions.
As a staunchly conservative senator from Alabama who was especially hawkish on immigration policy, Sessions' ideas were reviled in Democratic Party circles. Now, as leader of the Department of Justice, he's used his power to enact measures he was only able to dream about as a lawmaker.
HuffPost's Ryan J. Reilly recently dubbed him Trump's "most effective" cabinet member:
One might assume that record would cause Democrats to view the prospect of his ouster from Trump's Cabinet as a good idea. But according to a poll released by Quinnipiac University on Monday, the opposite holds true ― Democratic voters disapproved of Trump firing Sessions, 69 percent to 16 percent, while Republicans approved of the scenario, 49 percent to 23 percent.
The news in the poll gets even worse for Sessions. Among the entire survey sample, only 17 percent give him favorable marks, with 43 percent having an unfavorable view of him and 33 percent saying they haven't heard enough to pass judgment.
There's no partisan silver lining in these figures, either. Only 19 percent of Republicans have a favorable opinion of the GOP stalwart ― barely more than the 13 percent of Democrats who approve of him (21 percent of independents view him favorably).
Much of the president's anger toward him has been caused by Sessions' refusal to interfere with the ongoing criminal investigation into potential collusion between Trump's 2016 campaign and Russia led by special counsel Robert Mueller ― a probe Trump frequently berates as a "witch hunt."
Senate Republicans have repeatedly warned that ousting Sessions wouldn't be a good idea politically for Trump, and there is fresh evidence to support their claim. In the Quinnipiac poll, voters said that Mueller is conducting a fair investigation, 55 percent to 32 percent.
Trump has said that Sessions will stay in his post until at least the midterm elections ― suggesting he may make a change shortly after the November vote. But getting a replacement confirmed by the Senate would be no slam dunk.
Democrats and at least a few Republicans can be expected to view any potential change at the head of the Justice Department as an attempt to influence Mueller's investigation, making the prospect of an intense confirmation battle likely.
"I didn't vote for Jeff and I disagree with him on most policy issues," Sen. Dick Durbin (D-Ill.) told reporters last month when asked about Sessions' fate. "So I'm not loyal to his brand of politics, by any means, but I just want to know if there's a subplot to (removing Sessions). And if that subplot involves Bob Mueller, there'll be a fight."
Popular in the Community