Sessions, a longtime opponent of marijuana use, warned Tuesday easing access to the drug could lead to local supermarkets selling cannabis.
Sessions then appeared to criticize a column The Washington Post published Tuesday by Sam Kamin, professor of marijuana law and policy at the University of Denver. In the op-ed, Kamin argues that the opioid crisis is "a reason to expand access to marijuana rather than to contract it." A 2016 study from Columbia University's Mailman School of Public Health found "adverse consequences of opioid use" decreased over time in states where marijuana is legalized as individuals substituted marijuana for opioids to treat pain.
But Sessions scoffed at Kamin's reasoning.
"Give me a break," Sessions said. "This is the kind of argument that has been out there. [It's] almost a desperate attempt to defend the harmlessness of marijuana or even benefits. I doubt that's true. Maybe science will prove me wrong. ... My best view is that we don't need to be legalizing marijuana."
Tom Angell, chairman of drug policy reform group Marijuana Majority, called Sessions' opiate comments "ridiculous."
"Several studies have already shown that states with legal marijuana access see reduced opioid problems," Angell said in a statement Tuesday. "If the attorney general really cares about public health and safety, he'll stop relying on 'alternative facts' ... This administration should respect science and, at the very least, needs to uphold the president's repeated campaign pledges to respect state cannabis laws."
Nationwide support for marijuana legalization is at a record high. A survey from Quinnipiac University released last week found 71 percent of American voters want the federal government to respect state marijuana laws.
Still, the White House appears to be preparing for a crackdown on recreational cannabis. White House Press Secretary Sean Spicer said last week that states with legalized marijuana legislation will see "greater enforcement" of federal laws surrounding the plant ― a move that could shatter President Donald Trump's 2016 campaign promise to honor state marijuana laws.
On Monday, Sessions decried marijuana legalization to reporters at the Justice Department, claiming "real violence" can be attributed to the "current levels of THC in marijuana."
"I don't think America is going to be a better place when people of all ages, and particularly young people, are smoking pot," Sessions said. "I believe it's an unhealthy practice, and current levels of THC in marijuana are very high compared to what they were a few years ago, and we're seeing real violence around that."
How will Trump's first 100 days impact you? Sign up for our weekly newsletter and get breaking updates on Trump's presidency by messaging us here.
Before You Go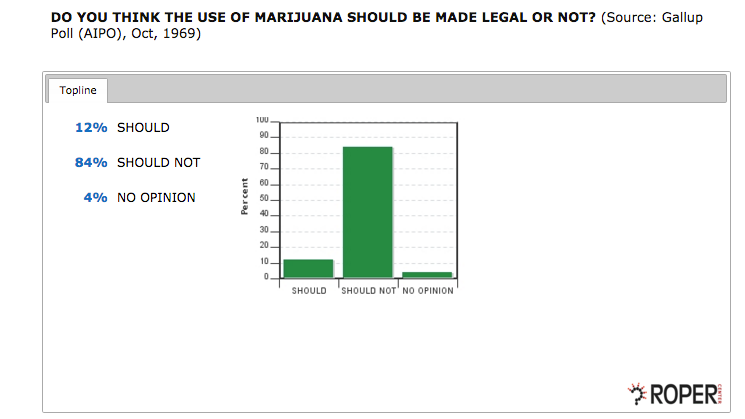 50 Years Of Marijuana Polling
Popular in the Community