WASHINGTON ― Free speech on college campuses is "under attack" as universities transform into shelters "for fragile egos," Attorney General Jeff Sessions, who leads a Justice Department prosecuting a woman for laughing at him during a congressional hearing, said in a Tuesday speech.
"The American university was once the center of academic freedom ― a place of robust debate, a forum for the competition of ideas," Sessions told an invite-only audience at Georgetown University's law school. "But it is transforming into an echo chamber of political correctness and homogenous thought, a shelter for fragile egos."
Sessions delivered his speech as the Justice Department prepares to retry a woman who laughed at him during his Senate confirmation hearing in January. The department's continued prosecution of Desiree Fairooz was mentioned in an open letter signed by several members of the Georgetown law school faculty that said Sessions was a poor spokesman for the values of free speech.
Some students and law school faculty members demonstrated against Sessions and Trump administration's policies on Tuesday morning, standing on the steps of the building where the attorney general would speak at an event they weren't allowed to attend.
"Sessions only speaks to echo chambers," one sign said. Other placards included "Freedom of speech is not at your convenience Sessions," "There's not RSVP on the 1st Amendment," and "Fuck Jeff 'Racist Keebler Elf' Sessions."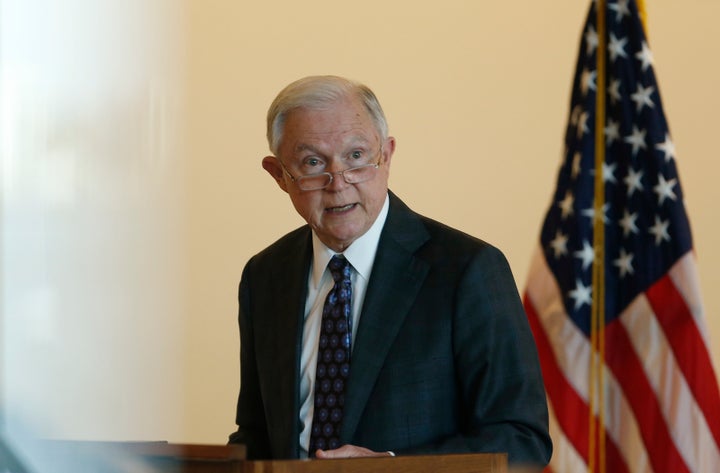 Sessions' talk on the value of free speech came amid the controversy over his boss ― President Donald Trump ― encouraging owners of NFL teams to fire players who chose to kneel during the playing of the national anthem to protest racial injustice. Trump's remarks instead prompted a variety of demonstrations during the anthem at games this past Sunday, including some in which owners participated.
One protester outside Sessions' speech held a sign that said "What About Kaep?" That referred to quarterback Colin Kaepernick's decision not to stand for the anthem last year as a member of the San Francisco 49ers, the protest that initially prompted a few players to follow suit and then ― following the insults Trump hurled at such athletes beginning last Friday ― was emulated en masse in the NFL this past weekend.
Responding to a few questions after his remarks, Sessions defended Trump's right to condemn the NFL players and said he believed it was a "big mistake" for players to demonstrate during the anthem.
Sessions' speech also followed a Sunday gathering organized by conservative provocateur Milo Yiannopoulos that became what a UC Berkeley spokesman called the "most expensive photo op in the university's history," with security costs running around $800,000 for a short rally after the cancellation of a series of events stretching over four days.
The attorney general cited what happened at Berkeley, blaming "the Orwellian-named 'anti-fascist' protesters" for shutting down with "violent riots" the several events Yiannopoulos wanted to stage. A Justice Department spokeswoman said the speech had been in the works for some time, and was not directly tied to the Berkeley controversy.
"As schools begin this fall and on the heels of Constitution day, the attorney general thought it was important to renew the call for the free, robust, and sometimes contentious exchange of ideas which has been met with so much hostility at our universities lately," Justice Department spokeswoman Sarah Isgur Flores told HuffPost.
Sessions in his speech said that protesters "are now routinely shutting down speeches and debates across the country in an effort to silence voices that insufficiently conform with their views."
"There are those who will say that certain speech isn't deserving of protection. They will say that some speech is hurtful ― even hateful. They will point to the very speech and beliefs that we abhor as Americans. But the right of free speech does not exist only to protect the ideas upon which most agree at a given moment in time," Sessions said.
"University officials and faculty must defend free expression boldly and unequivocally. That means presidents, regents, trustees and alumni, as well. A national recommitment to free speech on campus is long overdue. And action to ensure First Amendment rights is overdue," he said.
Legal questions surrounding speaker policies at private and public universities are different. But Sessions said that setting aside the law, universities are "supposed to be the place where we train virtuous citizens. It is where the next generation of Americans are equipped to contribute to and live in a diverse and free society filled with many, often contrary, voices."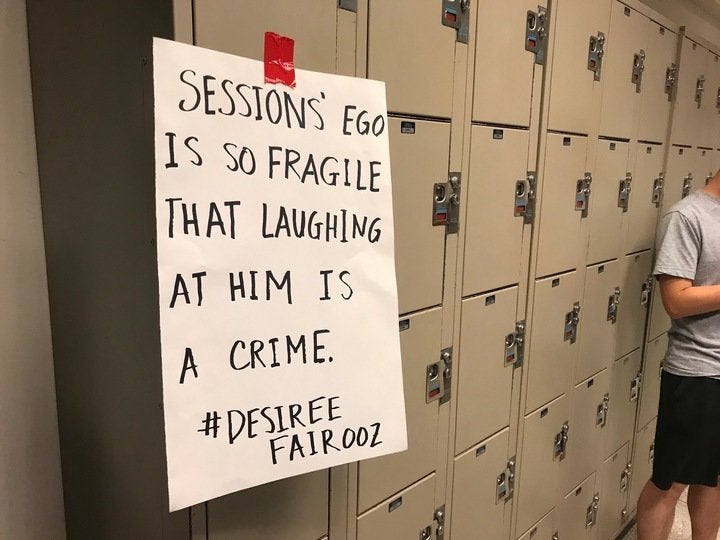 The Justice Department announced Tuesday it had filed a statement of interest in a lawsuit filed by students at Georgia Gwinnett College in Lawrenceville, Georgia, that challenges the school's decision to limit expression to two small free speech zones. The case was filed on behalf of Chike Uzuegbunam, an evangelical Christian who wanted to proselytize fellow students.
While much of the discussion around free speech on college campuses has focused on public universities cracking down on conservative speech, private Catholic and Christian universities have regularly suppressed political speech on their campuses in recent years.
This month, the Theological College at the Catholic University of America in Washington disinvited James Martin, a popular Jesuit priest, from a speaking engagement because of "increasing negative feedback from various social media sites." Theological College officials flatly stated that they rescinded the invitation "in the interest of avoiding distraction and controversy."
Martin recently authored a book entitled Building a Bridge: How the Catholic Church and the LGBT Community Can Enter Into a Relationship of Respect, Compassion, and Sensitivity.
John Garvey, the president of the Catholic University of America ― which regularly banned liberal speakers over their beliefs and currently refuses to recognize an organization for gay students ― compared the campaign against Martin to the "pressure being applied by the left for universities to withdraw speaker invitations." He said he didn't support the Theological College's independent decision to rescind the invite.
Popular in the Community