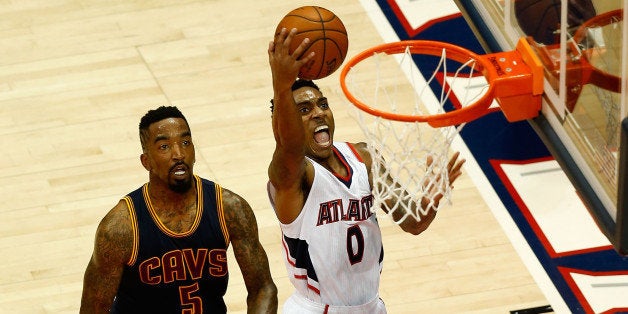 Jeff Teague was named to his first NBA All-Star team this year. He earned it: The 26-year-old point guard averaged 16 points and 7 assists in the regular season while running one of the league's most versatile and effective offenses.
Now, his Atlanta Hawks are an overwhelming underdog against the Cleveland Cavaliers in the Eastern Conference finals, and the (hopefully temporary) loss of their best perimeter defender, DeMarre Carroll, only makes matter worse. Teague's playmaking ability is the Hawks' best bet to change things around.
In Game 1 of the conference finals, a 97-89 home defeat, Teague scored 17 points in the first half. He got to any place he wanted and completely outclassed a hobbled Kyrie Irving and a slower Matthew Dellavedova. The Cavs' best second-half adjustment was to shade more on Teague and jump the ball screens to force the ball out of his hands faster. The result was an Atlanta offense that sputtered, scoring just 38 points in the second half -- a shocking number for a team that averages 103 points per game and ranked fourth in field goal percentage during the regular season.
"The shots were not falling," Teague said afterward. "Missed easy ones. Guys missed open shots. We didn't capitalize on shots tonight."
But it was a little more complicated than just missing shots. With Teague unable to find his normal slew of driving lanes, Atlanta's drive-and-kick offense stalled. The Hawks converted 4 of 23 from distance, many of which were not clean looks.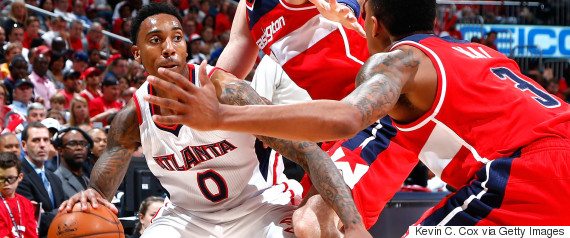 One of the key reasons for Teague's dramatic spike in production under coach Mike Budenholzer has been the freedom with which he's able to operate. Similar to Golden State, the Hawks want to spread out their opponents and use shooting bigs Al Horford and Paul Millsap -- not just Kyle Korver and Carroll -- as threats. The Cavs, while employing a smaller lineup with LeBron James at the four, have used their superior quickness to close on shooters and eliminate quality looks.
But great point guards find a way to beat defenses, and Teague's responsibility is to do just that. He hasn't managed it yet in these playoffs, where his shooting percentage is down 5 points and, perhaps more importantly, his free throw attempts are slightly down as well. Forcing the issue is usually not how Atlanta beats teams, but the Cavs are scoring at a high clip and the time for Teague to press the issue is now.
Email me at jordan.schultz@huffingtonpost.com or ask me questions about anything sports-related at @Schultz_Report, and follow me on Instagram @Schultz_Report.
Related
Popular in the Community