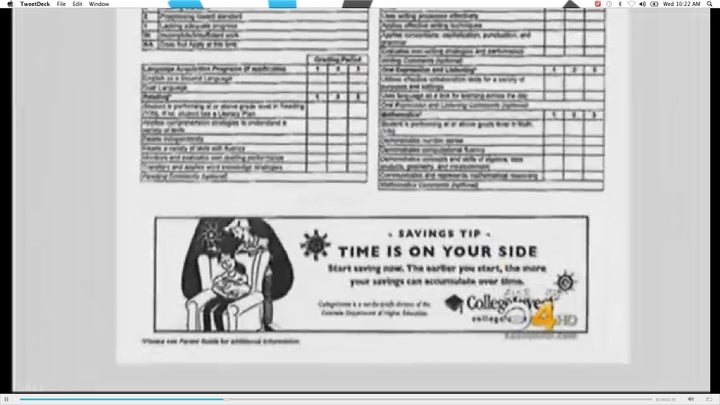 Facing shortfalls of millions of dollars, school districts across the country have sought ways to make cuts on nearly everything -- from halting planned renovations and making do with old resources to dropping academic and extracurricular programs.
Now, some are looking in the direction: raising revenue -- through advertising.
Jefferson County Public Schools in Colorado is the latest among a string of districts that have adopted marketing initiatives as ways to funnel more money into their systems. When elementary schoolers take their report cards home to mom and dad this year, the bottom will sport a 2-inch ad for CollegeInvest, Colorado's nonprofit education savings plan.
That might not seem like a significant contribution to the larger budget crisis facing the district, but school board spokesperson Melissa Reeves says everything helps.
But the move is seeing mixed reviews.
Angela Baier, chief marketing officer for CollegeInvest, told Colorado's 9 News that she sees the advertisements simply as a public service announcement by a nonprofit that wants to help families plan for their children's education.
And while some parents don't mind, others like Kelly Johnson point out it's a slippery slope.
In Pennsylvania, the Bucks County Pennsbury School District unveiled a plan last month to post more than 200 advertisements across its 16 schools that will cover walls, floors, lockers, benches and cafeteria tables, the Philadelphia Inquirer reported. The campaign is expected to bring in $424,000 to help offset the district's $3 million budget shortfall.
Florida's Orange County Public Schools have also adopted an advertising program that allows marketing in areas including online, on lunch menus, play sponsorships and a parking garage billboard. In about 18 months, the district had made around $270,000, according to the Orlando Sentinel.
Related
Popular in the Community