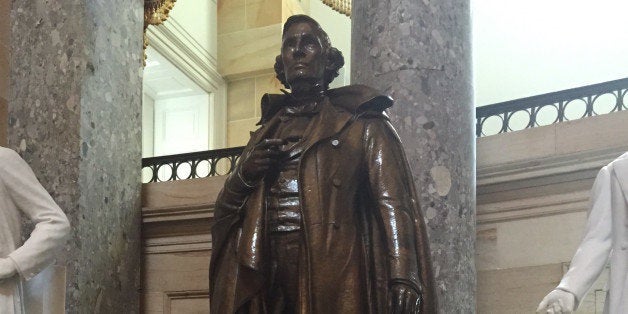 WASHINGTON -- Senate Majority Leader Mitch McConnell (R) called on his home state of Kentucky to consider moving its statue of Confederate President Jefferson Davis from the prominent perch it now commands at the state legislature to a Kentucky history museum.
McConnell's advice Tuesday came in response to a question about the significant number of leaders of the southern rebellion against the United States who are honored with statues and portraits in the U.S. Capitol. Just behind McConnell as he spoke was a large portrait of former South Carolina Sen. John C. Calhoun, one of the more virulent racists to grace the Senate, and a leading advocate of war with the U.S. He famously said that slavery was not a necessary evil, but in fact "a positive good."
Davis' statue sits in the Kentucky Capitol, McConnell pointed out, despite the fact that Kentucky was not actually part of the Confederacy. Davis was born in Kentucky and the state was the subject of intense fighting during the Civil War.
If Davis is removed, a statue of him will still hold a highly visible place in the U.S. Capitol, just steps from where McConnell spoke. The state of Mississippi chose Davis as one of two state leaders to represent it in the building.
McConnell focused on the Davis image back home. "Well, with regard to my own state, curiously enough, we have a statue of Jefferson Davis in the Capitol in Frankfort. Davis' sole connection with Kentucky was he was born there and subsequently moved to Mississippi, and Kentucky of course did not secede from the Union," McConnell said. "So I think it's appropriate, certainly in Kentucky, to be talking about the appropriateness of continuing to have Jefferson Davis' statue in a very prominent place in our state capital. Maybe a better place for that would be the Kentucky history museum, which is also in the state capital."
"With regard to all the statues in this building, I honestly don't -- I'm not aware of what we have and what we don't have," McConnell said of the U.S. Capitol.
Senate Minority Leader Harry Reid (D-Nev.) suggested the board that oversees the statues takes a close look at which figures are allowed in.
Also on Tuesday, South Carolina Sen. Lindsey Graham, who is running for president in the GOP primary, said Mississippi ought to take the rebel flag out of its own state banner. "It's up to them, but after the shooting I would change the flag, because that flag now has been identified with a horrific tragedy," Graham told reporters in the Capitol. "I think it's going to be hard for -- that'd be up to Mississippi, but if I were Mississippi, I'd change the flag."
Alexander Stephens, the vice president of the Confederacy, also has a statue in the U.S. Capitol -- describing him as "STATESMAN - AUTHOR - PATRIOT" -- about 20 feet from one of Rosa Parks. His inscription reads: "I am afraid of nothing on the earth, above the earth, beneath the earth, except to do wrong." He is there to represent Georgia.
On the one hand, it is plainly insulting to the descendants of slaves, at minimum, to honor the very traitors who waged war on the federal government in order to perpetuate slavery. But, said Senate Minority Whip Dick Durbin (D-Ill.), the statues are mere symbols, and Congress ought to be addressing underlying policies.
"Look, I'm trying to get down to substance here," he told reporters Tuesday. "You know, these nine lives were sacrificed to a man who believed he was going to trigger a race war, instead there has been an effort, at least in the state of South Carolina, to confront race with their flag that obviously divides their population.
"As important as these symbols are, to me it's more important for us to deal with policies that deal with racial equality and fairness in America," Durbin continued. "And I know you want to spend a lot of time pointing at symbols and there is nothing wrong with that, but for goodness' sakes, this is the United States Congress. We should spend time dealing with the fundamental issue that I think is at stake here. One part of it: the issue of race. The second part of it: the issue of guns. Neither one is easy but that's why we were sent here, to deal with this."
Jennifer Bendery contributed reporting.

REAL LIFE. REAL NEWS. REAL VOICES.
Help us tell more of the stories that matter from voices that too often remain unheard.
BEFORE YOU GO
PHOTO GALLERY
Political Potty Mouths