UPDATE: July 9, 2014 at 1:15 EST: DC Entertainment said on Wednesday that it will allow its Superman logo to adorn a memorial for a boy who was abused by his grandparents, Global News reported. The company said it reversed the ban after "verifying the support of appropriate family members."

DC Entertainment won't allow its Superman logo to grace a memorial statue for a boy who was starved to death. But advocates have already devised an alternative plan to give the abused child the respect and love he never received while he was alive.
In 2002, at age 5, Jeffrey Baldwin died of septic shock and starvation while under the guardianship of his maternal grandparents, according to the Toronto Sun. Determined advocates have raised more than $25,000 to erect a Superman statue in his honor and will find a way to follow through on their pledge, with or without DC Entertainment's blessing.
During last year's lengthy inquest of the abuse case, Todd Boyce, a father of three, was so moved by the horrific details of Jeffrey's torture that he decided to launch a fundraiser in order to build a statue in the boy's memory, the Sun reported.
In less than 60 days, the original IndieGoGo campaign raised more than $25,000. Inspired by a photo of Jeffrey dressed up as Superman -- a picture that was taken before the boy was removed from his teen parents' home -- Boyce decided that the bronze statue should feature Jeffrey in his favorite costume, according to the campaign.
"He wanted to fly," Richard Baldwin, Jeffrey's dad, said in his testimony, according to the Canadian Press. "He tried jumping off the chair. We had to make him stop. He dressed up (as Superman) for Halloween one year. He was so excited. I have that picture at home hanging on my wall. He was our little man of steel."
While DC Entertainment said it was "touched" by Jeffrey's story, the company said it could not authorize the use of the Superman logo on the statue.
So, Boyce and Canadian sculptor Ruth Abernethy have decided to replace Superman's "S" with a "J" for Jeffrey.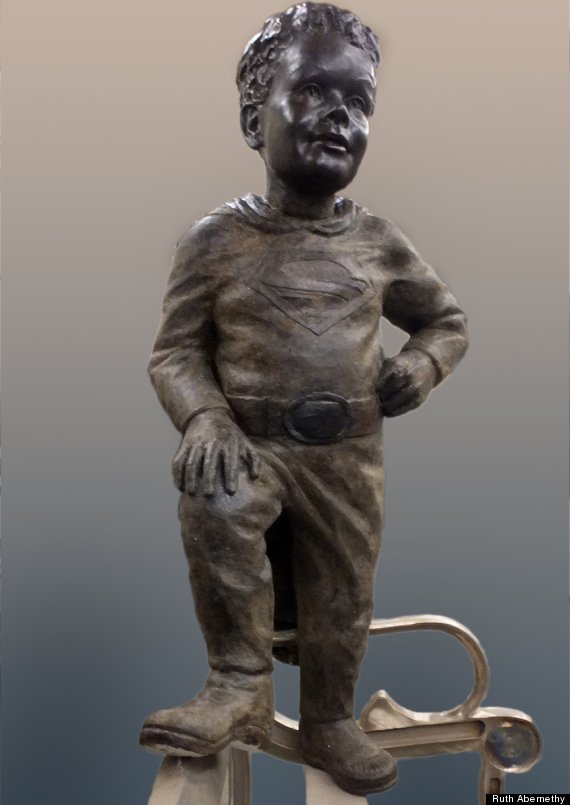 Boyce hopes that the memorial statue, which will be placed in Greenwood Park, will serve as a both a tribute to Jeffrey and a means to encourage people to report child abuse, he said on the campaign's website.
Jeffrey was a happy and healthy child before he, and his three siblings, were sent to live with their maternal grandparents, according to the Canadian Press. Jeffrey's mother, Yvonne Kidman, said during the inquest that her mother, Elva Bottineau, only wanted custody of the kids because she lived in social housing and without them she could lose her house.
Jeffrey weighed just 21 pounds when he died.
He and his sister were locked in a cold room with little furniture for long periods of time, and weren't allowed to use the bathroom because they drank from the toilet. They urinated and defecated in their bedroom and were then forced to mop it up, according to the Canadian Press.
Jeffrey could barely walk or lift his own head at the end of his life.
His sister likely survived because she was allowed to go to school where she had access to a daily snack, the news outlet reported.
If you'd like to help preserve and honor Jeffrey Baldwin's memory, find out how you can get involved with the latest fundraising campaign here.
REAL LIFE. REAL NEWS. REAL VOICES.
Help us tell more of the stories that matter from voices that too often remain unheard.
BEFORE YOU GO
PHOTO GALLERY
Spider-Man Washes Windows At Le Bonheur Children's Hospital