Pianist Jeffrey Biegel's latest recording, Manhattan Intermezzo, is a gathering of piano concertos composed by a quartet of major leaguers in popular music: George Gershwin, Duke Ellington, Neil Sedaka, and Keith Emerson (of ELP - Emerson, Lake and Palmer). It recounts a time when each of the artists had taken a hiatus from his immediate musical corner to fashion an opus for piano and orchestra - and custom-tailor it for concert hall presentation.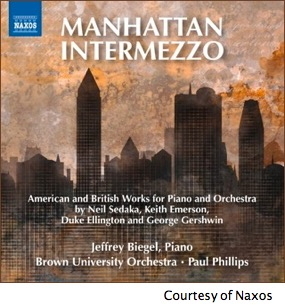 The recording is a rare musical confluence. It is brightened by Jeffrey Biegel's performance history of the Gershwin and Ellington and fueled by his up-close-and-personal interactions with Keith Emerson and Neil Sedaka. The Brown University Orchestra and its Music Director, Paul Phillips supply snappy elegance and smooth rapture to works spanning more than eight decades. Jeffrey's recording goal was four concertos by four composers who wrote popular music or had popularized classical music. Recorded in the fall of 2014 and released this January, the project was long in coming together. The finished product is a lustrous getting-to-know-you fest. "Thirty years ago," said Biegel, "I would not have thought I'd be recording a piece I didn't know! And of a time and a genre that was then considered - for classical pianists - taboo."
"You barely knew Gershwin! Unless you were playing Brahms, Chopin, Grieg, Liszt, Beethoven - you couldn't be taken seriously. I sensed, even in the '90s, that things were changing, nothing would stay the same. Artistically, I could not be so restricted. I felt that playing all these other pieces - especially by living composers - helped my traditional repertoire. Knowing Keith Emerson, knowing Neil Sedaka - asking them questions, getting their feedback - now makes Mozart look like a human being, not just a statue on a piano."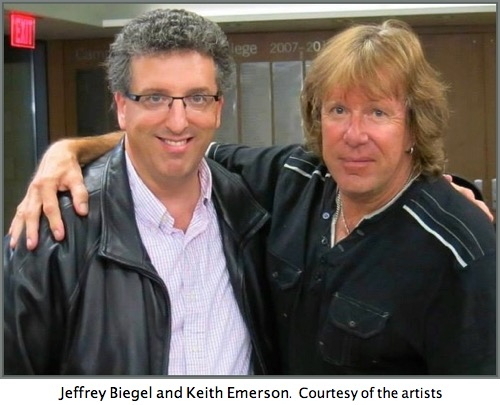 "I did not grow up with Emerson, Lake & Palmer. I knew of the group, I wasn't totally familiar with what they did. At the time, I was doing new music by serious classical composers and learning the canon of traditional piano music. To me, going out of the box meant Gershwin's Rhapsody In Blue. I did listen to pop music on the radio. But no acid rock, no Metallica - nothing that sounded like I was spacing out. Emerson, Lake & Palmer were taking classical music and putting it through their modern sense of sound and adding instruments of the day to it. Keith brought the Moog synthesizer to his performances. The only time I'd heard the Moog synthesizer was in the Switched-On Bach recordings. That was composer Walter Carlos [The Shining, A Clockwork Orange] - who became the transgender, Wendy Carlos. Also the Japanese artist, Tomita, who took the synthesizer and gave us Debussy's Claire de Lune, Mussorgsky's Pictures at Exhibition and Holst's The Planets. Looking back, I have no clue why I didn't get involved with Emerson, Lake & Palmer. I wish I had."
One day, Daniel Dorff - VP of the music publishing company Theodore Presser - called Jeffrey to say they had acquired the distribution rights for Keith Emerson's Piano Concerto No. 1. 'Do you know it?' No. Dorff sent him a recording that Keith had made in 1977 with the London Philharmonic Orchestra. Issued on vinyl as Works, one of the sides of the 2-record set was completely devoted to Emerson's twenty minute concerto. "The only recording in existence," said Jeffrey, "was with the composer playing it himself."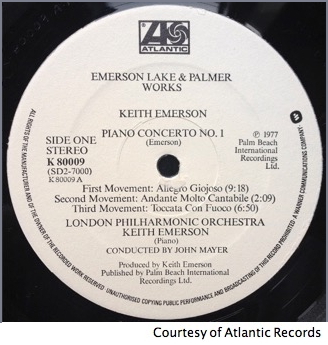 Emerson had not completed the concerto when it was consumed in a fire that took down the cottage where he was staying. In the fury of re-writing everything came the third movement. According to Jeffrey, it is one of the most draw-dropping and intense movements in a piano concerto - stacking up boldly alongside many others.
"He wrote this in the heyday of ELP - when they were touring, making recordings, and doing very well. They traveled with their own orchestra, which was a fortune of money. At some point they just couldn't keep that going and the band ceased to play. The first time I performed his concerto was with a wonderful conductor friend of mine, David Gilbert. He had a community orchestra in New Jersey, the Bergen Philharmonic Orchestra. 'If you say it's good, let's do it.' The piece had legs. I started pairing it with Leroy Anderson's Piano Concerto, Gershwin's Rhapsody In Blue, and Chopin's Andante Spianato et Grande Polonaise."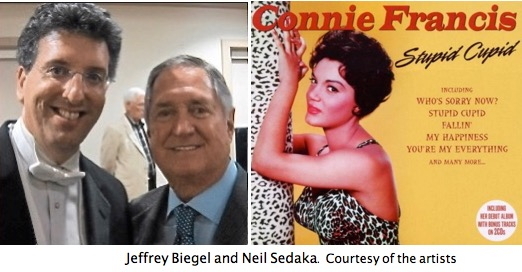 "I was sixteen when I went to Adele Marcus at Juilliard. She knew I also liked to write music. It didn't take her long to tell me that Neil Sedaka had been her student. Neil had won a competition in New York for high school musicians. Imagine how many people entered! Neil was one of a small handful of winners. The jury consisted of Jascha Heifitz, Arthur Rubinstein, cellist Leonard Rose, and Abram Chasins - the program director at WQXR, also a composer and pianist. Adele told me that Rubinstein said that Neil's performance of Chopin's Ballade No. 1 was one of the most beautiful he had ever heard. Neil was sixteen. Adele accepted him into her studio at Juilliard - he was that good. But he started missing lessons. When he finally came in, she says, 'Neil, where have you been?' He said that he and his friend Howard Greenfield had been writing songs and that they were doing very well. 'Connie Francis has recorded one of them. My pop music is starting to take off.' She asked him to play one. 'I'm too embarrassed, Ms Marcus.' Just play it! He played Stupid Cupid. 'It's very cute,' she said. 'I suppose we're losing you, aren't we.' He answered, 'I'm afraid so. But I will keep practicing.' And he did.
In 2008, recording producer David Foster gave a party in New York following a screening at the Ziegfeld Theatre of a film he had worked on with Andrea Bocelli. Neil Sedaka was at the party and performed a medley of his greatest hits. Foster persuaded Jeffrey toward the piano.
"I played the Chopin Polonaise in A-flat Major. Neil and I talked afterwards. He said, 'I'm writing a piano concerto. Can I let you know when it's finished?' He completed it in 2010 and recorded it with the London Philharmonic Orchestra. Neil's assistant called asking if I would like to see his concerto, Manhattan Intermezzo, and listen to the recording. Yes! It's chock-full of melodies - like a quick trip to the Manhattan of yesteryear, what Neil remembered. Right at the beginning, I told Neil I loved the piano part but that I wanted more. 'I want to take what you have and enhance it, fill it out and tighten it up a little.' We met in July and I played it for him. 'I love it,' he said, 'do it that way.' I posted on Facebook that the concerto was available and that I wanted to record it. 'Who's interested?' Jeff Reed, Music Director of Orchestra Kentucky, responded: 'I am.' It's May 2011, he wanted me to play it with Rhapsody In Blue the following September. Now I had my four pieces. It only took fourteen years. I pitched it to Naxos, they agreed to put it on their label. Paul Phillips conducted the Brown University Orchestra - all non-music majors. They play really well because they've played their whole lives. What I liked about that idea, especially for Rhapsody In Blue, was that they weren't bringing any preconceived ideas to the sessions. It was all new to them."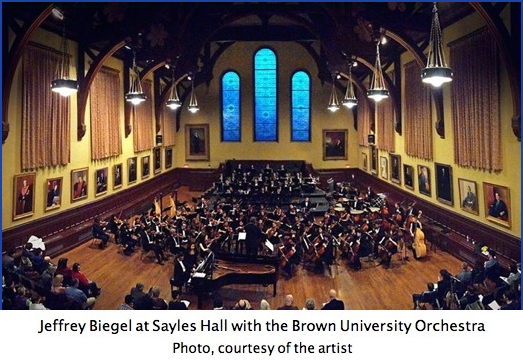 The music world has been hit hard in 2016 with the passing of so many influential artists, including Keith Emerson on March 10. Jeffrey Biegel and I spoke the morning after the announcement of Prince's death. Updates on the details would soon reveal that a great cache of music by Prince lies in a vault. No one knew of it, no one has heard it. The questions that followed were obvious. Who holds the rights to it now? When will it be made available? Who will be the first to record it?
"Fortunately, Keith heard our recording. He loved it. He wrote some beautiful words on his Facebook page about it and also about Neil Sedaka's Manhattan Intermezzo. He never knew Neil was a composer in that way. Neil wrote the same things about Keith's concerto. They both knew the Gershwin and the Arlen. It was a very touching moment when the recording came out."
"Keith's girlfriend, Mari Kawaguchi, was such a rock for him, his right arm. She said, 'I was always pressing him to write a second piano concerto. There is material here that is part of Piano Concerto No. 2.' I said that I didn't know if the time would ever be right - but to just go ahead and ask about what's there. She didn't know how much was completed. At some point, his Piano Concerto No. 2 should be reckoned with, to see what it's all about. Maybe a few people could look at it. I would like to know what's left to be done. I imagine it's something that would be of great interest to symphony orchestras."
For everything - there is a season.