WASHINGTON ― Jeffrey Clark — the 30-year-old man federal agents arrested here Friday after he said the Pittsburgh synagogue shooting victims "deserved exactly what happened to them and so much worse" and his relatives worried he might try to launch a race war — wasn't shy about being a neo-Nazi.
In April 2017, when someone asked Clark at a White House rally organized by "alt-right" coiner Richard Spencer whether he considered himself a fascist, he said no ― he considered himself a Nazi. Antifa activists photographed him at the deadly Unite the Right rally in Charlottesville, Virginia, in August 2017. He has posed for pictures in front of Nazi symbols and holding Nazi memorabilia.
On Gab, the favored social network of racists and anti-Semites, Clark had the username @PureWhiteEvil and called himself "DC Bowl Gang," a reference to Dylann Roof, the bowl-cut racist who murdered nine black churchgoers in Charleston, South Carolina, in 2015.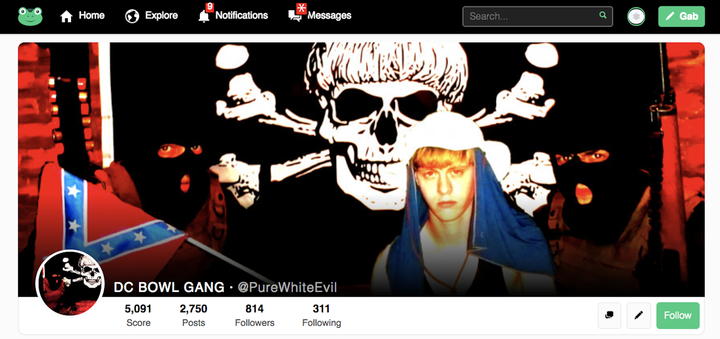 Many alt-right white supremacists worship Roof, and Clark used an image of the killer and balaclava-clad gunmen as the header for his Gab page. His pinned image was an altered still from the video game "Doom" that depicted Roof executing black people in a church.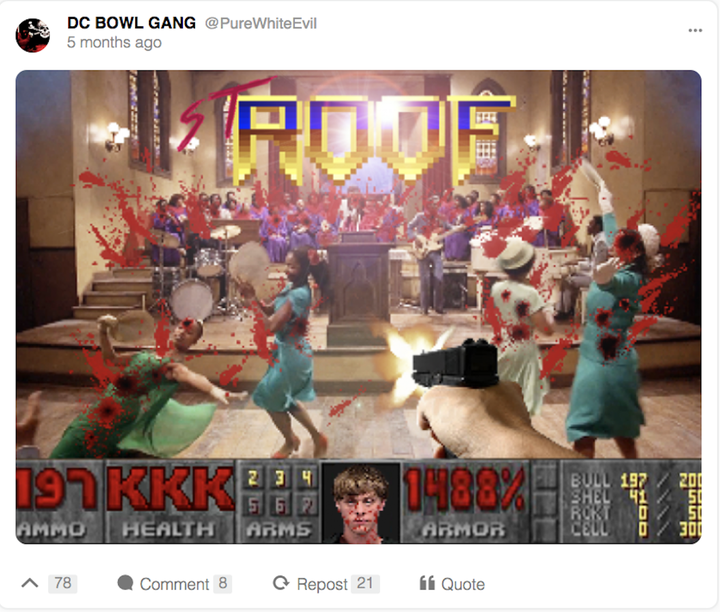 This April, Clark threatened a HuffPost reporter, warning that the reporter would be going "feet first into a woodchipper." The reporter told police about the threat in August. They did nothing at the time. In late October, D.C. police did come to Clark's house in the Bloomingdale neighborhood after the death by suicide of his brother, Edward, but did not arrest him.
On Oct. 26, Clark defended Cesar Sayoc, the Florida Trump supporter accused of sending pipe bombs to prominent Democrats. "Nah he was BASED! Get used to it libtards. This was just a dry run for things to come," Clark wrote on Gab in response to another user critical of Sayoc. Clark's Gab profile is no longer online, but HuffPost viewed archives of the posts, which were collected by data scientist Jason Baumgartner.
The FBI incorrectly suggested in its affidavit that Clark's "dry run" post referred to Robert Bowers, the man charged with murdering 11 people at the Tree of Life synagogue in Pittsburgh on Oct. 27. NBC first reported the discrepancy. The FBI declined to comment.
It wasn't until November, after Clark's own family contacted law enforcement, that the FBI finally found the allegedly illegal weapons that have him facing gun charges. Court documents, as well as photos and videos obtained by HuffPost, suggest Clark's late brother, Edward Clark, shared a similar ideology. That both men were able to spew neo-Nazi rhetoric, amass an arsenal of weapons, and openly threaten journalists and critics for months without consequence shows just how much freedom far-right extremists have to operate in the U.S. — and how far their behavior has to escalate before law enforcement takes it seriously.
White Supremacy, At Home In DC
Clark lived in a rowhouse in Bloomingdale with his father, sister and younger brother Edward William "Teddy" Clark, who killed himself on Washington's Theodore Roosevelt Island on Oct. 27, the day of the Tree of Life shooting.
No one answered the door Tuesday night at the Bloomingdale home, which was completely dark except for a television flickering in an upstairs room.
"I was waiting for these boys to step out of line," one neighbor, who asked for anonymity out of concern for their safety, told HuffPost. That neighbor, who was aware of Clark's neo-Nazi leanings and monitored his Twitter account, said that the Clarks, until a few years ago, were one of the only white families on the block, which is in a historically black neighborhood near Howard University that has gotten dramatically whiter and richer in recent years.
"I was waiting for these boys to step out of line."
The neighbor said that last year several similarly dressed white men gathered at the Clark home around the time of an alt-right free speech rally in the city. The neighbor heard the group chanting what sounded like "Sieg Heil." When white supremacy flyers appeared in the neighborhood and a gay pride flag was torn down from the window of the nearby bar Showtime, the neighbor suspected the Clark boys were involved.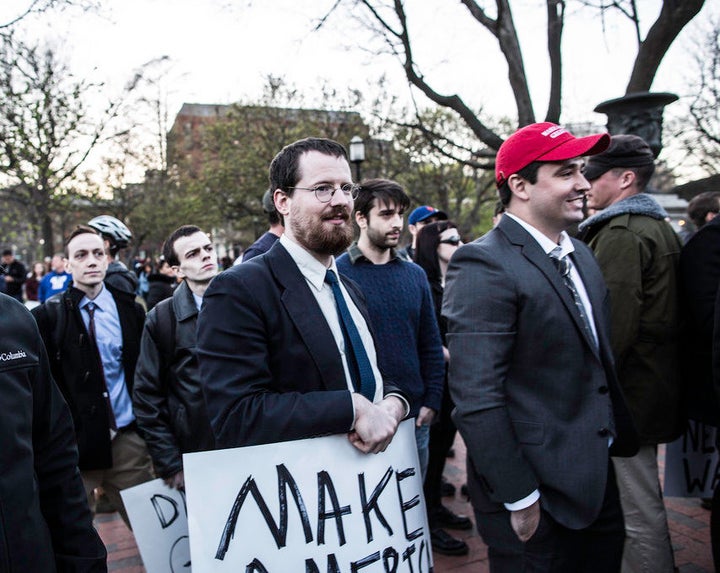 Finding Their Place In The Far-Right
The Clark brothers appear to have been trying to find their footing in the far-right political scene over the past several years, showing up at "Build the Wall" rallies outside the White House or at events with Spencer. One of them tried to join Identity Evropa, a prominent white nationalist organization, but was rejected, according to a source in the organization.
In May 2017, the Clark brothers teamed up with far-right "Pizzagate" propagandist Jack Posobiec, who was then the D.C. bureau chief for the far-right website Rebel Media, to shoot footage for a film Posobiec was working on about Seth Rich, the Democratic National Committee staffer whose murder near the Clarks' home in Bloomingdale has spawned numerous far-right conspiracy theories.
Laura Sennett, an anti-fascist researcher who works with One People's Project, spoke with Jeffrey Clark a few weeks after he and his brother were spotted in Bloomingdale with Posobiec, who by then had been fired from Rebel under mysterious circumstances after plagiarizing Jason Kessler, the white nationalist who organized the Unite the Right rally.
"[Clark] told me that Jack Posobiec hired him and his brother to follow him with a camera to take video of his investigation of Seth Rich," Sennett told HuffPost. "Not sure if it was a documentary or a news story, but [Posobiec] was doing some kind of reporting for Rebel Media. I asked him if Posobiec was aware of his Nazi beliefs. He told me that Posobiec absolutely was and had told Jeff that he was sympathetic to those beliefs."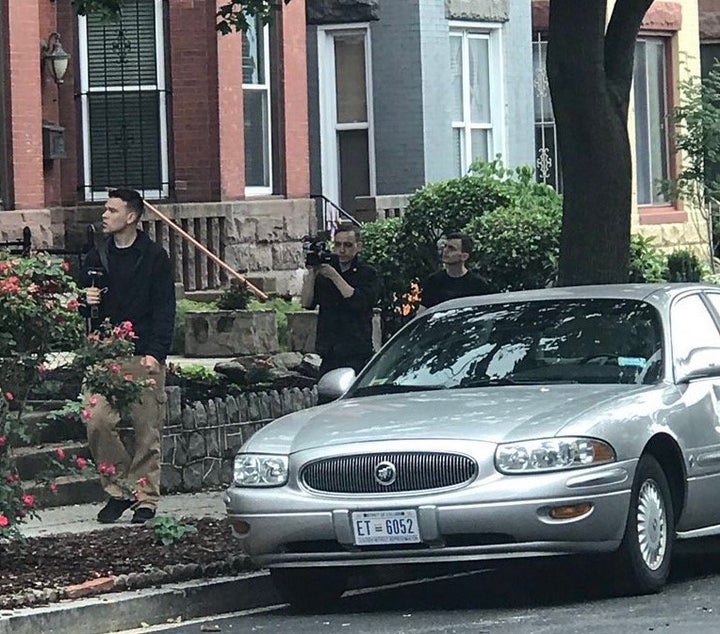 Posobiec, now a host for the conservative One America News Network, denies this. "I've never heard of a Jeffrey Clark," he said. "I have never hired anyone for Rebel Media, certainly not hired this person, and I never made a Seth Rich documentary for Rebel Media."
But there was Posobiec last year, traipsing around Bloomingdale with the Clarks: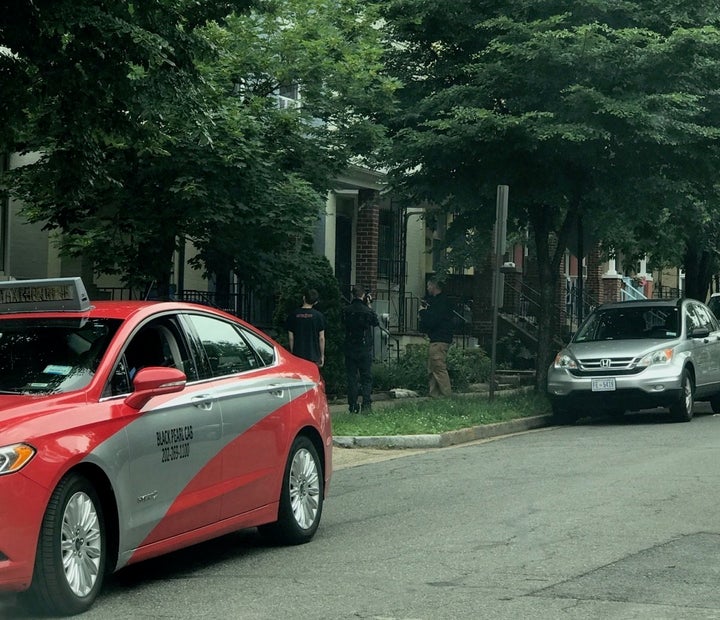 Knocking on doors, a microphone in his hand: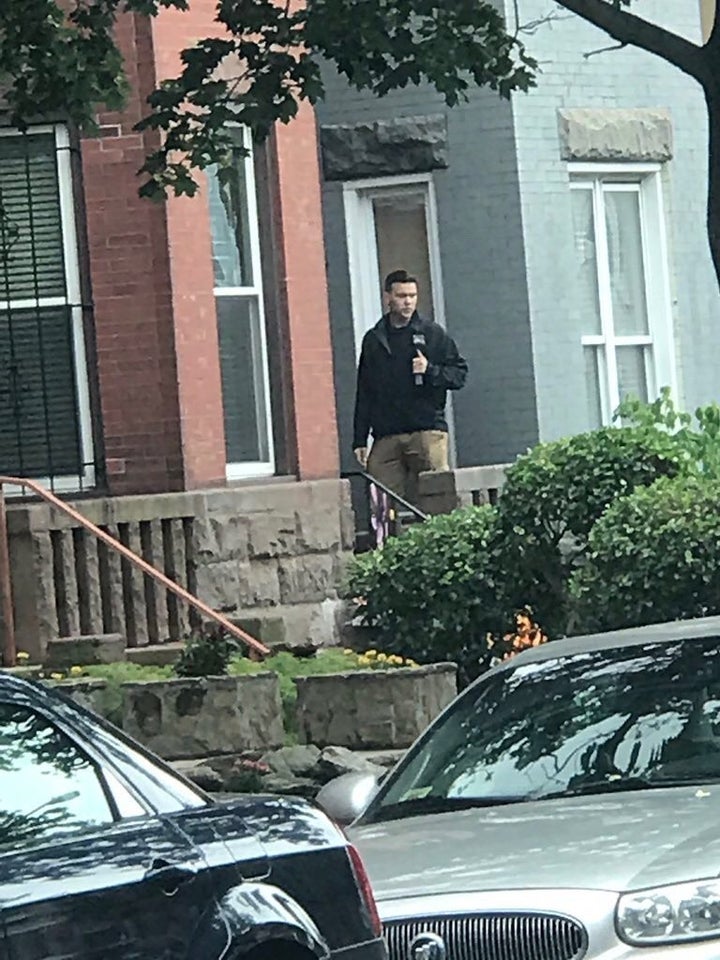 Jeffrey Clark also found a common cause with violent white supremacists on Gab, where he posted neo-Nazi propaganda and promoted prominent white nationalist voices such as Patrick Little, Brad Griffin, Jared Wyand and "Jack Corbin" ― all of whom Tree of Life shooter Robert Bowers also engaged with on the social media platform. He amplified older white nationalists such as Billy Roper and Peter Brimelow, and expressed his support for white nationalist Republican House candidate Paul Nehlen.
Clark's Gab profile picture was a photo of him and his brother wearing masks and holding guns in front of a flag with a skull and crossbones, according to court documents. The skull has a bowl haircut, another reference to Roof. Edward Clark went by "DC_Stormer" on Gab, according to the FBI. A Twitter account with the same user name is currently suspended. Previously, that account, which antifa activists believed to be linked to one or both of the Clark brothers, posted thinly veiled threats aimed at local antifa activists.
Several of the internet service providers who worked with Gab abandoned the social media platform after the Pittsburgh shooting brought public attention to how easy it is for leading extremists to connect with individuals on Gab who might carry out white nationalism's violent ideology.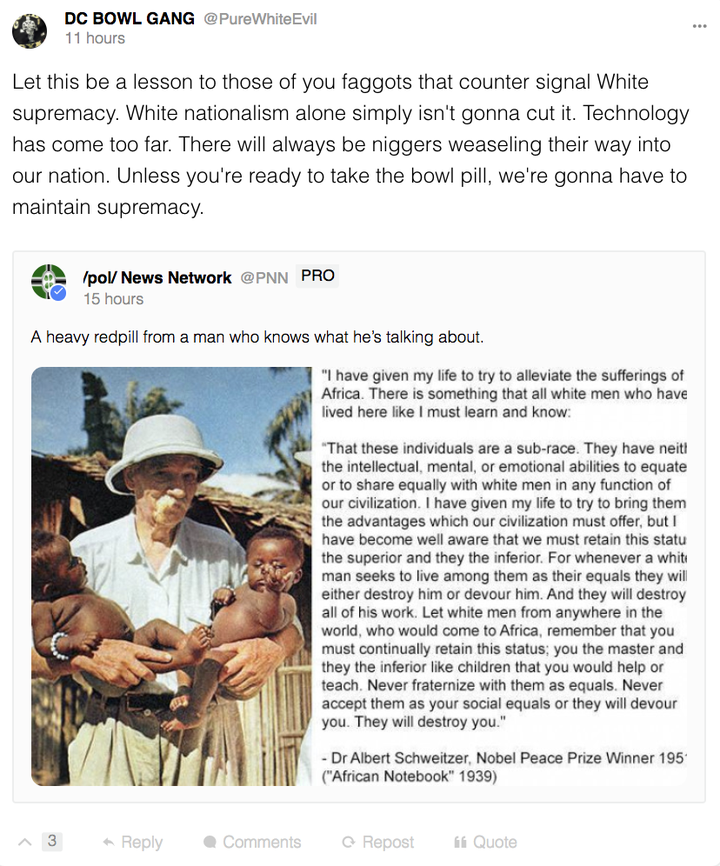 How It All Came Crashing Down
The Clarks' history of extremism ended in the death of one brother and the arrest of another over the past two weeks. Edward Clark killed himself with a Beretta pistol on Oct. 27 sometime before 12:45 p.m., according to court documents. Responding officers found eight remaining rounds in the magazine of his pistol, as well as two additional magazines of ammunition with 20 more rounds. Family members told FBI agents they were surprised by Edward's suicide and did not know why he had so many bullets on him.
Court documents imply that Jeffrey knew his brother was up to something unusual on the day of his death. Jeffrey woke up around noon that day. When he realized Edward wasn't home, he called his mother and said he was going to report Edward missing to the police, even though Edward was 23 and hadn't been gone for long.
Jeffrey is the registered owner of a Remington Arms 1911 R1 handgun and a Mossberg Maverick 88 shotgun. His brother was the registered owner of a Ruger Mini 14 Ranch Rifle and a Beretta 92FS handgun, the gun he used to kill himself. Officers later recovered a Colt .38 Jeffrey gave to a family member that was not registered to either Clark brother. D.C. law requires registration of all firearms with local police.
A D.C. homicide detective went to the Clarks' home after Edward's death. Jeffrey told him that Edward's rifle was still at the house, but the detective did not ask Jeffrey about his guns, according to court documents.
Two family members called the FBI on Nov. 2 to express concerns about Jeffrey, whom they said had become more outspoken about his white nationalist views after his brother's death. Jeffrey and Edward "had both fantasized about killing 'Jews and blacks,'" and admired mass murderers Timothy McVeigh, Ted Kaczynski and Charles Manson, according to court documents. Family members told the FBI that Jeffrey was "really riled up" and "agitated," and they feared he would hurt himself or others. The brothers believed there would be a race revolution, and they wanted to expedite it.
Family members showed FBI agents four boxes of gun parts they took from Jeffrey, including parts used to modify AR-15 assault rifles. Agents also found four high-capacity AR-15 magazines that can hold up to 30 rounds of ammunition. Possession of such magazines is prohibited under D.C. law.
Jeffrey and Edward's relatives confirmed they both attended the 2017 white nationalist rally in Charlottesville. They believed there were photos of the brothers online standing next to James Alex Fields, the white supremacist who drove a car into protesters, killing Heather Heyer and injuring several others. They showed FBI agents a picture of the brothers holding a flag for the white supremacist group Vanguard America ― the same group on the flyers posted around Bloomingdale.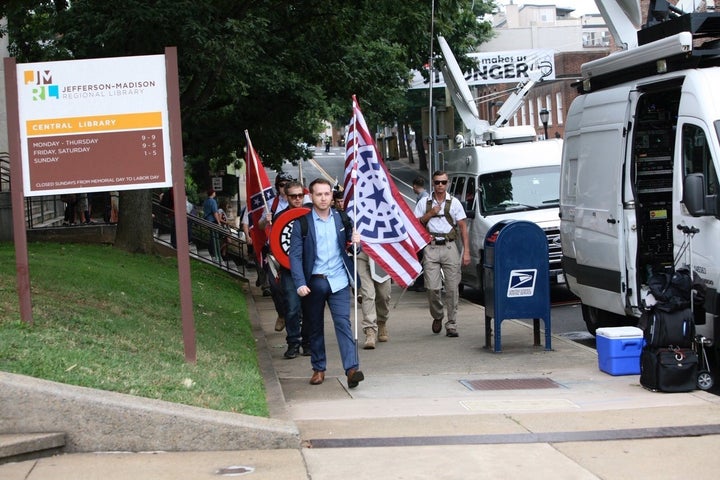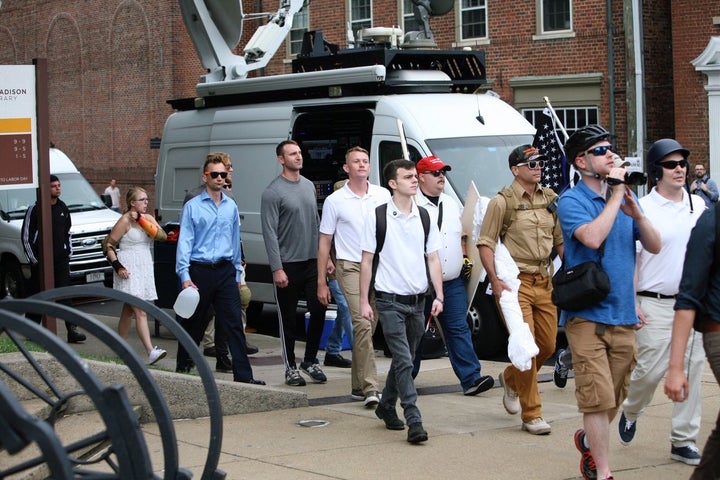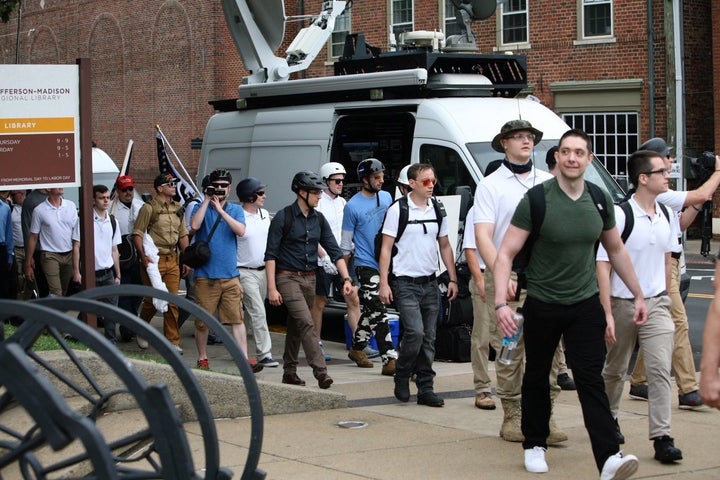 FBI agents spoke with one of the Clarks' relatives again on Nov. 8. The relative told them that Jeffrey smoked and sold marijuana. They also observed propane torches in the house that are "consistent with those used for smoking methamphetamine," according to court documents.
Jeffrey described himself on Gab as "Aka DC Stormer (RIP), "Meth-Smoking, Pipe Bomb making, mailman-murding,#Fed,#DemoKKKrat, Che Guevara of the altright, Glenn beck, Not a NEET – just bathing in White priviledge, Bowlcut Nationalism is the only way forward. . ."
Jeffrey was arrested on Friday and charged with the federal crime of illegally possessing a firearm while using or addicted to a controlled substance, and the D.C. crime of possessing a high-capacity magazine.
David Bos, the federal public defender assigned to Jeffrey's case, did not immediately respond to a request for comment.
Read the court documents here:
CORRECTION: A previous version of this story indicated Jeffrey Clark referred to the Pittsburgh shooting as a "dry run for things to come" on the social media platform Gab. While that connection was laid out in an FBI affidavit made public on Tuesday, archived media posts reviewed by HuffPost on Wednesday indicated that those comments referred to a spate of pipe bombs sent to prominent Democrats. This story also previously said Clark was charged with possessing a "high-speed magazine" instead of a "high-capacity magazine." Additionally, it misstated the congressional seat for which Paul Nehlen was running; it was in the House, not the Senate.
Support HuffPost
The Stakes Have Never Been Higher
Popular in the Community