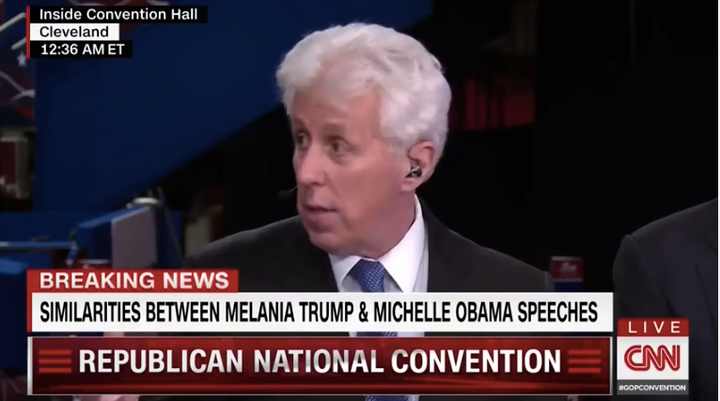 CLEVELAND ― The chairman of Breitbart News extends an invitation for a livestream interview. A passerby asks if it's a struggle being a conservative on CNN. And the inventor of "My Pillow" offers to send one in the mail.
That's just a few minutes in the life of Jeffrey Lord at the Republican National Convention.
"As you can see, I get stopped," Lord remarked. "It's amazing."
Lord is quick to throw around words like "amazing," "terrific" and "fabulous" when describing his experience at CNN this past year.
And why not? At 65, Lord has become perhaps the most unlikely TV news celebrity of the election. A former Reagan administration official, Lord hasn't attended a Republican convention in nearly three decades. He currently lives in a small suburb outside Harrisburg, Pennsylvania, where his primary job is taking care of his 97-year-old mother.
Yet Lord's made hundreds of appearances on CNN over the year as Donald Trump's unflappable defender through a steady stream of controversies. (Lord said he's been told the number's nearly 600 over the past 13 months). He's been appearing for several hours each night during the Republican convention and will be on-air through the Democrats' gathering next week in Philadelphia.
Lord's benefited this election cycle from a dearth of TV-ready, conservative pundits willing to defend Trump against his detractors on the left and right. Some commentators were aligned with other Republican candidates, while others vowed "Never Trump" given the candidate's extreme views and offensive comments. CNN has since built a stable of pro-Trump analysts, including Kayleigh McEnany, Scottie Nell Hughes, and most controversially, former Trump campaign manager Corey Lewandowski.
At times, Lord has defended the seemingly indefensible. He suggested Trump's racist remarks about a judge in a case involving Trump University were rather evidence of citing racism. Lord jousted for nearly 20 minutes as a panel of seven other conservative and liberal pundits had none of it.
In another controversial moment, Lord described the Ku Klux Klan as a "leftist" group, a designation the Southern Poverty Law Center dismissed as "up-is-down historical balderdash."
Lord, however, is unlikely to be swayed by fact-checkers. And he doesn't seem bothered by pushback against his views.
"I think the world of Van [Jones]," he said of his frequent sparring partner. "We just disagree. That's all. Sometimes our disagreements wind us up on the front pages. And we're trending and all this. He nudged me one morning and said, 'My God, we're trending on Twitter.'"
A John F. Kennedy fan growing up, Lord cites the late Democratic president's line that "race has no place in American life or law" as where he'd ideally like to see the country today. "That we're all Americans," he said. "That's where I am and where I see the left today is resuming their sort of historic position where everybody's going to be judged by skin color."
Lord said he initially supported Democratic Senator Robert Kennedy for president in the 1968 election before he was assassinated. Lord's father, a Republican, got him a job with the Republican National Committee that same year, and he attended the party's Miami Beach convention that nominated Richard Nixon. At 17 years old, Lord's job during that convention was to race around in an orange vest, providing the text of speeches to members of the media.
The 1968 convention was the first time he saw Ronald Reagan, for whom he'd later work in the White House. Lord last attended a convention as a member of the Pennsylvania delegation in 1988, when then-Vice President George H.W. Bush won the nomination.
The road back to the Republican convention unknowingly began for Lord after he praised Trump in a few columns. Lord's June 2013 piece, "Never Ignore Donald Trump," echoed the philosophy Lewandowski espoused during the Republican primary race.
"We use to have a saying in the Reagan White House: Let Reagan be Reagan," he said. "Donald Trump, like Ronald Reagan, is an American Original. Let Donald Trump be Donald Trump."
Trump surprised Lord with a phone call on Labor Day weekend of 2013. A couple of months later, Trump invited Lord to fly from New York to Washington. Trump was going to receive the T. Boone Pickens Entrepreneur Award from the American Spectator magazine, where Lord is a contributing editor. Lord trekked to New York and met Trump in his office. "We hit it off," Lord said. "He's terrific."
When entering the presidential race in June 2015, Trump apparently wasn't pleased with CNN's commentators. He believed they were unfair to him and more supportive of his Republican rivals. So Trump, or a member of his campaign, passed along Lord's name to CNN, as The Washington Post's Erik Wemple reported last year.
"I didn't know this," Lord recalled. "I'm sitting at home in Pennsylvania typing my columns and taking care of mom and suddenly, literally in one day, I was on CNN four times, five times. Once on the phone. Once with Skype." (He often appears by Skype, which allows him to remain in Harrisburg and take care of his mother.)
Lord received a contract initially through 2015. It was extended another year as it became clear Trump wasn't going anywhere.
These days, Lord said he only hears periodically from Trump. He said the last time was in early June, after details of a call with campaign surrogates was leaked to the media. But it's not as if Trump needs to personally call Lord to count on him to put the best spin, or deflection, on the media outrage of the moment.
Take this week's plagiarism scandal, in which Melania Trump recited several lines taken from Michelle Obama's speech at the 2008 Democratic National Convention.
Lord knows something about plagiarism involving political figures. In September 1987, Lord recognized then-presidential candidate Joe Biden using words he recognized from a Robert Kennedy speech that he'd played repeatedly as a kid during his youthful Democratic phase. He passed along the info to a young New York Times political reporter named Maureen Dowd, who noted Lord's contribution in an article on a controversy over a separate instance of plagiarism that eventually ended Biden's 1988 bid.
Though Lord didn't defend plagiarism when it applied to Trump's campaign, he downplayed the budding convention controversy in the wee hours Tuesday morning.
"You need to have a sense of perspective," he said. "This is not Benghazi."
Related
Popular in the Community