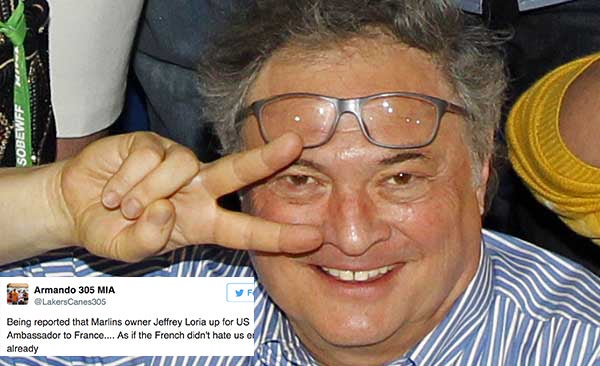 Outgoing Miami Marlins baseball franchise owner Jeffrey Loria just landed a plum gig from the Trump Administration after agreeing to sell his team to the President's in-laws, members of the Kushner Family.
The New York Post reported the appointment has been confirmed in the context of a clash between White House Chief of Staff Reince Priebus and former Exxon-Mobil CEO Rex Tillerson's deal to have full control over ambassadorships after being confirmed as Secretary of State:
So far, Priebus has pushed — and won signoffs — for Miami Marlins owner Jeff Loria to head to France, GOP activist Georgette Mosbacher to Luxembourg, financier Lew Eisenberg to Italy and hedge funder Duke Buchan to Spain. The list has led some at the State Department to worry that Priebus has not properly vetted the diplomats-to-be. "The people Reince has put up are problematic as well," said a State Department official.
Jeffrey Loria's Marlins fed scandalously at the public trough of Miami-Dade County's 2.5 million residents and 20 million annual visitors whose bed taxes will be paying for the white elephant Marlins Park until $2.4 billion dollars has been repaid over roughly another 30 years.
If that wasn't enough, Loria lied about his team's profitability to sell the stadium deal, and (like Trump) withheld his tax returns until the deal was done, only for a leaked tax return to reveal that the Marlins were paying him $50 million a year in competition money from MLB, which the parsimonious poor mouthing owner pocketed instead of fielding a competitive team for the better part of a decade.
Nothing could be more shocking to discover for Miami baseball fans and observers on Twitter that this gluttonous, narcissistic sports team owner will now be our ambassador to America's oldest ally, so they responded hilariously:
I'm not sure how this was possible, but the media reaction has been even more cutting:
Jeffrey Loria has to be the least diplomatic person on planet earth, and Donald Trump is about to send the man who pissed off Miami so much that he couldn't manage to fill 1/3rd of a completely free, publicly built baseball stadium off to France.
Does Donald Trump realize that Jeffrey Loria actually thinks this is art?
As a Miami Marlins fan and former season ticket holder, I am gleeful at the departure of Jeffrey Loria.
Even Loria's sale to a family ingrained wholly within the Trump evil empire didn't phase me, since it would just give me a new and more glimmering reason to boycott the team, and perhaps now to protest at the boondoggle park too.
But even I am now wondering if the price for ditching Loria was too high.
REAL LIFE. REAL NEWS. REAL VOICES.
Help us tell more of the stories that matter from voices that too often remain unheard.
This post was published on the now-closed HuffPost Contributor platform. Contributors control their own work and posted freely to our site. If you need to flag this entry as abusive,
send us an email
.