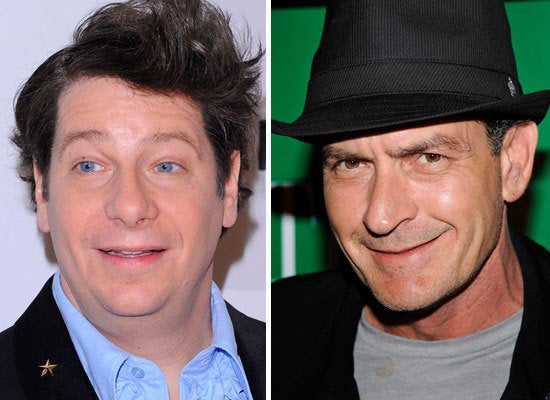 When Comedy Central announced that Charlie Sheen would be the subject of its next roast, very few people had any question as to why. Ever since the actor's absurdist PR blitz in February, he's been a punchline fixture for joke-writers and everyday folk alike. His bizarre, anti-comedy "Violent Torpedo Of Truth" tour may have seemed like the culmination of his walk on the rhetorical wild side, but that, apparently, was just a pre-cursor to what will be September's most "epic" Sheen event.
Comedy Central has yet to announce its lineup of Roasters or its Roastmaster for Sheen, but it would be hard to imagine it without Jeffrey Ross, and his patented affable meanness. He is the master of the scathing line delivered with boyish glee, inspiring forgiveness even as he devastates.
Ross, along with Lisa Lampanelli and the late Greg Giraldo, is one of the most recognizable faces associated with roasting, having served as Comedy Central's Roastmaster multiple times, even writing the definitive book on the subject, "I Only Roast The Ones I Love."
But more importantly, Ross has more experience roasting Charlie Sheen than probably anyone. The comedian was brought in to inject some life into the withering corpse that was the "Torpedo" tour, and is credited with rendering every stop he joined on the tour watchable... no small feat.
"I came out in a haz-mat suit," Ross told Huffington Post. "Someone had yelled, 'I want a refund!' and so I walked out in this suit and said, 'I heard there was a bomb scare, Charlie, I got here as quick as I could.'"
The tour had been a well-publicized train wreck until Ross was brought on. "That was a necessity. The show didn't have a lot of content and it needed some help."
But the comedian didn't jump in right away. The tour wasn't exactly considered a winning proposition, but the combination of Sheen's respect for what Ross could bring to the stage coupled with the opportunity for Ross to take the star to task in his home state of New Jersey eventually won him over.
"I resisted for a couple of weeks. I told them if Charlie called me himself I'd do it. So I got a call the night before the Atlantic City show. I was at Jimmy Kimmel's house for a party and the phone rang at 11:00 at night and it was Charlie. And he assured me I could say whatever I wanted, so I started writing and got on the plane that night."
Ross had no previous experience working with Sheen before that, although they did have one thing in common. "We had the same pharmacist. I'm serious. But I didn't meet him until 10 minutes before the show."
That first meeting was a little nerve-wracking to say the least. "I told him I was going to roast him and his bodyguard put his fist in my face and said the jokes better not be too harsh." Fortunately, Sheen intervened and explained that Ross had free reign and things moved along from there.
"I did new material, added new jokes, and I got meaner every night, and it sort of acclimated him. And it proved to his fans that he's able to take a joke and laugh at himself."
Flash forward a few more months and now Sheen is going to allow a lot of comedians to take shots at him in front of millions of viewers. "I think him being roasted by Comedy Central is just a natural progression of the story," said Ross.
So how will Sheen compare to previous roastees, say, like Donald Trump? As the subject of Comedy Central's last roast, Trump seemed to take things in stride, although with his classic stone-faced demeanor.
"Trump openly admitted it was much harsher than he imagined that it would be, but to his credit he was self-deprecating in the end. And he gave all the money to charity. Charlie Sheen, however, will give it all to a hooker named Charity."
What Sheen will do with the money notwithstanding, Ross is keeping his fingers crossed that he's asked to serve as the warlock's Roastmaster. "Oh, my god, I would love that. It would be the most fun one to host because you get first crack at him, and that would be a dream for me. And it feels like it would be a nice continuation of what we've been doing. I can't wait to turn up the mean meter."
Finally, Ross summed up what he thought we could expect from the Sheen roast:
"It will be some insane combination of a roast, a rally and a funeral. Charlie said it best, it's going to be 'epic'."
Come September, we'll find out. Until then, we'll keep our fingers crossed that Ross gets to host what will most certainly be Sheen's most infamous hours.
Until then, here's Jeffrey Ross sharing some insight on proper roasting technique: