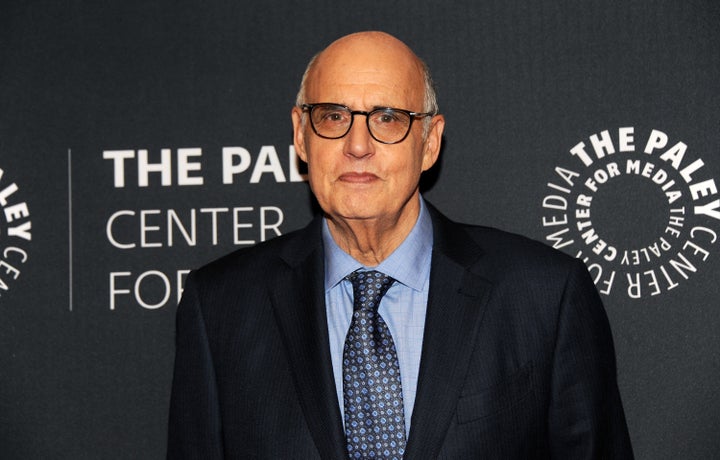 When "Transparent" debuted in 2014, the show was criticized for casting cis male actor Jeffrey Tambor in the lead role of Maura Pfefferman, a trans woman.
Three years have passed, and "Transparent" has solidified its status as one of the most challenging, ambitious, complex and juicy shows on television. The show's creator, Jill Soloway, who identifies as gender nonbinary, has been outspoken about hiring trans actors, crew members and extras, ensuring "there's no moment, on the set, when trans people are being otherized by people in the crew."
Yet Tambor's feelings about playing Maura remain complicated.
"I don't feel like I'm entitled and that's a pressure everyday," he told Sirius Radio host Larry Flick during a panel at The Paley Center for Media on Wednesday, where Flick and Soloway joined members of the cast to reflect on the show's evolution ahead of its fourth season. 
When Flick asked Tambor about the scariest part of playing Maura, he replied: "I've been given an assignment and I've got to do it right. It sounds actor-y, but lives are at stake."
Tambor has won two Emmys for his portrayal of Maura, a Los Angeles academic who comes out to her family and begins the confusing, exhilarating and continuous process of transitioning.
While accepting the award last year, Tambor urged Hollywood to allow trans actors to tell their own stories. "I would very much like to be the last cisgender male playing a female transgender role," he said.
Tambor worked with consultants Zackary Drucker and Rhys Ernst, who are trans, throughout the process of becoming Maura. They helped him understand some of the fears, phobias and prejudices trans people encounter in their everyday lives. 
But of course conversations can't compare to the reality of living your truth as a trans person day in, day out. As Tambor put it: "At the end of the day I take off Maura ― though the irony is, of course, that I can't really. Maura travels with. But I go home in my Jeffrey costume. I always argue with that, but somehow, that argument helps me play Maura."
The cast unanimously agreed that having an actor of Tambor's caliber contributed immensely to the show's success. Even in the past three years, the conversation around representation and visibility in the entertainment landscape has evolved, in large part thanks to shows like "Transparent."
Tambor hypothesized that if the show were to be cast today, someone else would have been cast as the lead. Soloway, however, looked perplexed. "I'm just trying to figure out who I would cast!" Soloway joked. 
It is difficult to imagine another actor playing Maura, especially now that Tambor has tackled the role with such vigor and vulnerability. Every season it's remarkable to watch the actor Jeffrey Tambor fade away as he becomes someone entirely different: a woman who is gentle, malleable, spirited and exposed.
Although Maura, like Tambor, is 70 years old, the actor described her more as a "robust teenager" in spirit, still coming into her own as a woman. When Flick asked when Maura will finally feel like a grownup, Tambor replied, "Hopefully never. I think the spirit of her heart and love is timeless."
Soloway continues to push boundaries in Season 4, which centers, in part, around Maura and Ali's trip to Israel. The show doesn't comment specifically on the threat the current White House administration poses to marginalized groups including the trans community, but the feelings of anxiety and dread many identify with in 2017 loom overhead. As Soloway put it, a "feeling that the world is on fire" is there.
Although "Transparent" has always been radical, Flick asserted that Season 4 seems to have gone further in shifting the story to operate from a trans perspective. While Soloway said that was not their intention, they welcomed the interpretation. 
"We've been attempting to center otherness ― women, people of color, queer people and especially trans people," Soloway explained. "We want them to feel like the protagonists ― to be the subjects, not the objects. If the trans gaze is moving to the center, that is the dream for this show." 
"Transparent" Season 4 will be available for streaming on Amazon starting September 22. 
REAL LIFE. REAL NEWS. REAL VOICES.
Help us tell more of the stories that matter from voices that too often remain unheard.
BEFORE YOU GO
PHOTO GALLERY
48 Transgender Pioneers