I was out gallery-hopping along La Cienega Blvd. one sunny day just before the election, and walked into Edward Cella's Gallery. It was the end of the previous show. There were drawings leaning against the wall in the reception area that I recognized as Jeffrey Vallance's work, and inquired about one of the smaller ones (which later sold at the opening unfortunately). The Registrar, Sarah, and her gallery-mate John, were very open, enthusiastic about the show coming up. Later Mr. Cella came out and greeted me warmly - we had just met. To (perhaps) repeat an abused term, I immediately realized the uniquely casual atmosphere in the gallery reflected the artist's 'temperament'.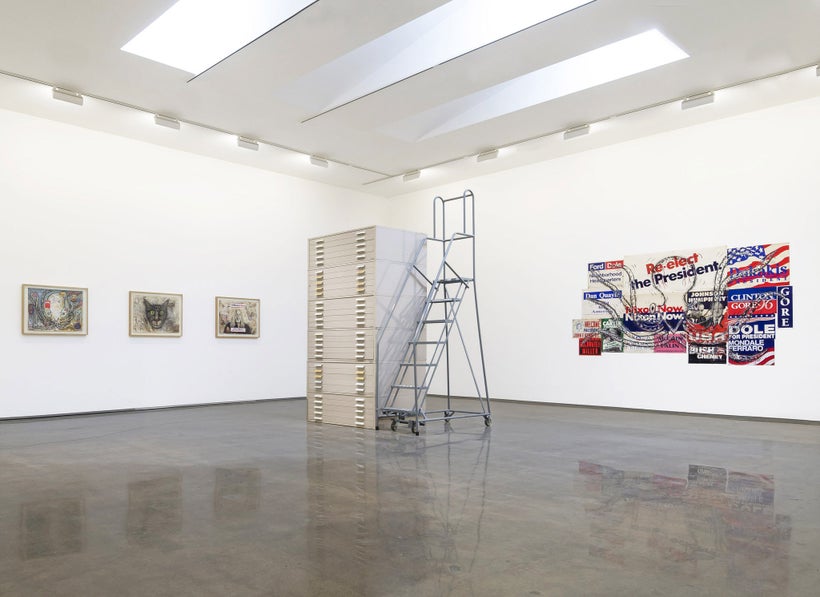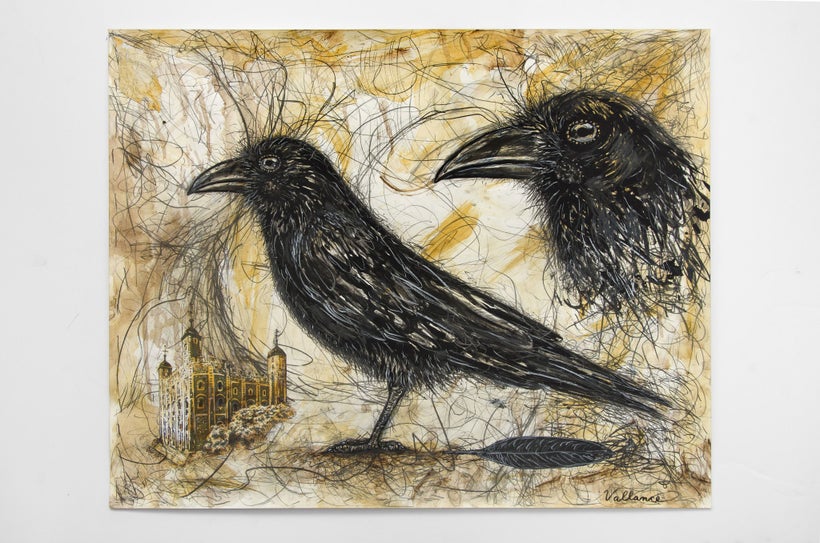 Jeffrey's work has always intrigued me because of the wide variety of media used, his relationship to his personal experiences, how he finds himself in unusual situations, to be absorbed, utilized, responded to. After a brief how-do-you-do at the opening I left him to his own devices, as he is engaging and conversational, anything but aloof to the attention paid to him in public.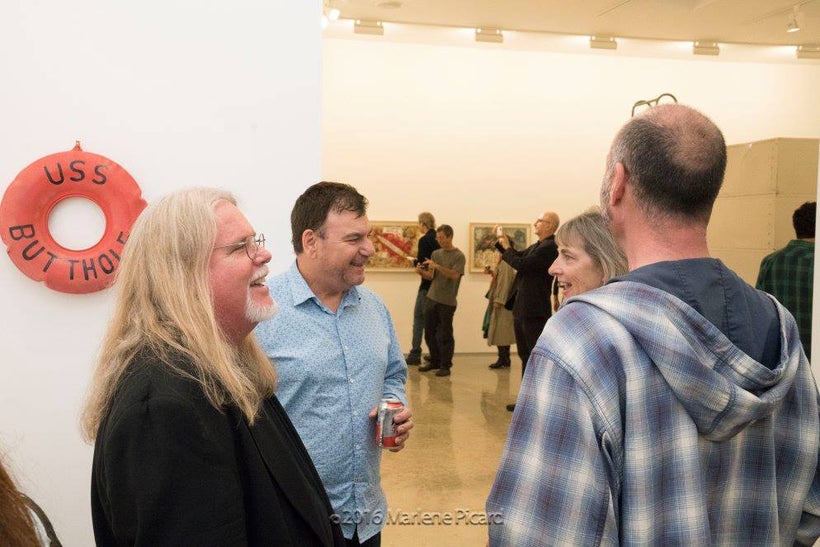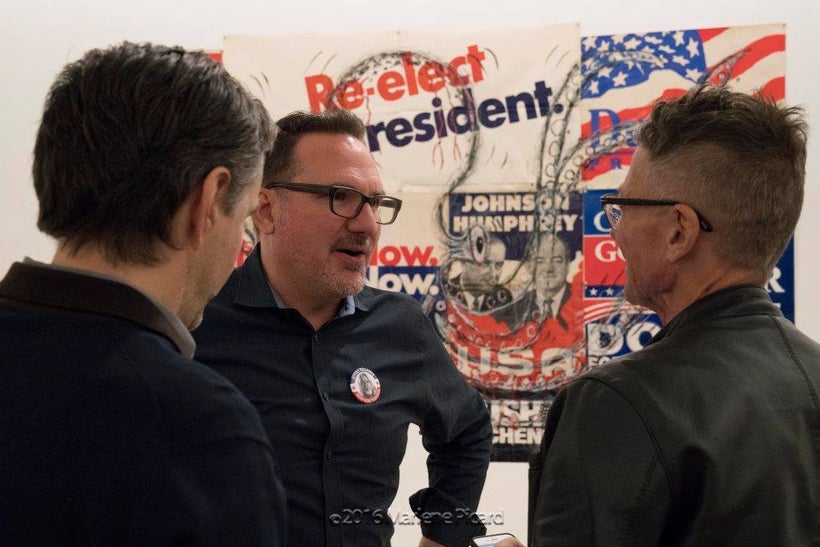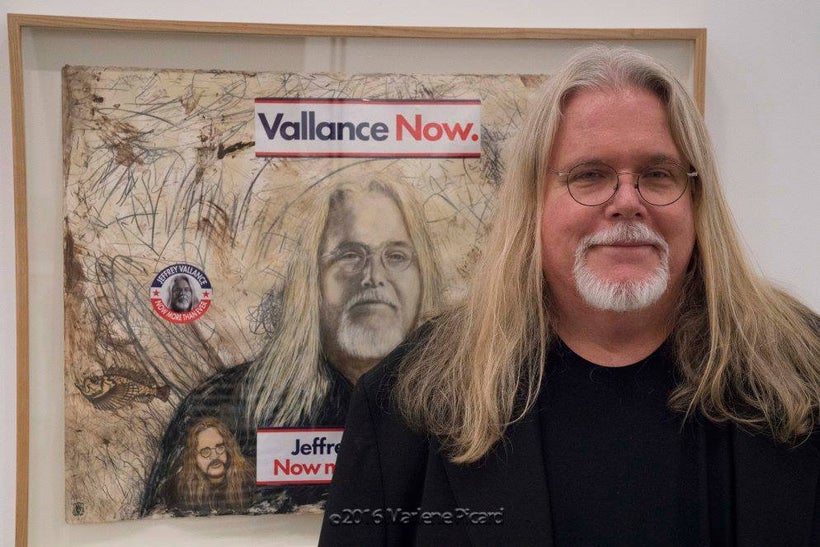 I asked him about the smaller works in the show during a phone conversation just after the election.
They are preliminary sketches to the bigger ones. They were all lying around on the floor of the studio, drawn on notebook paper, getting spilled on, kicked around, when I noticed them and liked them and saved them from being thrown away...they were 'first sketches'...alot of them got thrown away...I like the idea that someone can walk out with it, people of all walks of life can leave with something. The work is not only of different styles - they just emerge from so many complex ideas swimming around all over the place in my head - to suit the message. The little sculptures are mementos that draw a line between arts and crafts, kind of like souvenirs. They are different in price, so that a person can walk in and walk out with a souvenir - much more obtainable in price. They are the result of massive research, years of travel, a lighter version of the more expensive art on the walls. Jeffrey Vallance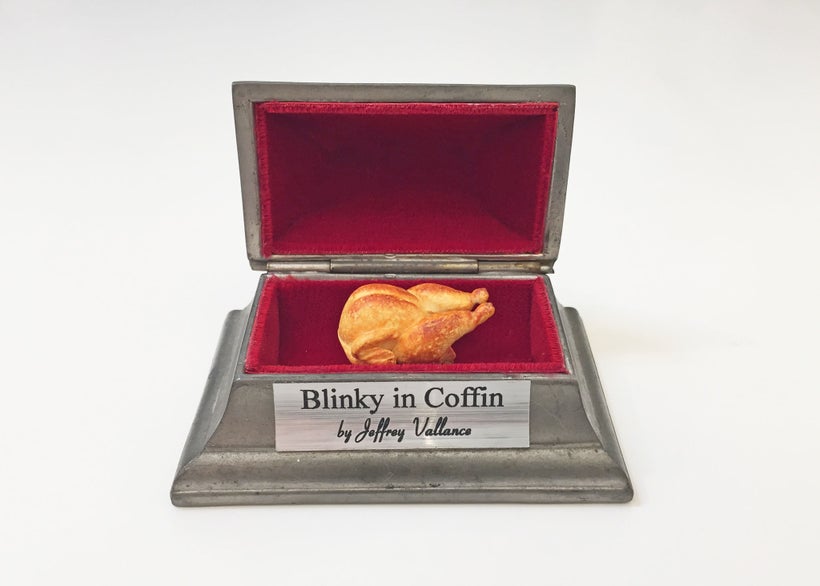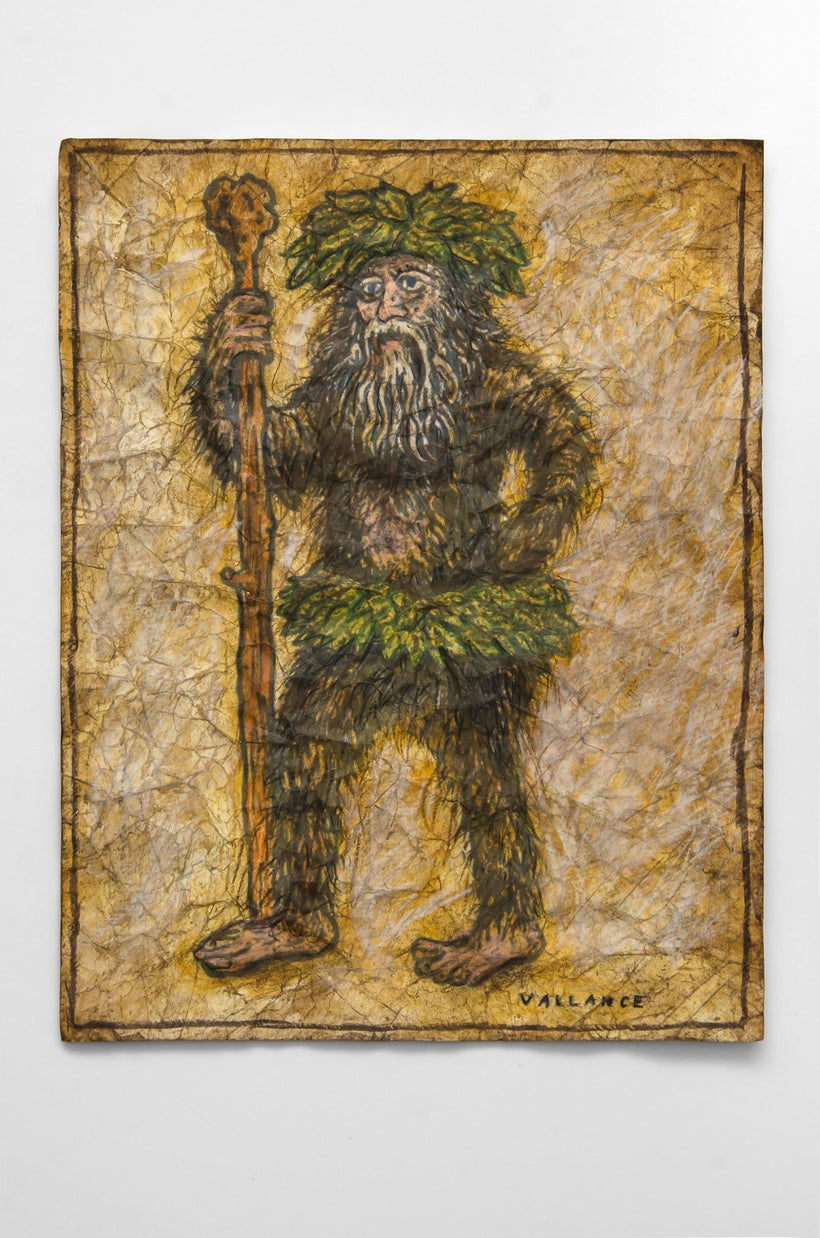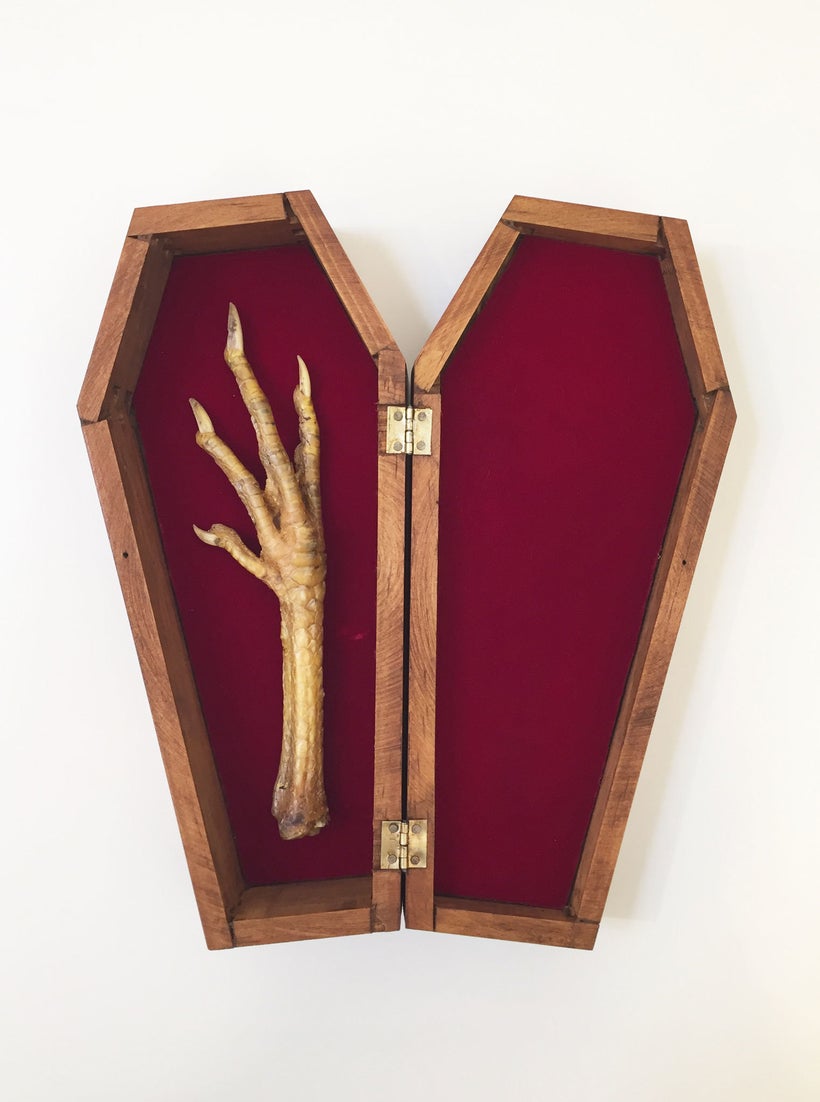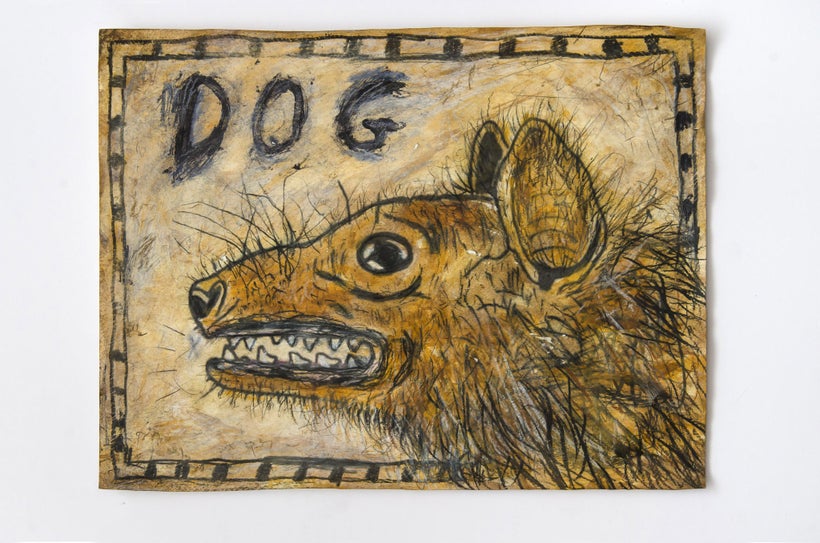 The day of the election I didn't hear the results until 10pm when I got home and my wife told me. I was in disbelief, in shock...I thought, "It's insane!" I thought two things: People really want to be Trump in a way, and (2) the mind of America is connected to reality shows - trained to listen to them - a created group of people that understand the game show. Jeffrey Vallance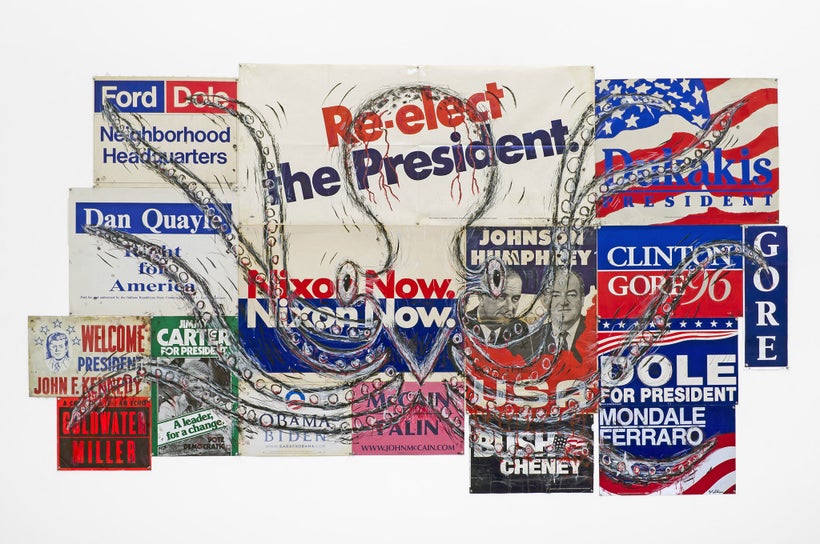 I know Jeffrey sensed the unrest in the atmosphere long before any results were revealed and there is a very real agitation present in these new drawings. There is no artist that absorbs culture the way Jeffrey does, he collects everything it has to offer and then gracefully, without judgment presents all of these ideas together, this show reveals that mastery like never before. David De Boer, Edward Cella Art & Architecture
As I walked in to the opening, there was a semi-circle of folks gathered around what appeared to be a large body of work, a stack of big metal flat files. A man atop a ladder next to it was holding up a drawing to the smiling, engaged crowd below.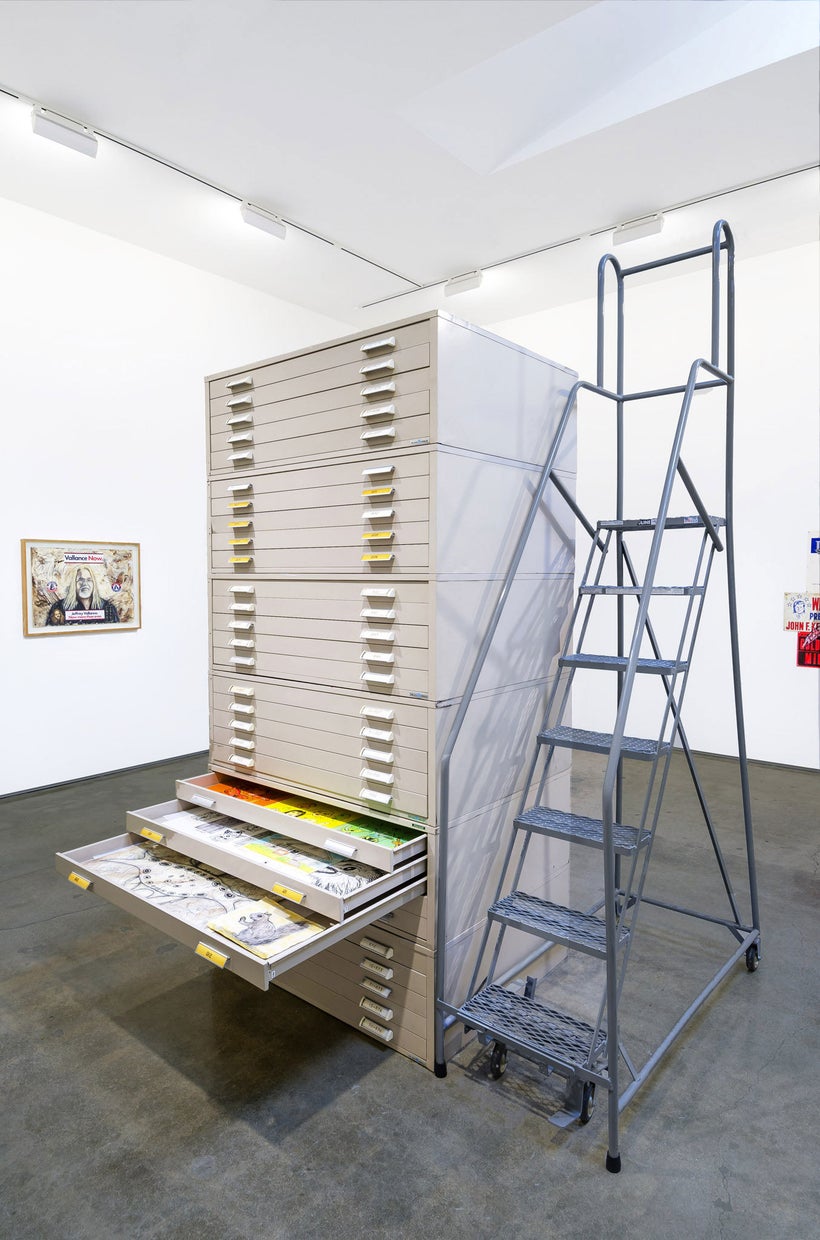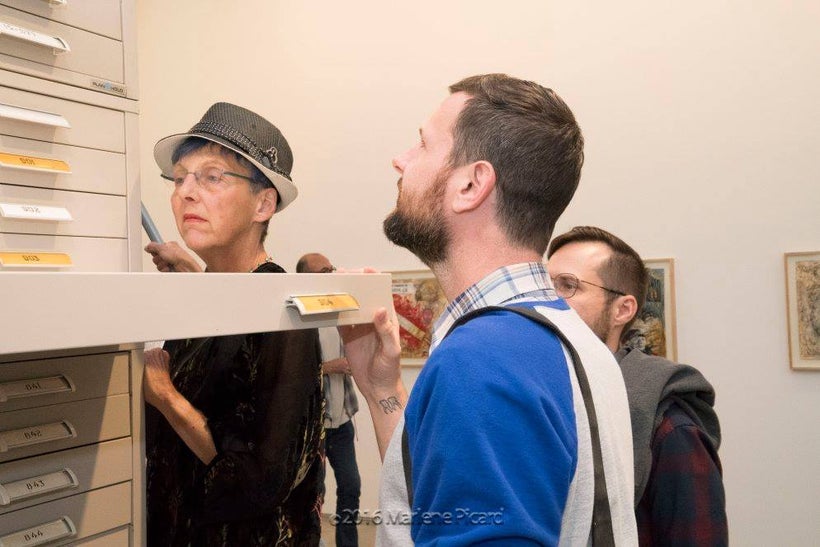 The big piece in the center of the room is almost like a performance piece...Alot of people coming in were really into drawing...I was amazed that they liked the work so much....they were saying "I'm bringing my drawing class." I think these drawings have been bumped to a different level, more lively, insane, they pop out from chaos...I wanted to ruin the paper almost...they are fighting with everything going on - things were connecting up. JV
I asked about one of his more famous performance pieces - he calls it "public infiltration" at LACMA in 1977. It seems he entered the museum disguised as a janitor and changed the lighting switch covers with his own art.
They stayed up so I invited people to my 'show' there, for years...As time went on they (the museum) sort of liked the piece...we'd write them letters asking how it was doing...Eventually I went down with Howard Fox (a curator at LACMA who's since retired) and went into the room - it was completely gutted - we were hoping to save it. JV
Life's experience has a way of coming to mind when looking at Vallance's work, bringing up almost-forgotten associations, and this show is no exception. At the opening I stood next to a man who was staring intently at an image of a huge hypodermic needle, no less menacing for being a cartoon, accentuated with drawings of the White House and the Capitol Building in Washington, DC, embellished with the tag "I'm Famous in Reseda, CA". A seemingly incongruous juxtaposition if there ever was one.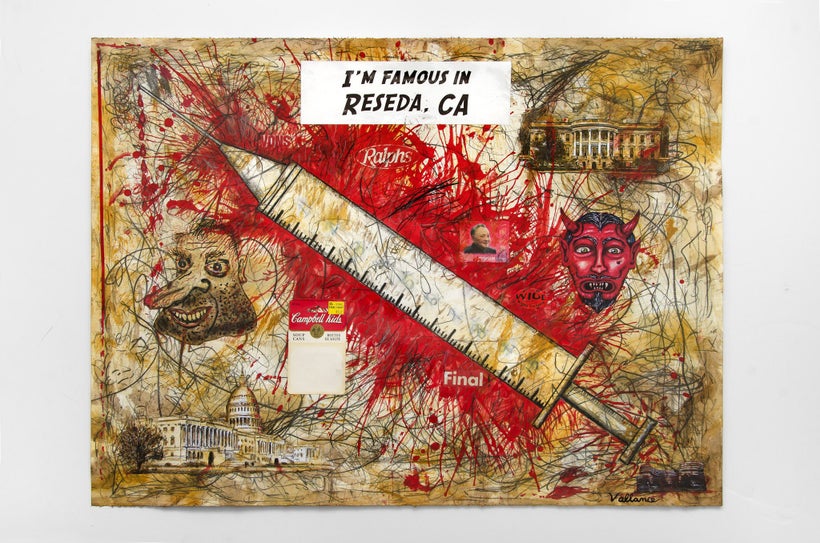 I laughed and told the man a story. It happened that in the late '80's Willoughby Sharp, a longtime friend and New York City gallery owner, took me to a Catholic thrift store (run by middle eastern man who I'm certain did not practice the faith) at 96th and Styvesant in the upper East side of Manhattan to buy a suit. (You see, I had to look "presentable" when helping run his gallery.) The best suits were kept in the basement for customers such as Willoughby. I instantly picked out two of them - the proprietor complemented me on my choice - they were the most expensive on the rack. Handmade. (I won't mention the price I paid, but they looked like a million bucks...) When I got them back from the tailor I was surprised to notice a tag inside along the pocket..."Handmade in Reseda, California". To Jeffrey I mentioned how I was struck by the drawing...
I lived in Reseda for 10 years, and in Washington D.C. with heroin addicts...life takes you all these weird places, a sad, funny mixture of life. I jump totally into things and hope I don't get into too much trouble. 'Live it!' JV
I met Jeffrey in 2012 when I invited him to participate in an exhibition I was curating at the University Art Museum at Cal State Long Beach called "Significant Ordinaries". During the run of the show he gave a lecture in the campus theater and the crowd was overwhelming, people filled the aisles and when he finished nobody left, they just sat there waiting for him tell them more and hundreds of people waited in line to shake his hand. I have never seen anything like it. David De Boer, Edward Cella Art & Architecture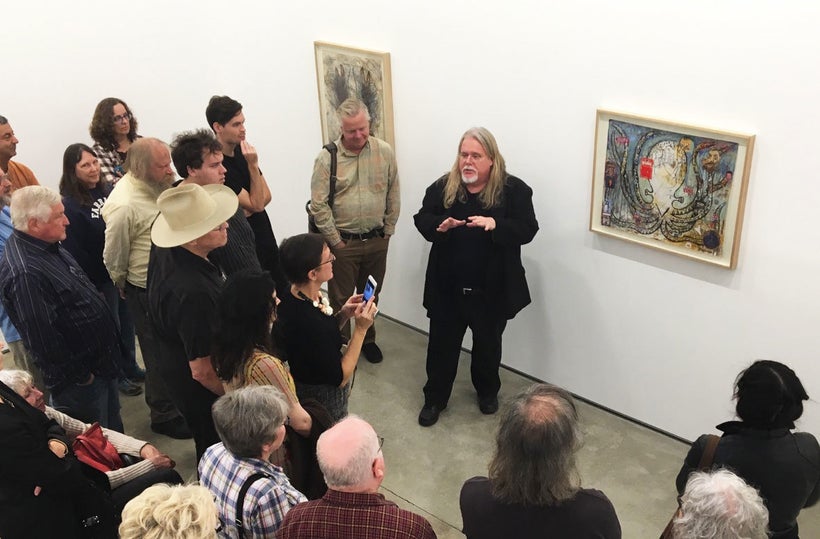 Jeffrey and I talked a lot about this show over the past two years but never about specific artworks, we talked about a feeling and the ideas he wanted to express, usually over lunch at the Winnetka Bowling Alley in Canoga Park or with Edward in the back office at the gallery. More than anything Jeffrey was completely absorbed with what he was doing in the studio, he would call me and say things like "I am in altered state" and I never questioned that, the works are really personal and intimate. David De Boer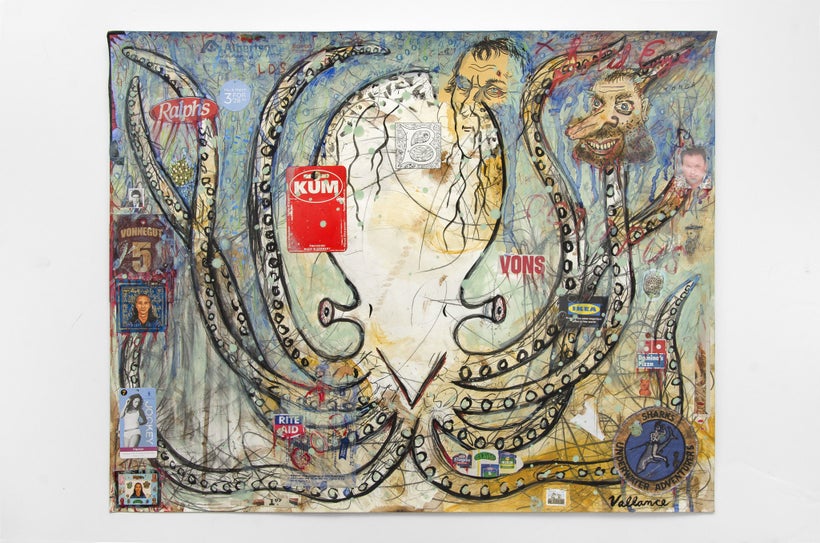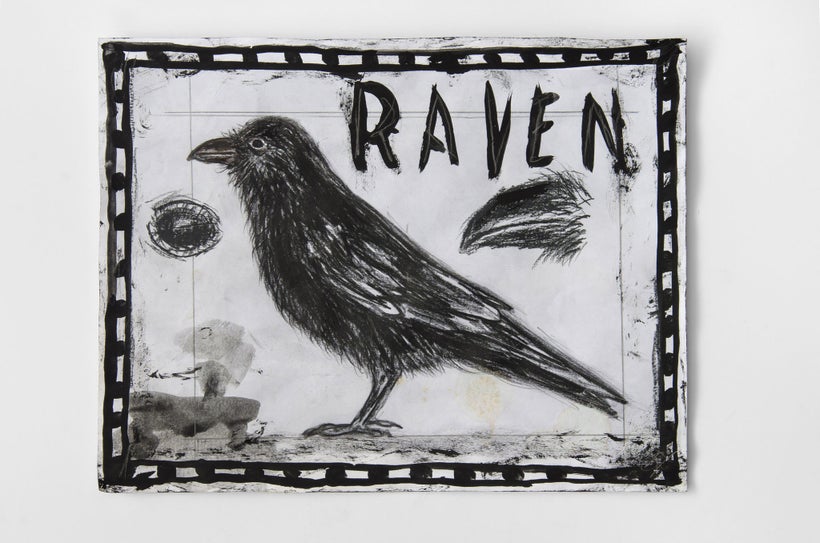 I am disappointed that Jeffrey is not our president. This exhibition is very emotional and Edward has suggested the gallery and this exhibition be a place where people can come and feel heard. David De Boer
I am always looking for stories or anecdotes that trace an artist's contemporary circumstances or historical influences that pertain to their work. Hearing about his infiltration performance at LACMA reminded me of Terry O'Shea's infamous art piece 'installed' there on May 28, 1970. In 1966 Terry had shown Maurice Tuchman his small resin sculptures - procuring them from a felt bag he carried around - and then won a New Talent Award from the institution. He never heard back about the work they wanted, so he decided to place a work there himself - by throwing it into the La Brea Tar Pits - and then sending a signed, notarized letter to Mr. Tuchman and LACMA attesting to the fact. (The letter seems to be in the possession of Doug Edge, who will not divulge who signed the letter as witnesses - a continuing, mysterious art piece, still in the muck, as it were...) As we talked of his infiltration work at LACMA, I mentioned the Terry O'Shea piece and how it similarly combined action and formal art. "I love that piece!" he said.
I do so many things...in drawing and performance and writing that these forms don't even have a name yet...they are naturally choices in media trying the best way to explain or express something..." Jeffrey Vallance
Get yourself over to Edward Cella and take a look at the show, on view until December 31, 2016. There is a catalog with essay by Doug Harvey available at the gallery. Edward Cella Art & Architecture is located at 2754 La Cienega Blvd., Los Angeles, CA 90034.
Calling all HuffPost superfans!
Sign up for membership to become a founding member and help shape HuffPost's next chapter
This post was published on the now-closed HuffPost Contributor platform. Contributors control their own work and posted freely to our site. If you need to flag this entry as abusive,
send us an email
.