Sure it sounds silly, but it's true: jeggings are here and you'll be seeing a lot more of them come fall. Last year, it was all about skinny jeans and leggings, which continue to be popular. America's love affair with denim is undeniable, but are painted on versions going too far? Buyers and industry executives tout them as the perfect transition from summer to fall and more than a few women seem to love the comfort factor. But would you wear them?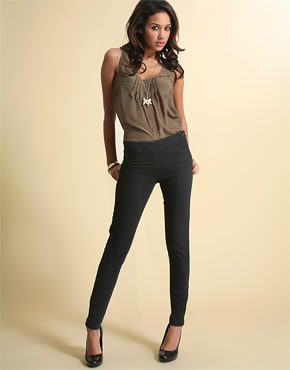 Topshop, the influential British retailer has been given credit for adding the term to our fashion lexicon, and they sell a jean-legging hybrid knit from cotton, polyester and spandex. There are also bleached biker versions with knee and leg paneling and indigo pull-ons that have a grungier look. Other jeggings feature rivets, pockets and denim-like seams down the side.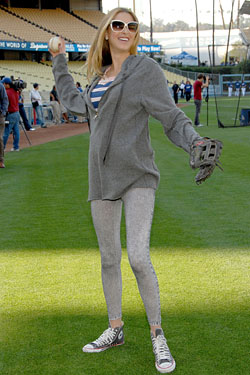 According to Women's Wear Daily, designers from Seven for All Mankind, BCBG, Levi's, Genetic Denim and Vintage Laundry all attended the Kingpins textile show in Los Angeles and were searching for "the newest stretch materials and durable fabrics." It seems legging jeans topped the list of fall trends for premium denim designers, who are constantly reinventing the humble pair of jeans. And at the recent ENK and Project tradeshows in Las Vegas, designers such as J Brand and AG, showed off stretchy styles for spring 2010 that promise to be super comfy.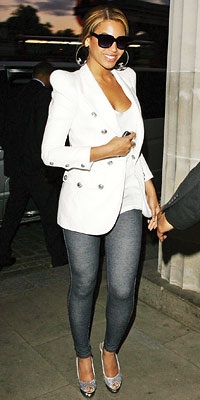 Beyonce paired hers this summer with a chic, white blazer, singer Ciara has worn bleached jeggings to a red carpet event, Whitney Port has donned a faded pair, while Angela Simmons has gone for a distressed vintage look. New York magazine calls jeggings a "don't," but retailers and countless fashion watchers are disagreeing.
If you want to try this trend out for fall just be sure to wear them with a longer top or dress over them as these painted on styles tend to show every lump and bump imaginable.
Popular in the Community