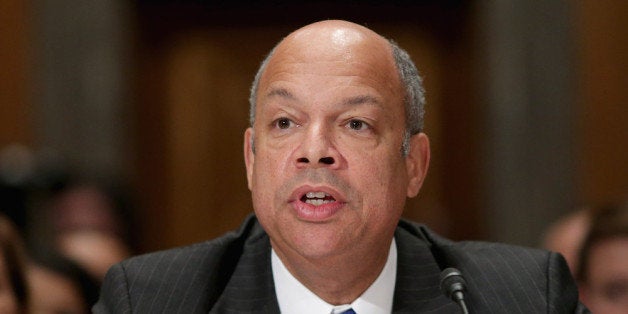 WASHINGTON -- Newly-confirmed Homeland Security Secretary Jeh Johnson told Sen. Dick Durbin (D-Ill.) in a Dec. 12 letter that he opposes setting quotas or goals for deportations, an issue garnering increased scrutiny as the fight for immigration reform stalls in the House.
"I do not believe that deportation quotas or numeric goals are a good idea," Johnson wrote in the letter, obtained by HuffPost and confirmed by Durbin's office. "As I stated above, in my view, immigration enforcement must be focused first on those who pose a threat to our national security, public safety and the integrity of our borders. If confirmed, I intend to continually evaluate the prosecutorial discretion guidelines of Immigration and Customs Enforcement to ensure they are consistent with the Department's enforcement priorities."
Johnson was confirmed on Monday to succeed former DHS Secretary Janet Napolitano, whose term ended earlier this year. His immigration views weren't well known leading up to his confirmation, and he's tended to follow the administration's policy line in his responses.
The way Johnson speaks about deportations will be important moving forward as the White House pushes immigration reform and faces growing pressure to change its removal policies administratively. The administration has previously said its deportation record is influenced by funding from Congress: the agency has the money to deport about 400,000 people per year, and therefore, it does. Earlier this year, an ICE spokeswoman said the agency doesn't have quotas for deportations but that it does set "annual performance goals" that "reflect the agency's commitment to using the limited resources provided by Congress."
Johnson didn't back away from that, necessarily, but he did signal that the agency under his control will continue the specific prosecutorial discretion policies created but not entirely implemented in Napolitano's term. Durbin asked in a letter to Johnson on Nov. 6 if he would "work with ICE leadership to ensure that ICE agents are exercising prosecutorial discretion by focusing on high-priority cases of serious criminals and national security threats rather than low-priority cases" -- noting that the agency's current stated priorities "are not sufficiently reflected in DHS's policies and practices."
In his response, Johnson assured Durbin that he will "continually monitor the Department of Homeland Security's efforts in that regard, to ensure that we do in fact remain focused on those priorities."
Johnson doesn't have an extensive background on immigration issues, and senators in both parties expressed concern that they knew too little about his policy stances during the confirmation process. Six GOP senators sent a letter to Johnson last month asking about his views on enforcement and border security, and received a response earlier this month. In Johnson's reply to the Republican senators, he defended the immigration reform bill that passed the Senate in June, echoing the position of the White House.
Durbin pressed Johnson to get more specific about his stance on undocumented young people, or so-called Dreamers, joining the military. Durbin has argued that those granted two years to remain in the country under the Deferred Action for Childhood Arrivals policy should be able to serve in the military if they want to, and asked Johnson if he would work with the Defense Department to "ensure that the broadest possible class of DACA recipients is able to enlist."
Johnson didn't give a firm answer as to what policies he would push on that front, but gave an encouraging note by saying it seems to him "that having the widest pool available of potential applicants" who meet the criteria to be eligible for military service "is a good thing."
Read the full letter from Johnson to Durbin:
Dear Senator Durbin:

Thank you for your November 6 letter and the opportunity to respond to it.

In general, I wish to assure you of my belief that our Nation's immigration enforcement resources must first be focused on those who pose a threat to our national security, public safety and the integrity of our borders. If confirmed, I intend to continually monitor the Department of Homeland Security's efforts in that regard, to ensure that we do in fact remain focused on those priorities. I realize also that, if confirmed, I have more to learn to gain a better understanding of existing policies and potential reform to those policies.

If confirmed, I intend to ensure that the implementation of the Deferred Action for Childhood Arrivals (DACA) process continues to be effective. I am not now in a position to outline what specific steps I would take in this regard. It is my understanding that USCIS has made clear that it will continue the DACA process. I also understand that, as of October 31, approximately 614,000 individuals have already come forward to request DACA. If confirmed, I will take all appropriate steps to ensure that the program remains a success, and implementation of DACA will be a priority for me.

You ask about the Military Accessions Vital to National Interest (MAVNI) program. With regard to MAVNI, from a policy perspective, it seems to me that having the widest pool available of potential applicants who meet the MAVNI criteria is a good thing.

I agree that our Nation's immigration enforcement efforts must focus on the quality of the enforcement actions we take. I do not believe that deportation quotas or numeric goals are a good idea. As I stated above, in my view immigration enforcement must be focused first on those who pose a threat to our national security, public safety and the integrity of our borders. If confirmed, I intend to continually evaluate the prosecutorial discretion guidelines of Immigration and Customs Enforcement to ensure they are consistent with the Department's enforcement priorities.

Finally, if confirmed I intend to visit immigration detention centers on a regular basis, and review conditions of confinement at these centers. This was something I did with respect to DoD's detention centers, beginning within 10 days of taking office as General Counsel in February 2009. I agree that policies and procedures on issues of solitary confinement, access to lawyers and social services, screening and treatment of those with mental illness, sexual assault prevention and detainee access to phone calls should be carefully and continually evaluated.

Senator, if confirmed I look forward to continuing to hear your views and working with you on these issues.

Sincerely,

Jeh Charles Johnson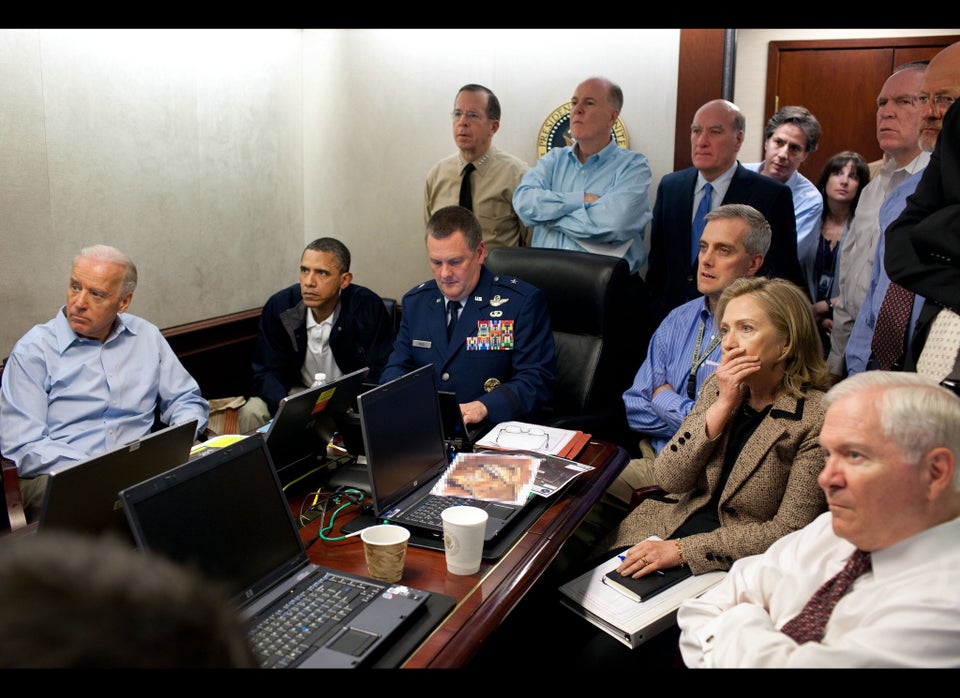 Most Iconic Photos Of Obama's First Term
Popular in the Community