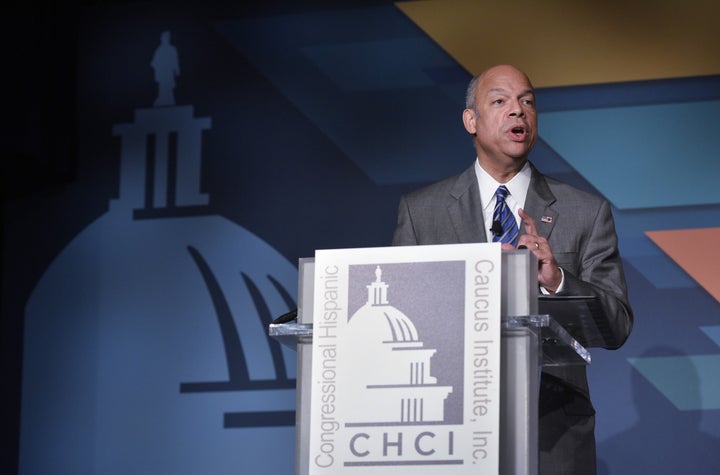 WASHINGTON -- Homeland Security Secretary Jeh Johnson wants politicians to tone down their rhetoric on immigration, particularly those who are calling for a wall on the U.S.-Mexico border and spreading fear about an influx of unauthorized immigrants.
"All of us in public office, those who aspire to public office and who command a microphone, owe the public calm, responsible dialogue and decision-making," Johnson said at the Congressional Hispanic Caucus Institute's annual conference on Wednesday, "not overheated, oversimplistic rhetoric and proposals of superficial appeal."

He didn't name names -- and made similar pleas for a measured response well before the presidential campaign season began -- but his words clearly apply to most Republican candidates. Republicans have long accused President Barack Obama of being too weak on immigration, and the candidates vying for the party's nomination have advocated for a number of extreme policies, from stripping U.S.-born children of their citizenship to mass deportation to a border wall along the entire southwest border.
Many of those proposals would be either unworkable or impossible to get through Congress. Birthright citizenship is protected by the Constitution, while most experts believe the number of undocumented immigrants -- more than 11 million -- is too high to make mass deportation a realistic prospect.
A wall would be similarly a bad idea, given the diverse landscape along the U.S.-Mexico border, according to Johnson, whose department includes Immigration and Customs Enforcement as well as Customs and Border Protection.
"We must protect our borders, but building a wall across the entire southwest border is not the answer," he said, before being interrupted by applause.
A better solution, he suggested, would be more technology for border security.
Johnson said the number of deportations was expected to be down for fiscal year 2015, but did not confirm the figures reported Tuesday by the Associated Press. That report projected that deportations for the fiscal year would be at the lowest number since 2006, although deportations of those convicted of crimes were set to rise slightly.
The reduced number, the secretary said, is largely because ICE officers are focusing on convicted criminals, gang members, recent border-crossers, threats to national security and others deemed a high priority. He noted that 84 percent of those deported between March and August of this year were in the top-priority category.
"The number of removals by ICE is down, but we are using those resources to invest in going after threats to public safety, and that takes more time," he said. "It's not just simply rounding everybody up you can find to pump up your numbers."
Johnson added that deportation numbers have also declined because apprehensions along the southern border -- which are also an indicator of total border-crossings -- are down.
The final reason is something that might soon change: fraught relationships with local police that ICE is working to mend. Johnson announced last year that ICE would end its controversial Secure Communities program after more than 300 jurisdictions declined to participate. At Wednesday's event, he referred to the poor cooperation, noting that local law enforcement declined 16,500 requests by ICE to hold individuals between January 2014 and June 2015.
Johnson said the replacement for Secure Communities, the Priorities Enforcement Program, has "received a good reception so far" and that 13 of the 25 largest jurisdictions that declined full cooperation with ICE are now working with the agency again.
Some Republicans have pressed Johnson to do more to go after the so-called sanctuary cities that refuse to cooperate with ICE, particularly after an unauthorized immigrant who had been repeatedly deported was charged with murdering 32-year-old Kate Steinle in San Francisco in July.
Asked after his speech whether he believes Congress should get involved, Johnson said he expects more jurisdictions to cooperate with ICE under the Priorities Enforcement Program, although "it's still a work in progress." The secretary has said previously that he believes it would be counterproductive to force jurisdictions to work with ICE, and that it's better to have them do so voluntarily.
"In my view, cooperation with law enforcement is the way to go," he said Wednesday. "That's how we work with respect to almost every other thing we do in law enforcement."
Popular in the Community