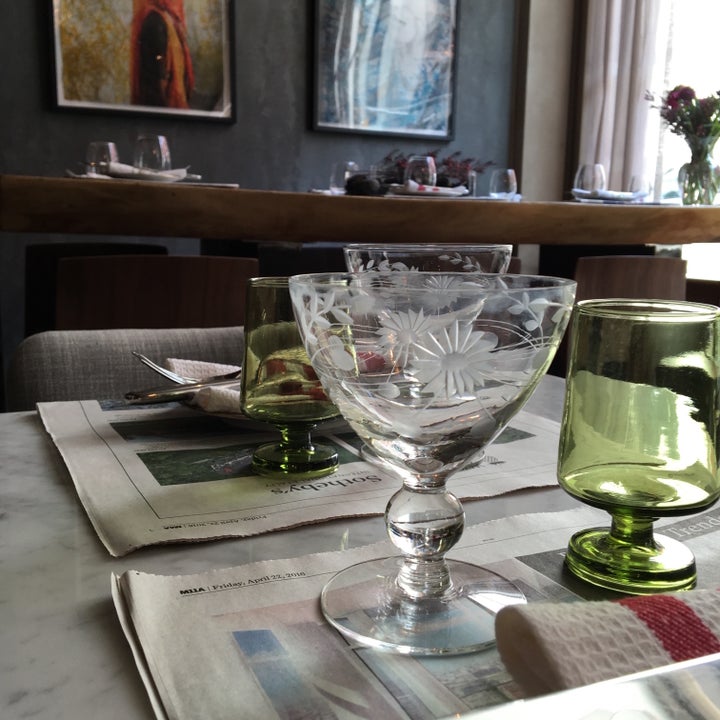 Graffiti Earth in downtown New York City is definitely a tiny restaurant, if we look at it in terms of square meters or seats. But it is very interesting not only from a strictly culinary point of view (the food is creative, eclectic, and really good), but also in terms of sustainability, re-purposing, and management of waste. Although these aspects of hospitality are definitely not the most glamorous ones, they are nevertheless relevant and urgent.
Graffiti Earth is the most recent endeavor of chef Jehangir Mehta. A Mumbai native, he worked as a pastry chef in many famous restaurants, launched cooking classes for children when nobody was doing it, published a cookbook, and appeared on Iron Chef America on the Food Network back in 2009. Despite his indisputable experience, chef Mehta is always experimenting. Recently, he has been looking at ways to make small sustainable restaurants viable from the financial point of view. Not easy, especially in a place like New York where the cost of real estate, labor, and ingredients can cripple any attempt at doing things differently. Mehta had already worked on the small format with his first restaurant Graffiti, in the East Village, determining the breakeven point in his initial business plan on an average eighteen seats a day, which in turn influenced his food cost and menu, together with the limited appliances available in the location.
Mehta's interest in sustainability found its first major expression with the Pledge Counter, launched with Ken Toong for the dining Services at University of Massachusetts, Amherst. In the students' cafeteria, they try to avoid food waste by thinking creatively about usable leftovers from previous meals. For instance, vegetables from lunch provide the content for dumplings at dinner; the last bits of a turkey breast that cannot be sliced for sandwiches are made into a turkey salad (of course, respecting all food safety norms!). Moreover, the cafeteria aims at changing behaviors of young eaters. For instance, if students' fitbits show they have walked a certain amount of steps, their lunch is free; if they accept to put down the phone during the meal and talk to somebody, they get a free side, and so on.
After becoming involved with Menus of Change, an initiative launched by the Culinary Institute of America and the Harvard T.H. Chan School of Public Health, Mehta decided to take one extra step and apply all the ideas and innovations he has been implementing into a self-sustaining commercial venue. That's how Graffiti Earth started. Not only much of the material of the build environment is repurposed, but also dishes, glasses, and silverware are salvaged from people who wanted to get rid of them. Of course, these choices respond to a precise aesthetic choice, which is reflected also in the use of newspaper instead of tablecloth and small napkins that are made from scraps of cotton cloth from India.
The ingredients, such as broken scallops or "ugly" vegetables that otherwise would be discarded, are procured in order to reduce waste, while at the same time allowing to contain prices. The menu already features kelp and oysters raised by a non-profit, GreenWave, which teaches ocean farming and contributes to restoring marine ecosystems; the chef is also looking at ways to incorporate less common but sustainable products, such as sea cucumbers. The Graffiti Burger contains mushrooms and other vegetables, in order to reduce the use of meat. As he sees sustainability also from the social point of view, in the future Mehta plans to turn the restaurant into a community place where during closing days struggling young entrepreneurs could develop or sell their products, and to employ people with mental or physical disabilities.
Could these coordinated and focused efforts be considered as expressions of food design? Without being a designer, or considering what he does as design, Mehta seems to apply forms of design thinking and human-centered design. Besides focusing on food and the feedback from clients, he looks at how people move in the small spaces, assessing the flows of customers and staff, their use of the somewhat odd objects, and the interaction with the furniture and the built environment. Graffiti Earth could definitely become a stimulating space for mutually beneficial collaborations between a chef and food designers.
Support HuffPost
The Stakes Have Never Been Higher
Related
Popular in the Community