 For nearly a year famous person Biz Stone has dramatically teased us with his mysterious new app. He told us the app's name -- Jelly -- and little else.
The tech world grew giddy with anticipation. Stone, you see, is one of the cofounders of Twitter -- another app with a funny name. It's now worth billions.
Finally, on Tuesday Stone let us in on the secret. And Jelly turns out to be a ... a search engine?
Jelly is a new, free question and answer app for iPhones and Android phones. The app allows you to ask friends and friends-of-friends questions. You connect Jelly with your Facebook or Twitter account (or both) and then you take a photo and ask a related question.
The Huffington Post spoke to Stone by phone on Tuesday and asked him about the hype around his app, which has intensified in the months since he wrote a mysterious, vague blog post announcing his new venture.
Stone was modest about the all the publicity: "Because of Twitter I've gained notoriety, so that's given it a boost," Stone told HuffPost in an interview. "It's a blessing and a curse, because when we've been working on it we couldn't do it without anyone watching."
Jelly is also backed by some big names, including Bono, Al Gore, LinkedIn co-founder Reid Hoffman and Twitter co-founders/entrepreneurs Jack Dorsey and Evan Williams. The company is still small (there are eight employees) but Stone expects the app to be profitable, since, as he says, it's "a new way to search" and search is a good business to be in.
Sure, it's a good business to be in theoretically, but it's a business that belongs to Google. If Jelly wants to challenge Google, it would have to revolutionize search.
Here's how Jelly works: Say you're walking along and see a building your don't recognize. With Jelly, you would take a photo of the building and upload it, asking "What is this building?" In theory, at least one of your friends or someone in your extended friend group would know the answer and respond to you. People need to have Jelly to be able to see and answer questions, but you can forward a question to someone who doesn't have Jelly if you want his or her help.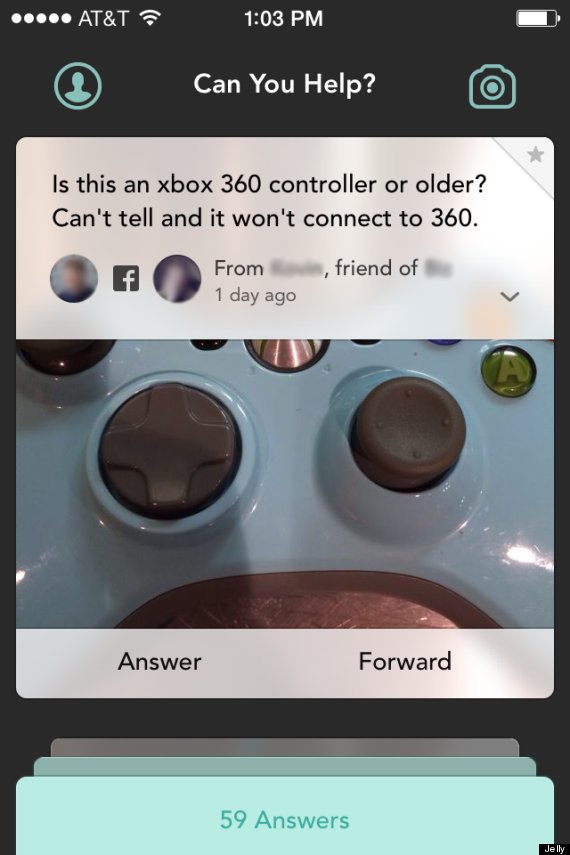 It's hard to imagine what sort of question you'd prefer to ask Jelly instead of Google or a close friend. Although Jelly just launched, the app's 50-or-so beta testers tended to ask three specific types of questions, Stone told HuffPost. Those questions were: "What is this?" "Is this good?" and "How do I fix this?"
Because a big part of the way Jelly works is based on its camera feature, these sorts of questions tend to work out well. "People would take pictures of the back of their TiVos and other people would come in and circle the right plug," Stone told HuffPost.
The difference between asking a question on Jelly vs. asking it a regular social media app like Facebook or Twitter "comes up to expectation," Stone says. "People aren't expected to give you a thoughtful answer on social media." On Jelly, however, the whole point is to get questions answered.
If Stone wants to know if the hat he bought his 2-year-old would be good for blocking out the sun, and he posted a photo of his son in the hat on Facebook asking if it was a good hat, he wouldn't get direct answers, he says. "I'd get answers like 'He's so cute,' or 'He looks just like your wife,'" Stone says. On Jelly, he argues, he'd get direct, thoughtful answers from people.
It's not as if he couldn't use Google and Facebook to get the answers he's looking for, though. If he were to Google the best sun hats for toddlers he'd find hundreds of reviews. And if he were to ask a straightforward question on Facebook without including a photo of his son, he'd probably get better results as well.
The concept behind Jelly is nothing new. Sites like Quora, Ask and Yahoo Answers have all been offering ordinary people ways to ask and answer questions from all over the world. There are two main differences, though, (besides the ability to attach a photo), that Stone pointed out. One is that the people you're asking are all "trusted" sources, since they're all connected to you in some way. The second is that Jelly, unlike a site like Quora, is built around getting answers efficiently. "We're explicitly going away from encouraging discussions," Stone told HuffPost. "It's more like a search engine."
The goal of gathering direct answers to questions isn't always obtained, however. For example, I saw one person who posted a photo of a dog on Jelly and asked what kind of dog it was. Out of the 18 answers I read, not one was a legitimate answer. Most people wrote that the dog was "cute" or "sleepy," when the person was clearly looking to determine the dog's breed. How can you blame anyone, though? That person was probably better off doing a reverse image search on Google or searching on Google with a description of the dog's appearance.
I also encountered someone on Jelly who asked what sort of fish a toy he photographed was meant to resemble. "Google 'unicorn fish,'" someone answered. Unfortunately, Googling defeats Jelly's purpose.
Besides building a business, obviously, Stone's goal with Jelly is to "create a way for people to help each other."
"I can't help but think that now that humanity is at its most connected in history: What is the point of a connected society?" Stone philosophized to HuffPost. "The true promise of a connected society has got to be people helping each other."
Calling all HuffPost superfans!
Sign up for membership to become a founding member and help shape HuffPost's next chapter
BEFORE YOU GO
PHOTO GALLERY
15 Things Twitter Tells Us About Humanity