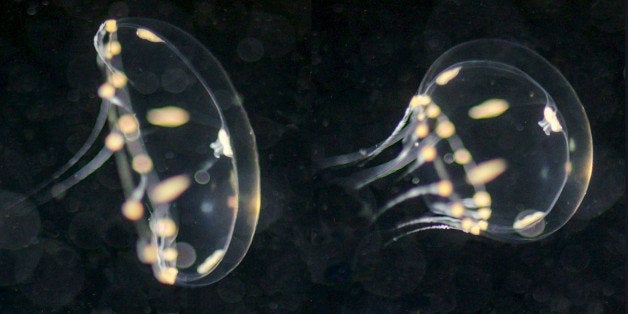 Nothing we have ever built can ply water as efficiently as the humble jellyfish. This video shows the pressure systems created with each of its thrusts, with vortices of low pressure (blue) rolling from the front of its bell-shaped body that meet up with the bulge of high pressure (red) that forms behind it:
This pressure gradient pulls the jellyfish through the water with little exertion. Research on jellyfish propulsion over the past 2 years revealed a key design feature that makes this translucent beast so efficient: bendiness. (This was confirmed by building robotic jellyfish—the bendy models left the stiff ones behind.)
But are jellyfish the only animals to have discovered the magic of bendiness? A new study examined the propulsive limbs of 59 animal species, from the flukes of killer whales and the wings of moths and bats to the winglike feet of sea slugs.
The same solution was reinvented countless times. Instead, the finely tuned bendiness of fins and wings is just good design, discovered again and again by evolution. Being stiff is literally a drag.
This story has been provided by AAAS, the non-profit science society, and its international journal, Science.
REAL LIFE. REAL NEWS. REAL VOICES.
Help us tell more of the stories that matter from voices that too often remain unheard.
BEFORE YOU GO
PHOTO GALLERY
Most Bizarre Deep-Sea Creatures