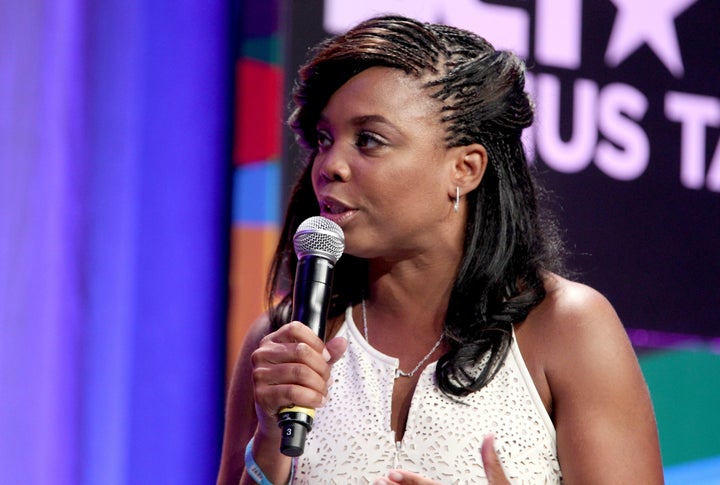 Jemele Hill, the ESPN host of SportsCenter's "The Six," sparked controversy earlier this week when she called Donald Trump a "bigoted," "white supremacist" on Twitter. Sarah Huckabee Sanders strongly rebuked the anchor's remarks from the White House podium on Wednesday, saying, "I think that's one of the more outrageous comments that anyone could make, and certainly something that I think is a fireable offense by ESPN."
But Hill's comments didn't exactly come out of left field. She cited Trump's own behavior in her tweetstorm to support her argument that the president is a bigot — behavior that included Trump's prior racially charged statements about the Central Park 5 and his settlement of "the largest racial housing discrimination case in NYC." Hill could have easily named many more examples to make her point about Trump, too.
So, it's not as though Hill was expressing some fringe viewpoint. In fact, most Americans think Donald Trump's a racist.
During the last two months of the 2016 campaign, the YouGov/Economist Poll's weekly surveys asked Americans if they would use the word "racist to describe Donald Trump." The figure below shows that a slim majority of Americans consistently said they would. Averaging across the ten different surveys, 52 percent of Americans said the word racist described Donald Trump, compared to 36 percent who said it did not.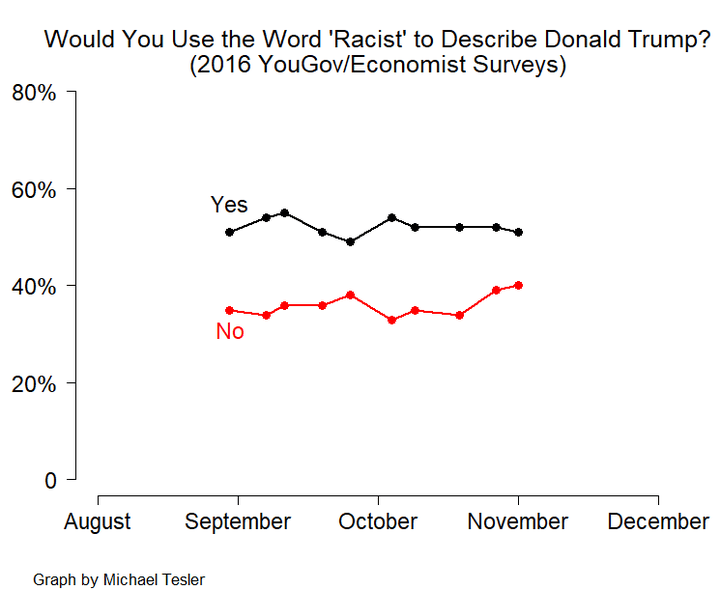 Those figures are in line with results from several other surveys conducted over the past year. In an October 2016 Associated Press Poll, 53 percent said that the word racist describes Trump at least "somewhat well," while only 29 percent said it didn't describe him "well at all." Sixty percent of respondents in a September 2016 ABC/Washington Post Poll also said that Donald Trump is "biased against women and minorities."
Not surprisingly, then, most Americans thought Trump's presidential campaign appealed to racist beliefs. According to a September 2016 Quinnipiac University Poll, 61 percent of likely voters thought that "the way Donald Trump talks appeals to bigotry."
Nor is it surprising that most Americans think Donald Trump respects white people more than African Americans. A late October 2016 Pew Poll showed that 54 percent of Americans thought Donald Trump doesn't respect black people very much, compared to only 14 percent who felt he didn't respect whites. My deeper dive into the raw data further revealed that 55 percent of Americans thought Donald Trump had more respect for whites than blacks, but only 2 percent thought he respected blacks more than whites.
That majority has likely grown larger after Donald Trump defended some of the marchers in last month's white supremacist rally turned violent in Charlottesville. Indeed, there's even some recent polling in support of Hill's strongest statement about Trump's support for white supremacists.
To be sure, Americans are much less likely to say Trump is a white supremacist than a racist. But, according to an August 2017 HuffPost/YouGov survey, more Americans still think Donald Trump supports white nationalism than think he opposes it (31 to 22 percent respectively).
Of course, the appropriateness of Hill's tweets is up for debate; the sportscaster herself expressed regret over painting "ESPN in an unfair light." But it should also be noted that the data consistently show that her statements about Donald Trump's bigotry are squarely within the mainstream of American public opinion.
Support HuffPost
The Stakes Have Never Been Higher
Popular in the Community