Quite often, we respond to any mention of a celebrity figure dabbling in the fine arts with an over-the-top eye roll and an exaggerated "Whyyyyyy?" But we're making an exception for Brooklyn-based painter Jemima Kirke, whom you may know as Jessa on HBO's "Girls."
For one thing, Kirke can actually paint, her off-balance portraits of women possessing a combined air of sensuality and otherness that feels simultaneously familiar and unreachably distant. Even if you have the urge to write off Kirke's paintings as neo-portraits of the bohemian Brooklyn elite, there's a lingering darkness that draws you back in. You get the feeling that Kirke's paintings work in spite of, not because of, her fame onscreen. (The fact that she uses her recognition to call out the art world on its sexist ways doesn't hurt either.)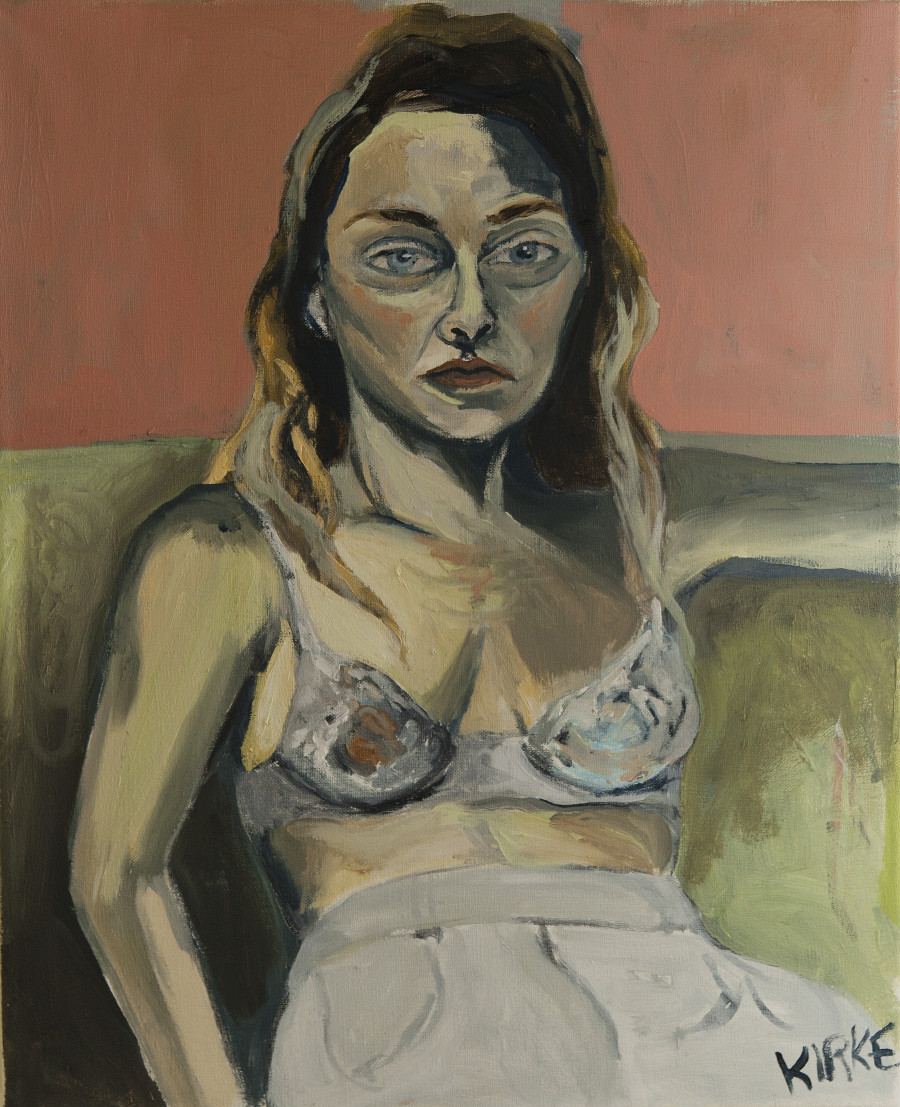 Sarabeth
San Francisco gallery Fouladi Projects describes Kirke's sitters, all women, as embodying "vulnerability, frustration and suppressed longing thinly disguised beneath cool faux-sophisticated facades." Her paintings, through their intimate perspective and slightly warped proportions, achieve the effect of leaning in to stare at a loved one so closely that they begin to lose their familiarity and morph into an amalgam of alien face parts.
And yet these subjects don't feel like strangers, even though we've never seen a majority of the them before. For some more recognizable sitters, like Lena Dunham and model Annabelle Dexter-Jones, this sense of familiarity is right on point. Beyond this, there's a sense of assumed proximity to Kirke's subjects, as if we're not just seeing them but Kirke's impression of them.
Reminiscent of Alice Neel and early Lucian Freud, Kirke's paintings are straight-forward yet full of shadows, imperfections and impossible geometry. Kirke continues to tackle the basic problems posed by painting and portraiture since the days of Edouard Manet. How do you capture the likeness of a person -- is it through their features or is it something else? With subjects including her close friends, her daughter, sister, trainer and herself, Kirke grapples with the nearly impossible task of capturing the essence of another in paint.
Her solo exhibition, aptly titled "Platforms," is now showing at Fouladi Projects in San Francisco. Take a look at Kirke's work below and let us know if you think her paintings are strong enough to stand on their own.
REAL LIFE. REAL NEWS. REAL VOICES.
Help us tell more of the stories that matter from voices that too often remain unheard.