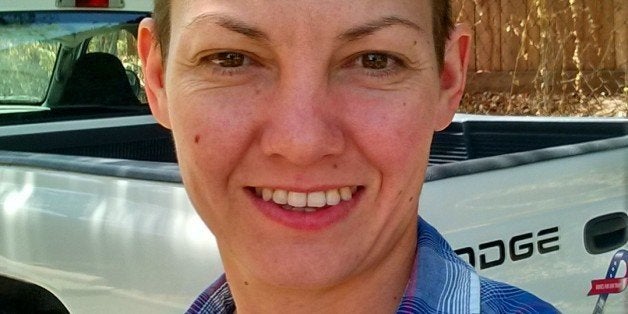 This week's Huffington Post Gay Voices RaiseAChild.US "Let Love Define Family™" series installment introduces a prospective foster-adoptive mom just as she is completing the certification process, allowing us to learn about her decision making process and what it feels like to anticipate becoming a parent for the first time.
It's not every day that a single lesbian gets the push to be a foster-adoptive parent from her own dad. But that's what happened to Jen Chambless, a 32-year-old social worker who lives in Los Angeles.
Jen had already been thinking about it for awhile when she got the boost from her father.
"My parents are both schoolteachers and about a year ago my dad offered his support," Jen explained. "We were talking about the fact that I'm in my early 30s and I'm not partnered yet and I really want to be a parent. Do I wait, do I not wait? He said that in his 25 years of teaching he's seen single parents, he's seen divorced parents and he's seen two people mess it up worse than one. He said he thought that I had everything that is needed to be a parent and that it really only takes one caring adult to raise a child -- and that's what I'm interested in doing."
Kent Chambless, Jen's father, told RaiseAChild.US he is truly excited about his daughter becoming a mother.
"I hope Jen will experience the joy of nurturing, loving and guiding a child with an unconditional love through all the phases of life," said Kent. "I want her kid(s) to grow up in a home where love is demonstrated, not just spoken of."
After Jen joined a softball team earlier this year, she discovered that a few of her team members had adopted through the foster care system as single parents. When one of her teammates posted a notice on Facebook about the RaiseAChild.US "Call Me Mom" event for prospective parents in May, she jumped at the opportunity. Meeting and talking with other people who had fostered and adopted as single parents strengthened her resolve.
"I remember there was one woman I met who was 27 and had adopted three kids," Jen recalled. "One of my concerns had been whether I was too young so when I saw her, I thought maybe I'm not too young. Then, another person there mentioned that his partner had left him a few days before he got the placement, and it kind of cemented for me that even if you do have a partner, there are no guarantees that they will always be there. So I decided that I have a good network of friends and family and I'm a pretty stable person, so I can do this."
In less than two weeks, Jen had attended an orientation with Five Acres, a foster care and adoption agency based in Altadena, CA, and started training classes.
"I already knew I wanted to do it," explained Jen. "The orientation just confirmed that, yep, this is what I want to do, everything is still checking out right, all the feelings are still there. By the time that I had gone to the RaiseAChild.US event, I had been thinking about this for at least six months and researching it for about three months. So most of my questions had already kind of been answered as far as logistics of how it all works. But from the event I really got the anecdotal information that I was looking for. It's different when you read about it on paper versus hearing about it from actual families and getting to interact with people that have gone through it and just seeing how supportive everyone was there, especially of the LGBT community. I thought that was really cool. And getting to ask questions about specifics to the LGBT community in the process."
Jen concluded the home study process last week with her final home inspection. She has one final step to complete in the certification process, and she will be then be on her way to meeting her first child. Everyone applying to be a foster to adopt parent must have a babysitter or support person available to care for their child in the event of absence.
"That's a requirement from the state, in case something were to happen to me or I need to be in the hospital for a few days or something like that," explained Jen. "I have to have someone on file that already has their fingerprinting, TB test, physical and CPR certification.
Luckily, family and friends are eager to provide that kind of backup. Jen's mother will be the first backup certified, and two friends in the area are also working on their paperwork.
"My friends and family near and far are all very excited about this major change about to occur in my life," said Jen. "I have experienced an overwhelming amount of encouragement and offers of support from everyone after announcing my plans and discussing the process with various groups of people in my life. It has also given me an opportunity to strengthen bonds with longtime friends who have recently become parents and others who are planning to begin building their own families."
Jen's father is ecstatic as he anticipates his new role.
"I'm looking forward to grandparenting!" Kent said. "Wind-up swings, Johnny jumpers and cute little outfits. First steps, first Christmas, first Santa visit. This kid is gonna know he/she is loved and that a grand adventure awaits. Jen can offer structure, stability and huge capacity to love."
As is the case in all foster-adopt situations, the prospective parent can specify what type of placement they are seeking. Jen's current living arrangements have influenced the age of the child she can accept at present.
"Right now, since I'm in a one-bedroom apartment, the oldest I can take is under 24 months," said Jen. "I had originally started out thinking I would move into a larger unit and maybe go for a child or a sibling set younger than eight or maybe as young as a toddler. I decided to put off moving for a little bit just cause there was so much to do with the certification process itself that I wanted to be sure that I would get certified before I moved into a two- or three-bedroom place. So I'm starting right now being certified for an infant."
Jen chose to become a foster-to-adopt parent over other family-building options because of the need for foster/adoptive homes. She evaluated her options carefully before selecting Five Acres, a private agency she hoped would provide her with support through the journey, both in preparing to be a parent and the actual parenting process itself.
"Going through the fost/adoption process as a lesbian has been much easier and positive than I originally expected," Jen said. "Attending the RaiseAChild.US brunch helped me see how many LGBT families have been built with the foster/adoption process and answered a lot of questions I had about the possibility of experiencing prejudice from the biological families and the government agencies. I was also happy to see how inclusive the individual agencies strive to be and felt that the certification training at Five Acres did a great job of educating all foster/adoptive family applicants on needs specific to LGBT youth."
The process of preparing to be a foster-adopt parent has brought unexpected personal growth.
"It requires a lot of patience and the ability to self-reflect, then grow from those reflections," said Jen. "You learn a lot about yourself as you go through this process and you are forced to evaluate many aspects of your life, your personality, your ways of handling situations and your perceptions of others that you didn't think would be part of the process. My experience so far has been amazing and exciting. Each step of the process seems to have an unexpected challenge, as well as unexpected 'easy' steps. In the end, it is definitely an opportunity to grow as a person as well as build a family. Expect the unexpected and be ready to just roll with it! I am very much looking forward to watching my future children develop and to sharing all those little -- and big -- life moments with them. I'm looking forward to the entire experience!"
Corinne Lightweaver is the Communications Manager at RaiseAChild.US, a national organization headquartered in Hollywood, California that encourages the LGBT community to build families through fostering and adopting to serve the needs of the 400,000 children in the U.S. foster care system. Since 2011, RaiseAChild.US has run media campaigns and events to educate prospective parents and the public, and has engaged more than 2,200 prospective parents. For information about how you can become a foster or fost/adopt parent, visit www.RaiseAChild.US and click on "Next Step to Parenthood."
BEFORE YOU GO
PHOTO GALLERY
Jen's Story