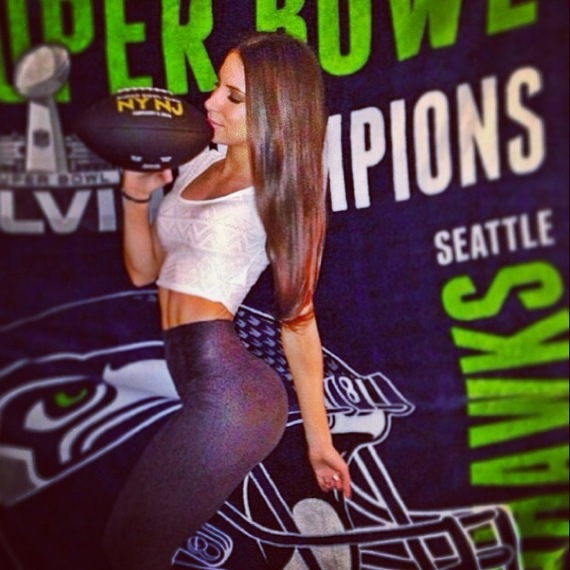 Jen Selter on the red carpet at an NFL party in NYC.
Makeup By: Nicole Bryl, Make-Up New York

Dear Huffington Post Makeup Readers,
A funny thing happened on the way to the gym, the gym in my own residential building, that is: I ran into Instagram icon Jen Selter and her cool mother Jill, aka @mamaselter. Ends up we all inhabit the same NYC skyscraper. Totally hysterical coincidence and lots of fun! I love bumping into them every day and hearing Jen's success updates. They are a cool, upbeat family and Jen is a good girl, a total sweetheart who really cares to inspire people to get fit and get moving! Heck, she's even gotten me to the gym more times in the past few months than I've gone in years. Think everyone around the globe has started to "Selter" in one way or another because of Jen's fun fitness approach. Even 84-year-old TV legend Barbara Walters, star of the hit ABC morning show The View, was on all fours doing leg lifts when Jen Selter made an appearance. Jen just has something about her that causes you to want to be better. She gets you believing and realizing you can, you can get fit and it's enjoyable! This is her gift.
Jen, her mom and I and even her adorable sister Stephanie have all quickly become friends and now Jen just runs down to my place for makeup on those days when she needs to be red carpet-ready. During our makeup sessions we blast the music, talk squats and get glam! Hey, girls will be girls! At just 20 years young with two new fitness deals on the table, a Vanity Fair spread, nearly 4 million social media followers in less than a year and globally known for the images she posts daily, this little fitness powerhouse is on the rise and fast! Go get 'em, sistah! Proud of you!
NB! Xo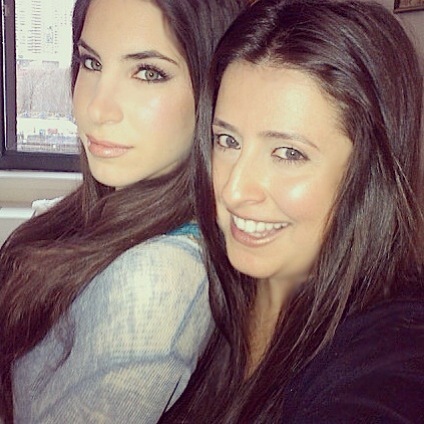 Jen Selter and Nicole Bryl, Make-Up New York
horsing around after Jen's makeup is finished.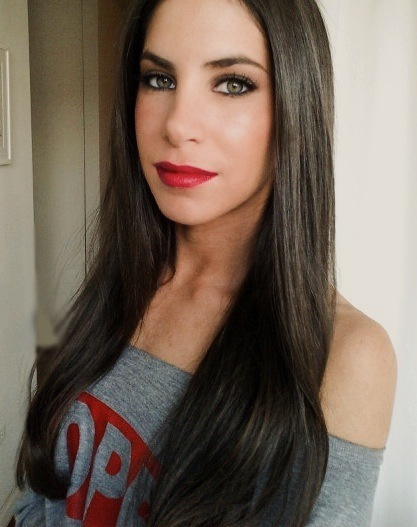 Behind the scenes with Jen Selter.
Makeup By: Nicole Bryl, Make-Up New York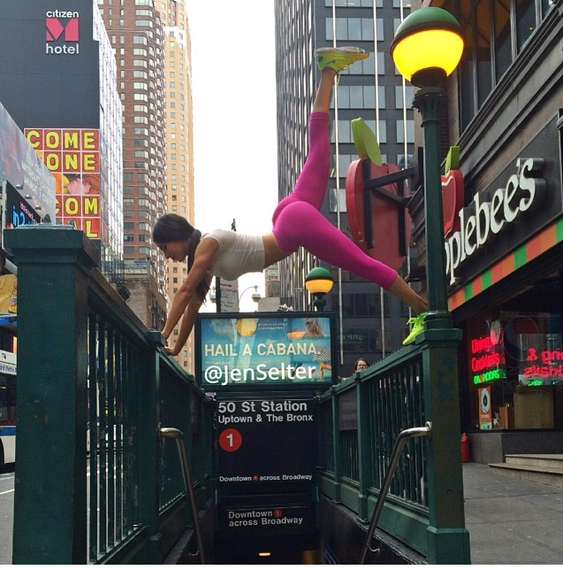 Jen Selter "#seltering" at a NYC subway entrance.
INTERVIEW WITH JEN SELTER BY: NICOLE BRYL, MAKE-UP NEW YORK

NB: Jenn, what are a few of your favorite personal activities to do when you are NOT #seltering, #instagraming, #facebooking or #tweeting?
While taking time off from my busy life of #seltering, I enjoy shopping, going out with friends, reading, and simply just hanging out with my family. Although I am very social, I also love my alone time. I think spending time alone is very important.
NB: What's a typical day of eating look like to you when you are in serious exercise mode?
Regardless if I am in serious exercise mode or not; eating healthy is always a part of my daily routine. A typical day for me starts with either oatmeal, or egg whites and toast for breakfast. I truly believe breakfast is the most important meal. It provides the energy I need to keep me going for hours and keep me as productive as possible! For lunch, I usually will have a salad with tons of veggies. The more colorful the salad, the better! In between lunch and dinner I always have a protein bar; it's the easiest snack to refuel with and the easiest to have when on the go. Dinners are always different. I will have anything from a nice pasta dish, grilled chicken and veggies, a nice steak -- or of course, my absolute favorite, sushi! In terms of dessert, dark chocolate is definitely my go-to.
NB: Any Jen Selter beauty tips that keep you feeling your best?
My ultimate beauty tip I can share with people is to drink water. Drinking water is extremely helpful across the board. Making sure you are hydrated is especially beneficial in terms of skin, it will help with any dryness one may experience. In New York this is often a problem especially during the colder months! I also find that using a daily moisturizer is necessary for getting your skin to be the best it can be! I make sure to drink the appropriate amount of water every day and to moisturize every day.
NB: Music plays such an important part to any great workout. Who are your absolute favorite musical artists that help you kick it up a notch and push you to finalize those squats and run that extra mile?
I have a few different work out playlists that I choose from depending on my mood. I have always loved music, and I cannot imagine working out without it. Most of my playlists consist of lots of hip-hop and house music. Some of my favorite artist are: 2 Chainz, Drake, Rihanna and Lil Wayne.
NB: Any specific tips on acquiring the "selter butt"?
Anyone can acquire anything they set their hearts and minds to! It takes dedication, perseverance, hard work and consistency. There is no secret pill, no special diet. What it comes down to is how hard you push yourself and how you overcome the mental challenge of getting yourself to the gym even when you really don't want to. Consistency leads to results. Diet is also important. I eat every few hours to keep my metabolism running and I try to stay away from overly processed foods. Lots of lean meat, vegetables and fresh fruit. Fitness is a lifestyle. You must be mentally prepared to commit to it and be consistent with your health and fitness lifestyle in order to see results and as we know results don't happen overnight.
NB: What have some of the challenges been for you in becoming an overnight global social media icon at age 20?
The only "challenges" I have to mention are the negative comments I often receive; however, I don't know if I would even consider them challenges. There are days were I can get a comment talking about how ugly I am followed by another comment from another person telling me how much I have inspired them; the latter, of course, overpowers the first comment. The negative comments don't really affect me; the positive comments, on the other hand, are amazing. Keep them coming! Going back to the challenges, I don't really feel that there has been any major ones so far thankfully!
NB: Are there any charities that speak heavily to your heart whom you are currently involved with or look forward to incorporating into your life?
Bullying. I have been bullied since I was a child. First because I was too skinny and didn't have a small enough nose and now for other things -- it has continued as an adult. I would love to try to make people feel stronger about themselves where any negative or mean comments don't effect them because they have built up their self esteem. This is something I will actively continue to help people with.
NB: Any final words you'd like to convey to your fans and followers? Anyone in particular you'd like to send a shout out to?
All I have to say to my fans is thank you so much for all the love and support you have given me to date. It is all of you who motivate me to keep doing what I am doing. Knowing that I am motivating so many people around the world is what motivates me, every day! I love you all!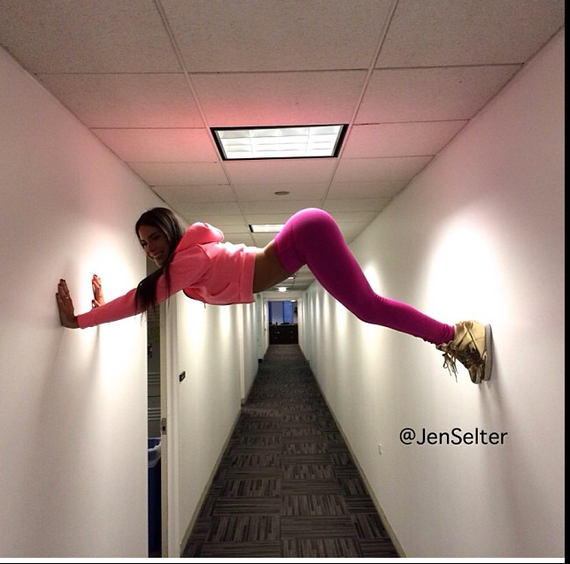 Watch this video and MEET JEN SELTER
Related