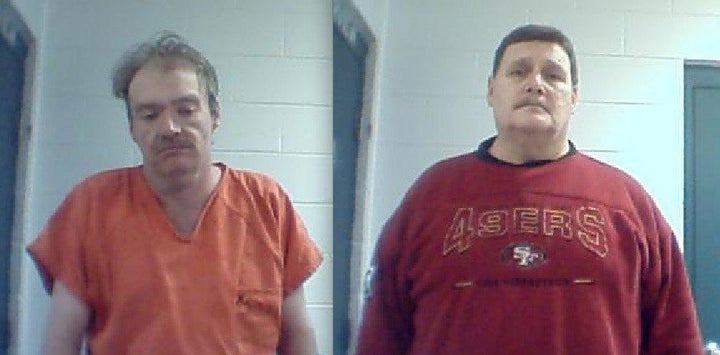 The daughter of a man who allegedly killed a couple who had defriended her on Facebook had a long history of online feuds that spilled over into real life.
Court documents obtained by The Huffington Post reveal a history of shouting matches, menacing phone calls and threats of violence that pitted 30-year-old Jenelle Potter and her parents against her onetime Internet friends.
"This Facebook thing was her whole life," Johnson County Sheriff Mike Reece told HuffPost. "If you deleted her, they [Potter and her parents] started harassing you. If you ran into them in the grocery store, you had an altercation with them. It was an ongoing thing with these people."
Reece said his office received complaints from Potter's parents when their daughter was blocked from other people's social network profiles.
"These people that we're dealing with, we've dealt with for some time," Reece said. "But we never seen it go to this extent."
Payne and Hayworth were found dead at 6:30 a.m. on Jan. 31 by a friend who carpooled to work with Payne, Reece said.
They were each killed by a single gunshot wound to the head, Reece said. Their toddler son was unharmed.
A series of interviews quickly led local cops to Marvin Potter, 60, and Jamie Curd, 38, who've both been accused of two counts of first-degree murder and were arraigned on Wednesday. Police say Curd accompanied Potter to the shooting shortly after Payne's father left for work.
The animosity toward Payne and Hayworth apparently goes back to at least Jan. 13 or 14 when Potter threatened them and two others on Facebook for de-friending her, according to TriCities.com.
There are deep personal connections among the suspects and victims beyond their cyber links. Curd was Payne's cousin and had romantic feelings for Jenelle Potter, media reports said.
But for reasons that aren't clear yet, the conflict exploded into open violence.
Before the double murder shook the small community in the northeastern corner of the state, police already knew that Potter -- who lives with her parents -- was often incensed over perceived online slights against her.
Two women sought restraining orders against Jenelle Potter, and another brought harassment charges against her last year, according to court filings.
"Jenelle Potter, whom I have never met, has been harassing me for months now," wrote Lindsay Thomas in an affidavit from May 2011, accusing Potter of harassment. "For the past month she has called my phone anywhere from 5-20 times a day ... This all started because I deleted her off my Facebook."
The harassment charge was dismissed last November, according to a court clerk.
A female relative of Potter applied for an order of protection against her in May 2011. The relative claimed in her petition that Potter and a man called her repeatedly over several months, because "I took her off my Facebook."
A judge dismissed that application, which was the second filed against Potter.
In August 2010, a woman sought a restraining order, saying that Potter had harassed her for months. On one occasion, the woman said that Potter -- along with her mother -- entered her home, yelled at her and cocked her fist at her as if to punch her. Court records said the two women at one time lived together, but did not mention any online skirmishes.
Potter meanwhile had filed for restraining orders against two other women in 2009 around the same time, claiming that they stalked her for more than a year. In one instance, Potter said that one of the alleged stalkers had removed her from a section on her Myspace profile for her "favorite people." Potter's petition includes allegations that she was called names by one of the women during a telephone conversation. She also said that she hid in a Forever 21 store in the local mall after seeing one of the women walk by her with her fist raised.
Those restraining order requests were denied too.
In 2004, Marvin Potter was convicted for lying about his Vietnam War service. Philly.com reported that the Marine wore medals he had not won and posed as a combat hero to give lectures to schoolchildren.
Calls to the Potters' and Jamie Curd's homes were not returned. The Huffington Post was unable to reach the women who had filed complaints against Potter or the two whom Potter claimed had stalked her.
Calling all HuffPost superfans!
Sign up for membership to become a founding member and help shape HuffPost's next chapter