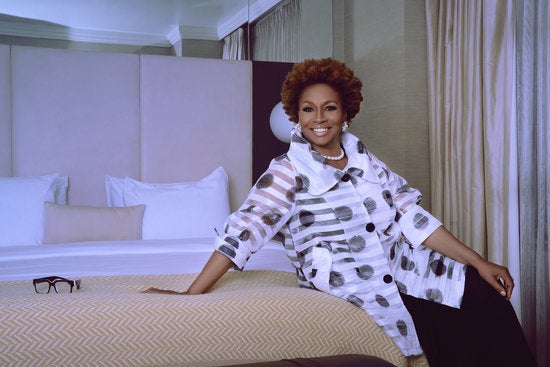 I have to admit, I had no idea what to expect as I dialed Jenifer Lewis' number for our interview. Sure, every time I watch one of her videos on Instagram I laugh like a fool, but our talk wasn't for an audience. Lewis didn't need to earn a standing ovation or a rave review.
In her remarkable career that has spanned more than four decades, Lewis has proven she is a force of nature who knows how to entertain. However, after reading her memoir, The Mother of Black Hollywood, available November 14, I learned of the sadness that was once buried inside her over-the-top personality.
At 33 years old, Lewis entered therapy and was diagnosed with bipolar disorder. In her book, Lewis candidly opened up about her journey through the pain, which today has been replaced by joy.
Within minutes of talking to Lewis, who currently stars on the ABC comedy black-ish, I knew I would have to write this article the way it happened. The range of emotions Lewis shared could not be chopped up into a few quotes.
After a half hour of laughing and sharing each other's stories, I felt as if I had made a new friend. That's the magic of Jenifer Lewis. I can't help but think we'll talk again.
DUSTIN FITZHARRIS: Hello, Ms. Lewis.
JENIFER LEWIS: Hey, baby, how you doin'? So who the fuck are you? Dustin, right?
LEWIS: Baby, what'cha want with your girl this morning? You want an interview? Let's hit it!
FITZHARRIS: First, I have to tell you how much I loved the book.
LEWIS: Did you read it, really?
FITZHARRIS: Of course. Cover to cover.
FITZHARRIS: I was on the plane going to Las Vegas, and a woman who saw me reading the book said to me, "I didn't even know that was out yet." I felt like a big star or something and said, "It's not."
LEWIS: Oh, that's hysterical.
(I suddenly recalled a story from the book about a TV journalist who said to Lewis that her earrings weren't real. You'll have to read the book to find out who it was.)
FITZHARRIS: And I want you to know I'm not going to say your earrings aren't real!
LEWIS: That bitch! On the air!
FITZHARRIS: And the story in the book of you working at McDonald's was hilarious.
LEWIS: Those fuckin' buns!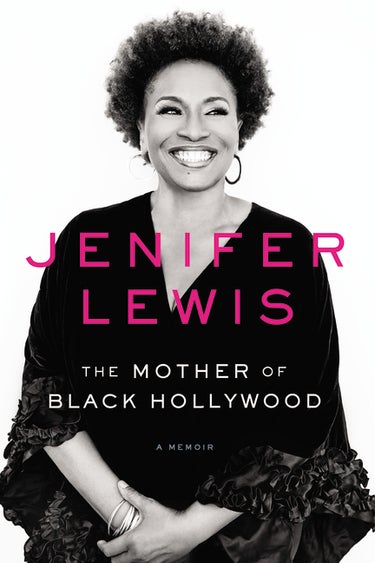 FITZHARRIS: You know, I have been singing that rap you did on Instagram for your book non-stop.
LEWIS: Listen, here's how it happened. I had done 12 hours on black-ish. I was exhausted. I came in my house, and there were two drag queens there. I mean, who else would be there? There was DJ ["Shangela" Pierce] and some other drag queen. Adorable. They had done one [a rap] 'For the Chicken.' Then they showed me Erykah Badu doing one "For the 'D.' I said, "Well, fuck y'all. I'm going to sleep." Then they came to the stairs and said, "Oh, Miss Lewis, do one for your book." I said, "Okay you little muthafuckers, give me that pig and that goddamn plate. Come on!"
FITZHARRIS: Do you write these songs in advance you put on Instagram or do they just come to you?
LEWIS: Child, they just come to the top my head. Whatever I'm feeling. That fuckin' I don't want nobody fuckin' with me in these streets came from that con-artist shit. (Lewis met an LA Fitness employee who she says conned her out of $50,000.) It came from that police brutality shit. That shit just came out of me that night.
LEWIS: I had gone to see Brandy and Roz in Chicago. I went backstage, you know, like a big movie star. I said, "Oh, the show was fabulous. You all come over for dinner. I know how it is on the road--you want a home-cooked meal." Well, I didn't mean it! Those muthafuckers come! I was like, "Bitch, there ain't nothing in here to eat!"
FITZHARRIS: So you just sang?
LEWIS: Don't be ridiculous. Roz cooked that night. It was delicious. I'll never forget that meal as long as I live. It's probably because of that meal that whole thing came out of us and 45 million views later. So Brandy kept walking around my house looking at my artwork, and I would hear her say something about a street. You know, I'm 60. I don't know anything about in these streets. Then she went into the refrigerator at one point and said something about in these streets. I got sick of it and said, "Bitch, what the fuck are you talking about! What kind of street is in the fuckin' refrigerator?"
She looked at me and said, "Oh, Auntie, it's just something I say."
I said, "Y'all come over here and let's make up a song about it."
FITZHARRIS: Then there was a video with Todrick Hall where he referred to Brandy as a legend. You went off on him. You said, "I'm the legend!" Do you consider yourself a legend?
LEWIS: You know, look, that's something somebody else says about you. I consider myself as somebody who gave back. I gave it back. I was gifted at birth with this talent, and I've tried to honor it all my life. And I did---through hell and storms and tsunamis and earthquakes. I've been through too much not to know that giving back is everything.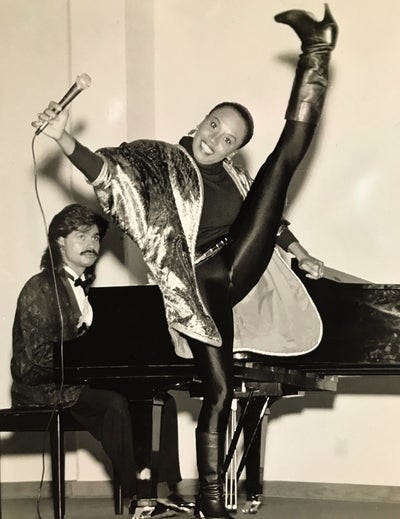 FITZHARRIS: In high school your nickname was "killer." In college people referred to you as "majestic." Today people call you "diva." How do you describe yourself?
LEWIS: Oh, shit. That's such a funny question. I can't describe myself. I'm fuckin' everything!
FITZHARRIS: You're every woman like Chaka Khan.
LEWIS: Chaka Khan! I'm every---now listen, fool, I'm supposed to be in a class. What'cha want?
FITZHARRIS: Well, we have to talk about the book, The Mother of Black Hollywood. Did you always know you had a book in you?
LEWIS: Yes, I've been keeping a journal since I was in the seventh grade. Day to day you must understand. When I entered therapy, my therapist said that was probably what saved my life---that I was able to get my feelings down on paper.
FITZHARRIS: Keeping a journal is---
LEWIS: Oh, my god, I'm looking at a Hibiscus now. I don't even know how to describe this color. It's like orange and red. I'm down here at Lemon Grove, California at The Optimum Health Institute. I'm getting myself real healthy before I go on this book tour, child.
FITZHARRIS: And I know you're coming to New York for the tour. You moved to New York at 22 years old. If you could go back, what would you say to your 22-year-old self?
LEWIS: That's interesting. I don't think I'd say anything to her. I think I would just hold her and rock her. I would probably just go, "Shhhh ... you're okay, baby. Everything is going to be fine." I would love her. I would physically, mentally and spiritually just hold her. I wish to God somebody would have done that for me. But I hid the pain back in those days. Nobody knew I had a sex addiction.
FITZHARRIS: You were very revealing about sex in your book.
LEWIS: Oh, honey, they came from the far corners of the world. It was dangerous. It was self-medicating, but we didn't have those words back then. Now go on.
FITZHARRIS: And you've had a few boyfriends in your life. What have you learned about love?
LEWIS: Wow. Amazing you'd ask that question. I'm so in love with life right now that it's kind of stupid. I really got myself together. I'm in my skin. I came through the fire, baby. I came through that bitch.
FITZHARRIS: It seems like you are in the best place you've ever been in your life.
LEWIS: I am, darling. I feel so good now. I get up now, and I just can't wait to see the color fuchsia. My girlfriend called me one day and asked what I was doing. I said, "Do you really want to know?" I told her I was driving around in search of the color fuchsia. I know it's dramatic. It's all of that stuff.
FITZHARRIS: You have such an impressive body of work in your career, but are there any performances of yours that you would say to aspiring performers, "Watch this, bitches?"
LEWIS: That's funny. I think my performance in What's Love Got to Do With It was powerful. I was so unafraid and confident. You know, it was the first mother of black Hollywood. I was Tina Turner's mama. That's what started it all. I had fallen in love right before that movie, and I had absolutely no fear in me.
FITZHARRIS: And now here we are with black-ish and you're playing another mother. How are you different from your character Ruby Johnson?
LEWIS: Well, Ruby is insane! I have a lot of Ruby in me, of course. But I don't have Ruby's politics. I'm far from Ruby. I have her sass and her loving ways, but that's about the end of it for Ruby. Ruby is crazy as hell. I'm easy now. I'm walking through an herb garden right now, Dustin. I walk in a state of gratitude. I walk in a state of appreciation. I sang down at the Women's March with Brandy. That's who I am now. I mean, come on, bitches, let's get up.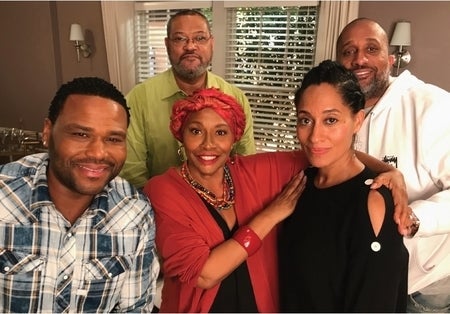 FITZHARRIS: Do you have a mantra every morning?
LEWIS: After I brush my teeth and wipe my mouth, I look at myself and say, "You pretty bitch." Then I keep it moving. I say, "Go get 'em tiger." It's not easy, but you've got to fight for your right. I never thought I'd be using this phrase, but the pursuit of happiness--that's my right. That's very powerful to pursue happiness every fucking day because you don't know when it's your last. That's why I'm in this herb garden. I walk in my joy, baby. You roll up on me, you're going to leave laughing--unless you've got some ugly shit on you. Usually people with ugly shit on them can't even get near me. You roll up on Jenifer Lewis the wrong way, you will blow a fucking fuse. You'll get zapped because I walk in my joy. With all that I've been given, I've got to give it back now.
FITZHARRIS: You gave a lot back in the book.
LEWIS: That's why I wrote this book for the millennials. Here's my story. Here's my song. Now you lie down and get up. Stand up. Let's resist these forces that will take away the fucking air for your great-grandchildren to breathe. You stand your ass up and resist this bullshit. Let's keep it moving and while we're at it, let's sing some happy fucking songs---and skip, bitch.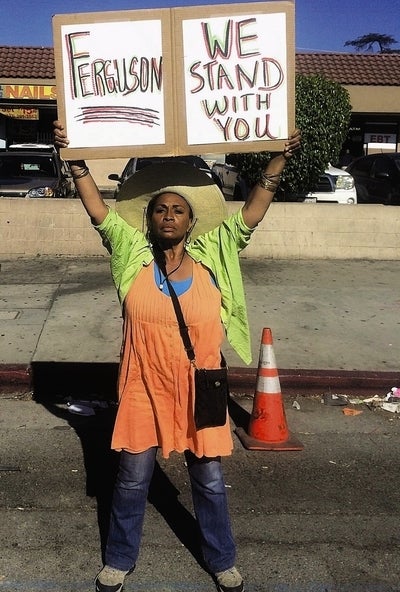 FITZHARRIS: I really need to meet you in person.
LEWIS: Shit, you don't have to. I'm giving you a 10-hour show this morning. I'm going to charge you.
FITZHARRIS: This has been so much fun.
LEWIS: All right, now get out of here. Let me get to class. You're an angel.
FITZHARRIS: I'm sending you love.
LEWIS: Right back at you, Dustin. And let me tell you something before I hang up. You know, you guys always compliment me and send me love and you tell me how wonderful you think I am. Now I'm going to say this to you. It has to be in you to see it in me. You take that with you.
LEWIS: Be good, babycake.
Calling all HuffPost superfans!
Sign up for membership to become a founding member and help shape HuffPost's next chapter